Introduction: In this article – in honor of October being National Pizza Month – Gena Philibert-Ortega writes about this popular food and shares some recipes. Gena is a genealogist and author of the book "From the Family Kitchen."
Pizza. Who doesn't enjoy a slice now and then? For some of us, pizza might even be on our weekly dinner menu – whether it comes from a restaurant, the grocery store, or it's made at home. Pizza seems to be as American as Apple Pie, right?
I will admit I am a big fan of pizza, and on a recent trip to Italy one of my goals was to eat as much "real" pizza as I could. In Rome, pizza is street food and available by the slice everywhere. (And yes, pizza in Italy is much better than pizza here.) Nevertheless, I'll keep enjoying the pizza in my local California restaurants anyway.
How much do you know about pizza in the United States? When did your American family start eating it? And at what point could they find recipes for homemade pizza?
A Short History of Pizza in the United States
The early history of pizza is found in Naples, Italy, where the dish originated and was popular. Like my experience in Rome, pizza was a flatbread sold as street food. These pizzas held toppings such as cheese, garlic, tomatoes, and anchovies. As those Neapolitan citizens immigrated to the U.S. they, like other immigrants, brought their recipes and food traditions with them. Those food traditions were shared in their communities with friends and new family members. (1)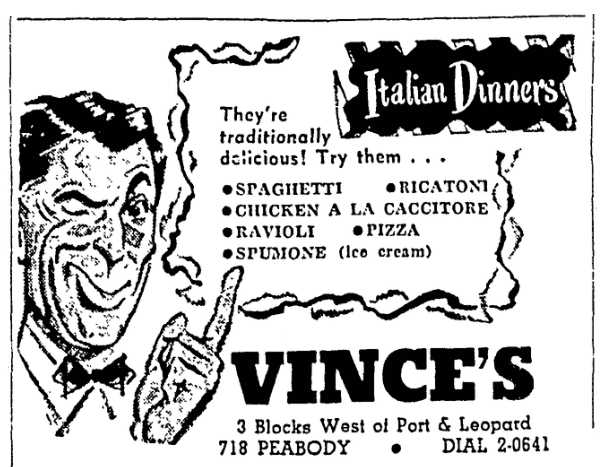 While some Americans tried pizza when the first restaurant offering the dish opened in Manhattan in 1905, this 1880 newspaper article helped introduce Americans to pizza. (2) It reports a story about the Queen of Italy and her quest to eat what the "poor people" ate:
"A favorite eatable with the Neapolitans is the pizza, a sort of cake beaten flat in a round form, and seasoned with various condiments. The Queen sent for a pizzainolo who is famous for his skill in making these cakes… The man went to the palace, was received, and having shown a list of thirty-five varieties of pizza, was sent to the royal kitchen to make the kind which the Queen had selected."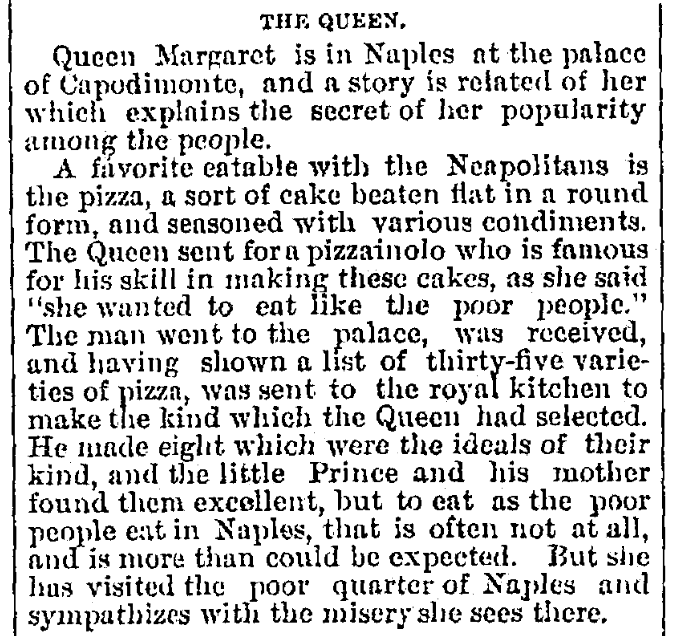 In America, pizza was served in Italian restaurants as the 20th century marched on, and over time recipes for the dish were published in newspapers so that the home cook could try her hand at making the dish for her family.
Pizza Recipes in the Newspaper
The first pizza recipes I found in GenealogyBank's Historical Newspaper Archives were from the 1930s. In this one submitted by Mrs. Joseph D. Frinzi of Milwaukee, she shares a crust recipe that is spread out in a shallow pan and topped with "chopped tomatoes… anchovies, onions, grated Romano cheese" and then left to rise for a second time before baking as you would "any bread." It seems that some of these early recipes likened pizza to a type of bread.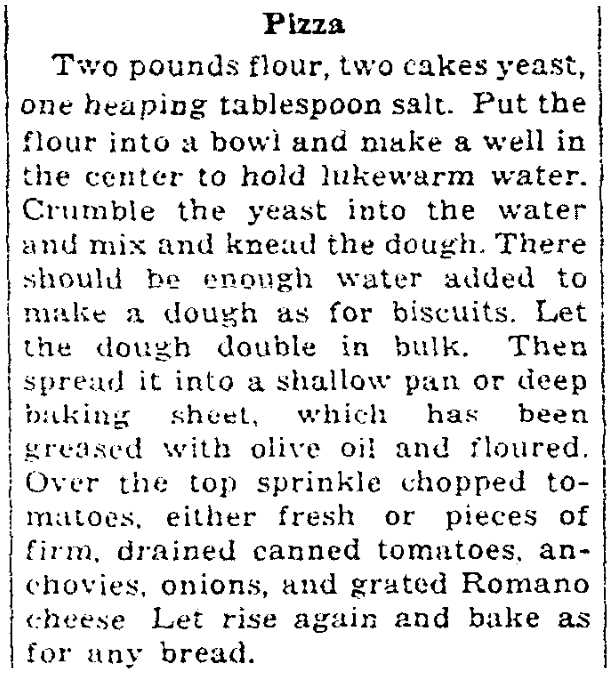 A recipe appearing in a 1938 edition of the Miami Herald features Italian recipes by Mrs. Michael Fascell, 1661 S.W. Twenty-second Street. The article points out that she was born in the United States, but her family is Italian. Her Pizza Napolitano recipe is similar to the above recipe in that the dough is made, stretched onto a cookie sheet and then toppings are added – in this instance, anchovies, Italian Thyme, grated Parmesan cheese, canned tomatoes, and garlic. I love this article about Mrs. Fascell because it includes some personal information about her (but unfortunately not her given first name) and a wonderful photo of her.
Depending on where you lived in the United States, pizza may not have been a familiar dining choice, judging from this 1946 newspaper recipe that proclaims pizza as a food favored by teenagers. How to pronounce pizza is included in the introduction to the recipe, which ends with instructions for how one eats pizza: "Usually each guest eats one pizza apiece, piping hot, without knife or fork." The "stuffing" of this pizza, like the others mentioned previously, calls for chopped sausage or anchovies.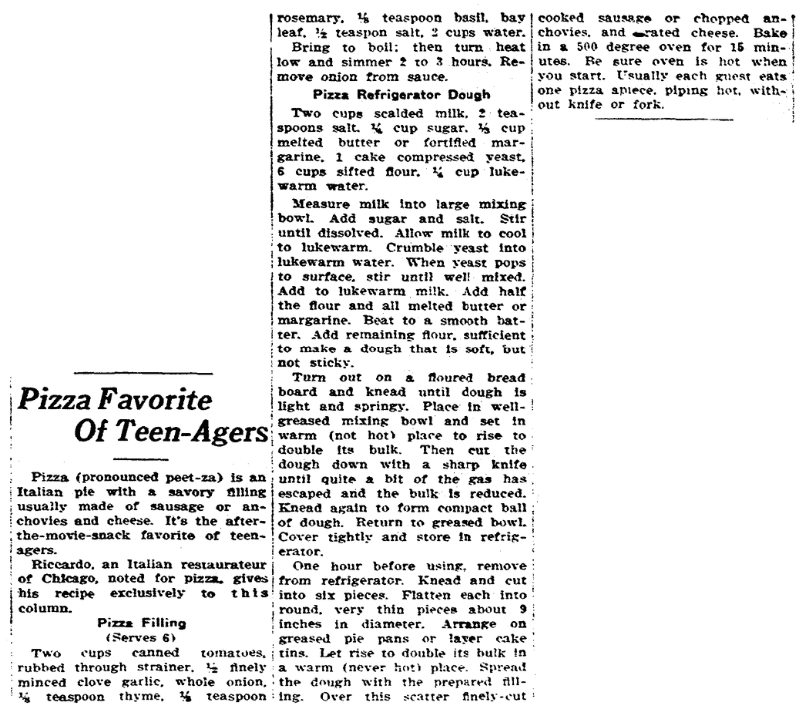 As time marched on pizza, like many other ethnic foods, was adapted to American tastes and ingredients, for better or worse. One thing I found interesting is how all of those early recipes included anchovies, which is probably not universally liked on pizza by most Americans today. In this 1960s newspaper example, the pizza pie recipe includes ground beef, Worcestershire sauce, chili powder, and slices of mozzarella or American cheese. Not quite the "authentic" pizza of previous generations.
How Do You Like Your Pizza?
I'll admit I would rather have anchovies than peperoni grace my pizza any day. The beauty of making pizza at home is that everyone can have whatever they like on their pie. Does your family have a pizza recipe? Have any pizza memories from your youth? I'd love to hear them in the comments section below.
________________
(1) "A Slice of History: Pizza through The Ages," History (https://www.history.com/news/a-slice-of-history-pizza-through-the-ages: accessed 15 September 2018).
(2) Ibid.