Introduction: In this article – to celebrate October being National Cookbook Month – Gena Philibert-Ortega writes about her love of cookbooks, and shares some examples from her collection of more than 300 cookbooks! Gena is a genealogist and author of the book "From the Family Kitchen."
October is my favorite month. Why? It's not only Family History Month but it's also National Cookbook Month! So, let's get real for a second. I'll admit I have probably over 300 cookbooks. I LOVE books and cookbooks are even better! And I need that many cookbooks – well really more, since I read, study, research and write about them.
Since I love cookbooks you might wonder what is my favorite cookbook? I think my favorite is whichever one I just bought! But seriously, I can think of a few cookbooks that are among my favorites.
The Nancy Drew Cookbook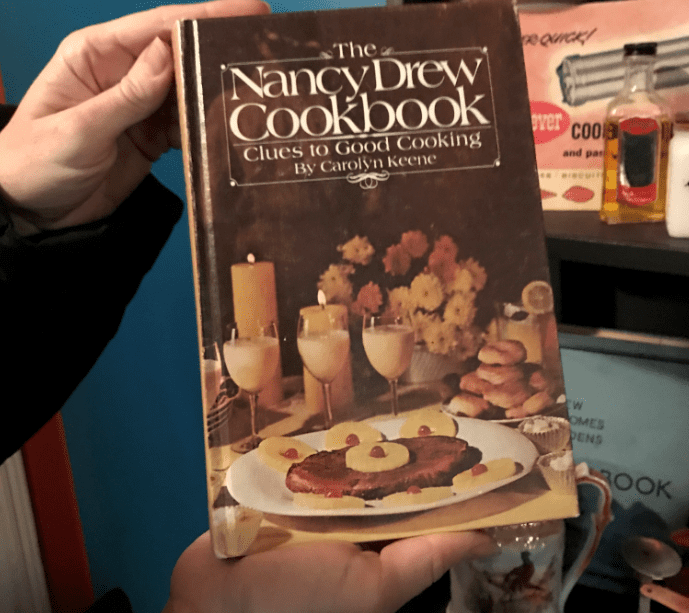 This cookbook is the cookbook of my childhood. The Nancy Drew Cookbook (1973) has a special place in my heart – but unfortunately, the whereabouts of my copy is somewhat of a mystery since it disappeared from my shelves a few years back. The Nancy Drew Cookbook was one of the first, if not the first, cookbooks I owned. It provides approximately 100 recipes to prepare, named after mysteries and book characters. Nutritional advice and recipes provided by "Nancy Drew" (of course) and her friends make this a great tie-in to the series. (And let's face it, some of us probably became family historians because of our love for the detective work of Nancy Drew!)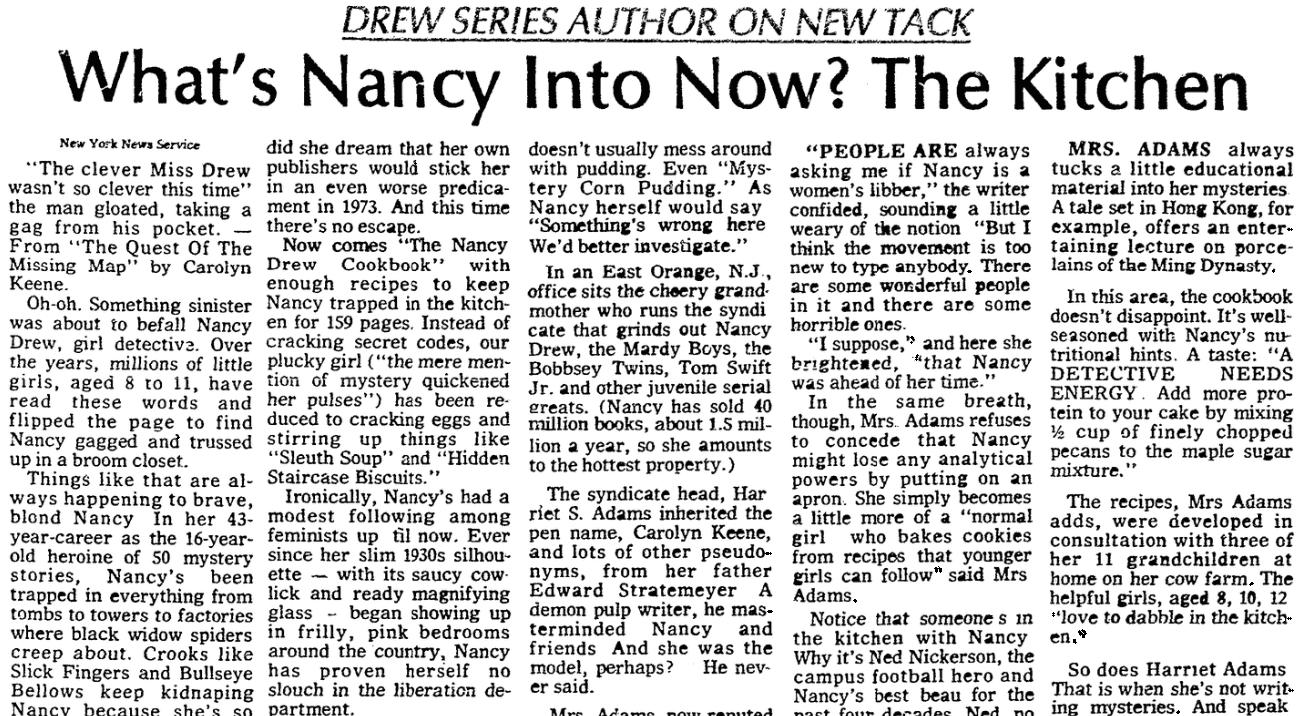 If you want to try a recipe from The Nancy Drew Cookbook you don't have to look farther than the GenealogyBank newspaper collection. Here's a recipe for Burt's Pizza that may not resemble real pizza, but makes a quick snack after a hard day of sleuthing. (In case you want to know who Burt is, he is Georgia "George" Fayne's boyfriend. George is one of Nancy's best friends.)
You can learn more about this 1973 cookbook and view some of the recipes on the Nancy Drew website. For those who became a Nancy Drew fan later, the cookbook had a second edition printed in 2005.
Elena's Famous Mexican and Spanish Recipes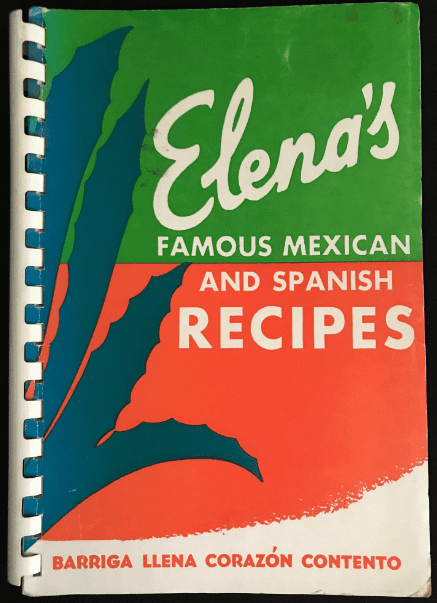 Elena Zelayeta (1898-1974) is one of my favorite cookbook authors. Her life is an amazing story of triumph over adversity. She went blind as an adult, lost her husband to a bus accident, and raised two sons via money she earned cooking, writing, and lecturing. She even hosted a television cooking show before Julia Child! Elena brought Mexican food to the masses through her cookbooks, the first being a small comb-bound copy called Elena's Famous Mexican and Spanish Recipes. This book, originally published in 1944, had 57 printings and sold 182,000 copies by 1965! Many well-known Mexican recipes can be found in this volume, including Albondigas Soup, Huevos Rancheros, and Enchiladas.
Elena's life and work can be easily traced through historical newspaper articles, including this article by another favorite food writer of mine, Clementine Paddleford. Clementine writes: "Elena's first venture into making a living [after her husband died] was to put into a book recipes for the dishes that had been featured in her restaurant. A group of her San Francisco home economics friends helped her put the materials in correct form."
Betty Crocker's Picture Cook Book (Revised and Enlarged)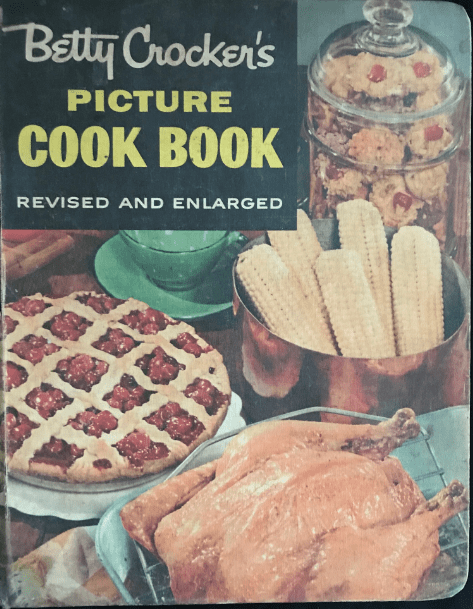 A Betty Crocker cookbook is probably one of the first cookbooks most people own – and with good reason. Betty Crocker has been around since the 1920s. She was "born" when women would write to the Gold Medal Flour Company with cooking questions. Originally, the advertising department's male staff sent out the answers to these questions, but the department's manager didn't think women would take cooking advice from men. So, a woman was invented whose name would appear on these written replies.* Although Betty Crocker is a name attached to a very "real" image of a woman she, like other food icons, is a marketing tool used to sell food products and instill trust in her brand.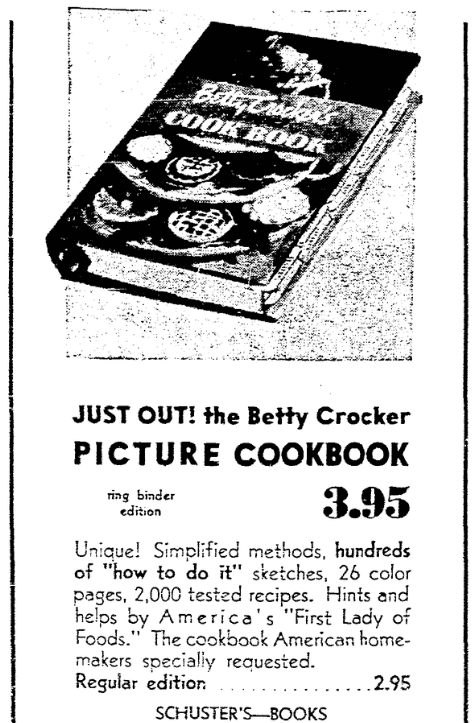 Many family historians most likely either own a Betty Crocker cookbook or remember one in their family's collection. One of those cookbooks is Betty Crocker's Picture Cook Book which was first published in 1950. This cookbook, true to its title, takes the cook through recipes with photo illustrations of the steps involved. While not every recipe includes a visual tutorial, there are several examples in each section including this one for making pies.
My Betty Crocker's Picture Cook Book was my grandmother's. Unfortunately for me she didn't write her name or provide comments about any of the recipes, but there are some hints to her ownership. Inside she bookmarked the cookbook with various newspaper articles, coupons, and recipes, including recipes from coffee producer Yuban which was the brand she drank. Two recipes are handwritten in the book by her but, funny enough, don't contain a title so it's not readily obvious what they are for. But the wear on this cookbook indicates it was used and referred to often as she cooked for her family through the years.
Celebrate National Cookbook Month
What's your favorite cookbook? Do you have that one special recipe that you search for time and time again? I'd love to hear your list of favorites in the comments section below.
__________________
* Marks, Susan. Finding Betty Crocker: The Secret Life of America's First Lady of Food. Minneapolis, MC: University of Minnesota Press, 2005. Page 10-11.
Related Articles: