Introduction: In this article, Mary Harrell-Sesniak provides another fun quiz to test your knowledge of the origins of some familiar nursery rhymes—and provides examples from historical newspapers. Mary is a genealogist, author and editor with a strong technology background.

What was "Ring-a-Round the Rosie" really all about? Eventually all genealogists hear rumors about the historical origins and meanings behind popular nursery rhymes, such as:
"Ring-a-Round the Rosie" describes people dying from the bubonic plague.
Mary of "Mary Had a Little Lamb" was a real person.
I decided to research some of the common nursery rhyme claims, and came to the conclusion that you can't believe everything you read or hear!
It turns out that one of the above rumors about the meanings of the nursery rhymes is true and the other is an unsubstantiated myth. Do you know which claim is correct? To find out how well you know the true origins of nursery rhymes, test your knowledge with my Nursery Rhyme Origins Genealogy Quiz. Select S for "substantiated" and U for "unsubstantiated."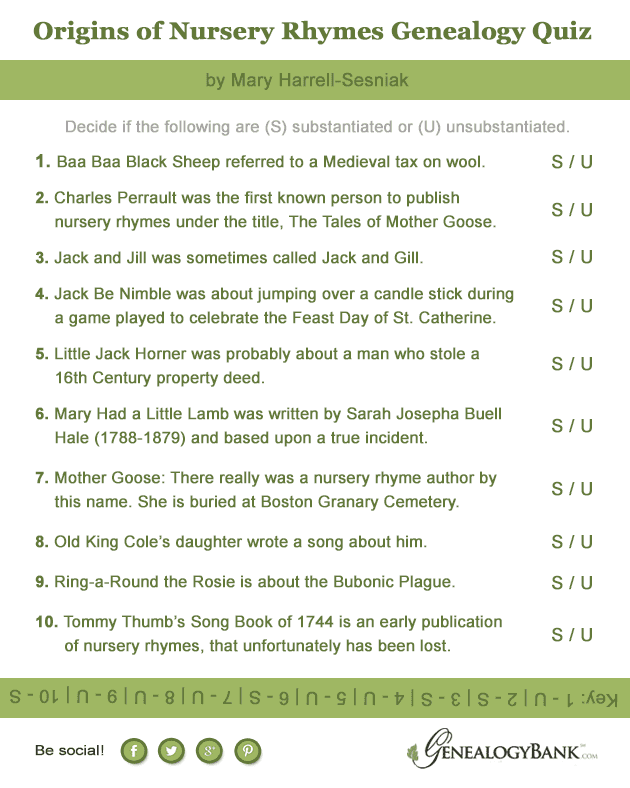 Origins of "Baa Baa Black Sheep"
The first known publication of this famous nursery rhyme was in Tommy Thumb's Pretty Song Book, a sequel to the lost publication Tommy Thumb's Song Book of 1744.
Baa, baa, black sheep,

Have you any wool?

Yes, sir, yes, sir,

Three bags full;

One for the master,

And one for the dame,

And one for the little boy

Who lives down the lane.
Some report that the song had a connection to a British tax on wool, or sadly even the slave trade. Of the two explanations the tax on wool seems most realistic, since black wool was prized because it eliminated the need to dye the wool before making clothing.
Neither of these explanations about the meaning of the rhyme is substantiated. However, after reading the lyrics carefully, it appears to me that the song describes a common system of sharing the fruits of one's labor. Although not proved, I believe this is the not-so-hidden meaning behind "Baa Baa Black Sheep."
A 17th or 18th Century laborer typically paid his master (probably a Lord of a manor) in goods or crops, and if he had a helper, he would also share in the bounty. Logically, the "little boy who lives down the lane" could have been an assistant, or someone who benefited from his charity.
History of "Jack and Jill"
This popular nursery rhyme dates to the 16th Century. There is no evidence as to the origin, but you may be surprised to learn that many early versions refer to Jack and "Gill" instead of Jill, as seen in this 1884 newspaper article.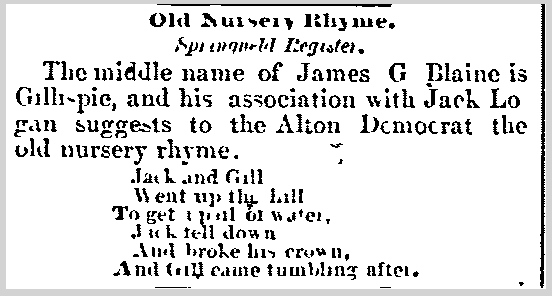 Meaning of "Jack Be Nimble"
This is another famous rhyme of unknown origin. However, some think it refers to Black Jack, a 16th Century English pirate, or that it alludes to an old game of jumping over fires in celebration of the Feast Day of St. Catherine on November 25.

Origins of "Little Jack Horner"
The true origin of this nursery rhyme is not known. Although widely debated, some suggest that "Little Jack Horner" refers to a 16th Century thief named Jack Horner, who acted as a courier for Richard Whiting, the Abbot of Glastonbury.
One year Whiting decided to send his courier Jack to bring a Christmas pie to King Henry VIII (1491-1547). Hidden inside the pie were twelve property deeds—which Jack discovered, promptly stealing one.
When he returned to the Abbot, Jack reported that King Henry had given him one of the property deeds as a present for delivering the gift. However, he was reportedly later found guilty of the theft and put to death.
I noticed that in this 1802 newspaper article, the spelling of plums was changed to plumbs.
History of "Mary Had a Little Lamb"
Mary had a little lamb,

whose fleece was white as snow.

And everywhere that Mary went,

the lamb was sure to go.

It followed her to school one day,

which was against the rule.

It made the children laugh and play,

to see a lamb at school.

And so the teacher turned it out,

but still it lingered near.

And waited patiently about,

till Mary did appear.

"Why does the lamb love Mary so?"

the eager children cry.

"Why, Mary loves the lamb, you know,"

the teacher did reply.
For obvious reasons, I've always had an affinity to this song, so I was delighted to learn that Mary was a real person.
Mary Sawyer (later Tyler) caused a commotion when she took her pet lamb to school. That same day, a man named John Roulstone was visiting the school.
John Roulstone knew Mary Josepha (Buell) Hale (1788-1879), the noted editor of Godey's Lady's Book, later known as American Ladies' Magazine, and one of the people we can thank for making Thanksgiving one of our national holidays.
Roulstone apparently related to Mary Hale the amusing incident of little Mary bringing her lamb to school, and the popular poem was written—either collaboratively, or by Hale—in response to Roulstone's account. The evidence for this can be found in several of Mary (Sawyer) Tyler's obituaries, such as this 1889 example from a Boston newspaper.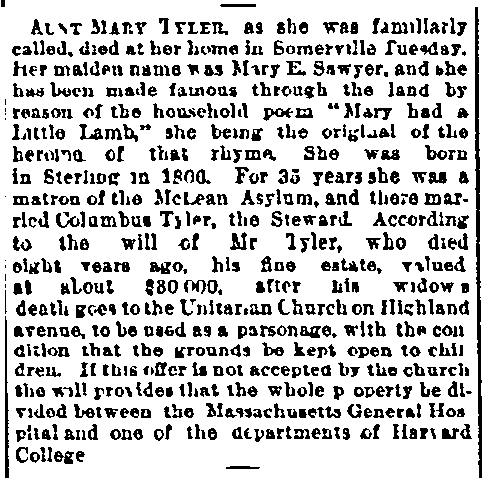 History of the "Mother Goose" Rhymes
If you visit Granary Burial Ground in Boston, Massachusetts, you'll find the tombstone of a Mother Goose, a photo of which can be found on Wikipedia at http://en.wikipedia.org/wiki/File:Mother_Goose_Grave_Boston.jpg.
Her tombstone reads:
HERE LYES YE BODY OF

MARY GOOSE WIFE TO

ISAAC GOOSE, AGED 42

YEARS DECD OCTOBER

YE 19TH, 1690…
However, this Mary Goose was not the originator of the popular series of nursery rhymes by the same name.
That honor goes to Charles Perrault (1628-1703), a noted French author and advisor to Louis XIV. His compiled nursery rhymes were often rewritten, most notably by the Brothers Grimm during the 19th Century. For more information on Perrault, see:
The Real "Old King Cole"
"Old King Cole" was reportedly a king who lived during the 4th Century in Kaircoel, England, with Koel being an early spelling for Cole. One version is that after the Saxons overran Britain, the town was renamed Colchester, as chester was the Saxon word for city.
As the legend goes, King Cole's musically-gifted daughter Helen married Constantine the Great, and it is rumored that she either inspired or authored this famous song.
Another suggestion is that "Old King Cole" referred to Thomas Cole-brook, a 12th Century cloth merchant, but there is no evidence that any of these explanations are correct.
Origins of "Ring-a-Round the Rosie"
One of the most common misconceptions about old nursery rhymes is that this poem describes people dying from the bubonic plague. Others suggest it is about putting flowers in a pocket to cover bad smells, or that this is merely describing a child's dancing game.
Nobody knows the true origins of this delightful nursery rhyme, but if you examine the terms, you may come to your own conclusion.

Were "rosies" roses, and "poseys" bundles of flowers? In America, we sing about ashes, but in Britain, they use the term "a-tishoo." Sounds more like an allergic response to pollen, but that is purely my own speculation.
Do any of you have ancestral souvenirs of nursery rhymes? Do you have any additional information about the history that inspired these famous nursery rhymes? If so, please share with us on Facebook or in the GenealogyBank blog's comments section. And if any of you happen to find a copy of Tommy Thumb's Song Book, please blog about it here before it debuts on Antiques Roadshow!