Genealogists want to find every story about their family—but where do you turn to find more information about the life of a youngster that passed away? Remarkably—even for those family members who died very young—you can find out more about their lives in newspapers.
When tragedy strikes a family in the loss of a young child, it would seem impossible to find stories that would tell us more about the deceased toddler's life.
Here's where newspapers can be a big help to family historians. For example, little Paul McBride died at the age of four back in 1889—yet look at how much we learn from his newspaper obituary.
For one thing, the young child's newspaper obituary gives us the core genealogical facts:
Name: Paul Montgomery McBride
Age: 4 years, 8 months and 17 days
Birthplace: Pierre, South Dakota
Youngest son of Rev. and Mrs. J. M. McBride
Buried in Riverside Cemetery
Died 19 October 1889, at "twenty minutes to 8 o'clock"
Since his father was a minister, a pastor of another faith, the Rev. E. S. Wallace, pastor of the Presbyterian Church, conducted "the Episcopal burial service"
Because of the "infectious nature of the disease, no services will be held at the family residence"
That is a lot of detail from the obituary of such a young person.
With some surprise, I found that Paul's obituary told us even more about his life.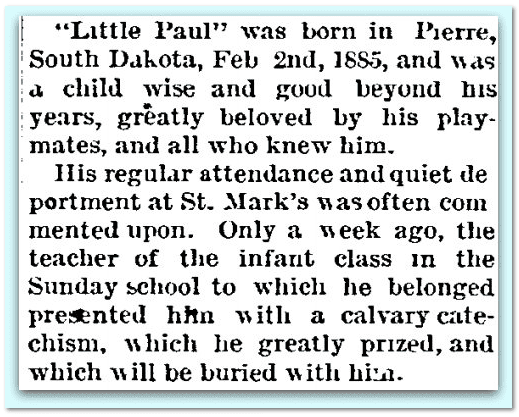 We also learn the following information about Paul from this old newspaper article:
He was called "Little Paul"
He got along well with the other children
He was a quiet, well-behaved child—traits often commented on by other adults
The week before his death, a Sunday School teacher gave Paul a copy of the small Calvary Catechism book used at that time in the Episcopal Church to teach children the Gospel
He liked that gift so much that it was buried with him
Little Paul McBride was not just a notation, a genealogical statistic—he was a likeable, fun four-year-old boy. He was given a small catechism book and he loved it. As you get to know him, don't you want to go right out and find a copy of that book and read what he would have read?
Knowing the story of the lives of our family members makes all the difference. Newspapers provide those stories that we can add to our family tree.
Dig into GenealogyBank's newspaper archives and find the stories of your family.
Don't let them be lost.