Introduction: In this article, Melissa Davenport Berry writes about Nathaniel Sylvester, who sheltered persecuted Quakers on his island home, Shelter Island, in the 17th century. Melissa is a genealogist who has a blog, AnceStory Archives, and a Facebook group, New England Family Genealogy and History.
On 17 July 1884, a group of 500 spectators gathered on Shelter Island, New York, to witness the unveiling of a monument to commemorate Nathaniel Sylvester (1610-1680), the "Lord of Shelter" for many 17th century persecuted Quakers.
The monument was an exact copy of the Sylvester tombs in England: four heavy stone pillars supporting a white marble slab reached by stone steps.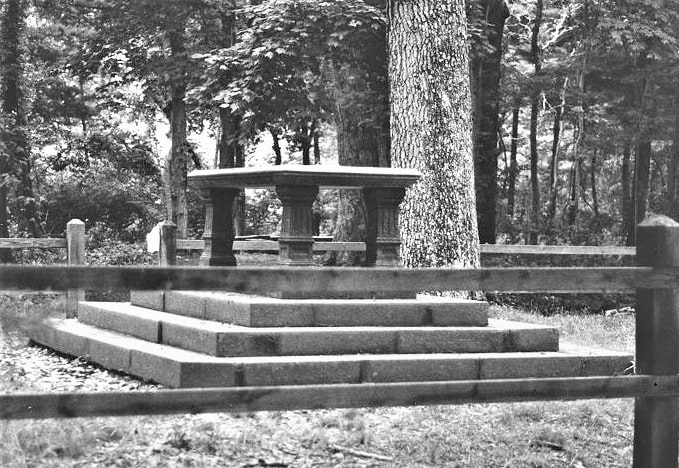 The Boston Daily Advertiser reported the monument's dedication. The attendees list included Sylvester's descendants and the lineal lines from Quakers who were given refuge by Sylvester.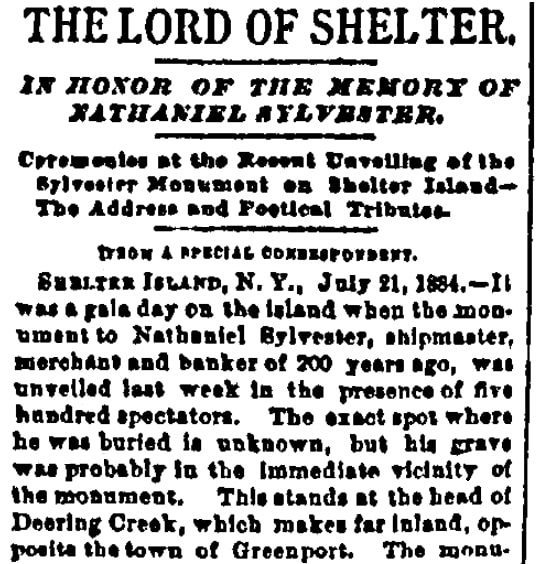 Harvard Professor Dr. Eben Norton Horsford and his four daughters, born from his marriages to two daughters of Samuel Smith Gardiner and Mary Catherine L'Hommedieu – first Mary, then Phoebe – were the official monument raisers.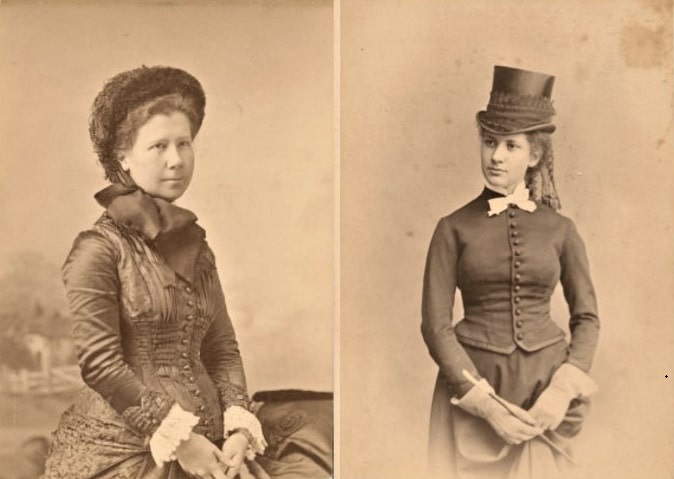 Prof. Horsford, who spent much of his later years researching Quaker history, gave an account of Nathaniel Sylvester and his role in sheltering Quakers. His talk covered the struggles and sorrows of this sect. Some of the persecuted are listed on the monument so that they may never be forgotten.
As reported in the Boston Daily Advertiser article, the inscriptions on the monument are as follows.
Engraved into the white marble slab is this inscription, along with the Sylvester coat of arms:
TO
NATHANIEL SYLVESTER,
FIRST RESIDENT PROPRIETOR
OF
THE MANOR OF SHELTER ISLAND,
UNDER GRANT OF CHARLES II, A.D. 1666.
AN ENGLISHMAN
INTREPID,
LOYAL TO DUTY,
FAITHFUL TO FRIENDSHIP,
THE SOUL OF INTEGRITY AND HONOR,
HOSPITABLE TO WORTH AND CULTURE,
SHELTERING EVEN THE PERSECUTED FOR
CONSCIENCE' SAKE;
THE DAUGHTERS
OF
MARY AND PHOEBE GARDINER HORSFORD,
DESCENDANTS OF
PATIENCE, DAUGHTER OF NATHANIEL SYLVESTER
AND
WIFE OF THE HUGUENOT BENJAMIN L'HOMMEDIEU,
IN
REVERENCE AND AFFECTION
FOR
THE GOOD NAME OF THEIR ANCESTOR,
IN 1884
SET UP THESE STONES
FOR A MEMORIAL.
Below the white marble slab inscription is a female register and list of proprietors:
DESCENT FROM ANNE BRINLEY ON THE FEMALE SIDE.
Thomas Brinley, King's auditor, married Anne Wase.
Nathaniel Sylvester married Grissell Brinley.
Benjamin L'Hommedieu married Patience Sylvester.
Benjamin L'Hommedieu, 2nd, married Martha Bourne.
Ezra L'Hommedieu married Mary Catherine Havens.
Samuel Smith Gardiner married Mary Catherine L'Hommedieu.
SUCCESSION OF PROPRIETORS.
The Manhasset Tribe.*
The King. [King James I]
The Earl of Stirling. [William Alexander]
James Farrett.
Stephen Goodyear.
Nathaniel Sylvester.
Giles Sylvester.
Brinley Sylvester.
Thomas Dering.
Sylvester Dering.
Mary Catherine Dering.
Mary Catherine L'Hommedieu.
Samuel Smith Gardiner.
Then on each of the steps are the following inscriptions.
South side:
Of the sufferings for conscience' sake of
friends of
NATHANIEL SYLVESTER,
Most of whom sought shelter here, including
GEORGE FOX.
Founder of the Society of Quakers,
and of his followers,
MARY DYER, MARMADUKE STEVENSON, and
WILLIAM ROBINSON, WILLIAM LEDDRA,
Who were executed on Boston Common.
East side:
LAWRENCE AND CASSANDRA SOUTHWICK,
Despoiled, imprisoned, starved, whipped, banished.
Who fled here to die.
North side:
DANIEL GOULD, bound to the gun-carriage and lashed;
EDWARD WHARTON, "The Much Scourged";
CHRISTOPHER HOLDER, "The Mutilated";
HUMPHREY NORTON, "The Branded";
JOHN ROUS, "The Maimed";
GILES SYLVESTER "The Champion";
RALPH GOLDSMITH, "The Shipmaster";
SAMUEL SHATTUCK of "The King's Missive";
THESE STONES ARE A TESTIMONY.
West side:
The Puritan in his pride, overcome by the faith of the Quaker, gave
LEXINGTON AND CONCORD AND BUNKER HILL TO HISTORY.
The Blood and the Spirit of Victor and Vanquished alike are of the Glory of MASSACHUSETTS.
At the monument dedication ceremony, Dr. Rev. Richard S. Storrs gave an opening prayer, poems were recited, and a benediction was done by Dr. Rev. Whittaker.
The article concluded:
"The erection of this monument by Professor Horsford has much more than local significance. It commemorates the fearful and ill-advised persecutions which were heaped upon the Quakers by Governor Endicott and his officers, directed, however, by a pure sense of right, which posterity was called upon to correct. It commemorates the sad banishment of these honest people, their long and painful wanderings, and the harbor of refuge accorded to them by Nathaniel Sylvester in his island home. It bears witness to the fact that an enlightened posterity is ready to acknowledge the wrongdoings of its misguided ancestors, which were actuated by an evident purpose of duty – wrong and cruel though they may have been. It will add special interest to the beautiful island, so fittingly termed Shelter, and will take its place among the historical monuments of the country."
*The Manhasset Indian name Manhansack-aha-quash-awamock, meaning "island sheltered by islands."
Note: Just as an online collection of newspapers, such as GenealogyBank's Historical Newspaper Archives, helped tell the stories of the Sylvester family, they can tell you stories about your ancestors that can't be found anywhere else. Come look today and see what you can discover!