Introduction: In this article, to help celebrate Valentine's Day, Gena Philibert-Ortega gives some fun examples of secret codes our ancestors used in their love letters. Gena is a genealogist and author of the book "From the Family Kitchen."
Love letters. Who wouldn't love to find a few that their ancestor wrote? Reading one would be a great look into that ancestor's life and a reminder that they were a living, breathing person. But what if the letter included a secret hidden in plain sight?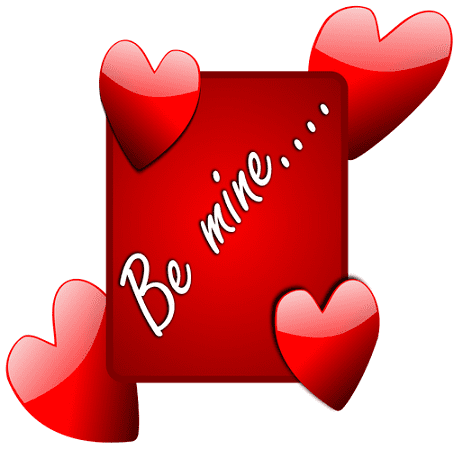 I started thinking about love letters with secret codes when I read about the collection at the North Carolina State Archives from the World War II personal papers of Geraldine Mayo Beveridge:
"The collection documents the relationship between Geraldine Mayo [later Beveridge] of Mesic, N.C., and U.S. Coast Guard Reserve Chief Boatswain's Mate David L. Beveridge of Beaufort, N.C., during World War II."
The Archives reached out to the public requesting those with Morse code knowledge to help decipher the coded envelopes. You can see images of these envelopes and some that are transcribed on the Archives' Flickr page. The Archives explains that:
"Geraldine Mayo also learned Morse code, in order to write short love notes and messages on the back of the envelopes of the letters she sent Beveridge, for him to translate into English. Some of these envelopes have the translation written by Beveridge, while others were left untranslated."*
There are all kinds of ways someone can send a secret message; the following are just a few examples from love letters.
Postage Stamps
How do you place a postage stamp on an envelope? Well, some people have used that placement to send a message. I've heard this story before, and this 1886 newspaper article from West Virginia explains that, depending on how the stamp is placed, you can convey everything from "I love you" to the very opposite. In this newspaper article, the assistant postmaster of Brooklyn confirms that "a large proportion of letters mailed to the various summer resorts, and in ninety-nine cases out of one hundred, addressed to Miss So-and-So, have the stamp placed in some peculiar position." The article provides some examples.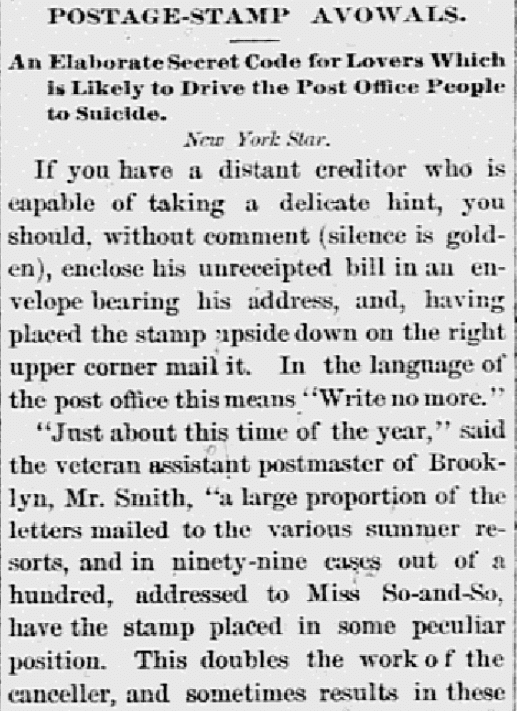 Do any of your ancestor's stamped envelopes look different than you would expect? Maybe they were sending a secret code!
World War II Secret Couple Codes
I was excited to hear the stories of friends who had either received coded love letters or owned the letters of parents and grandparents that used everything from Morse code to ham radio language to letter substitutions to convey loving messages. When I think of secret codes I think of ciphers and symbols, but in some cases the codes were prearranged letter substitutions. Two friends provided me examples from their ancestors' World War II letters.
I love this one Courtney LaPointe shared with me. These letters from her great-uncle, stationed in Italy during World War II, to her great-aunt used a code to let her know where he was since he was not allowed to tell her. Courtney explains that:
"The letters were heavily censored, the Army cut out sections of the letters even! He would use different middle initials for her and she would spell them out to figure out where he was."
For example, on these four envelopes the middle initial of Genevieve's name is different each time and spells out F-O-G-G which might have referenced Foggia, Italy.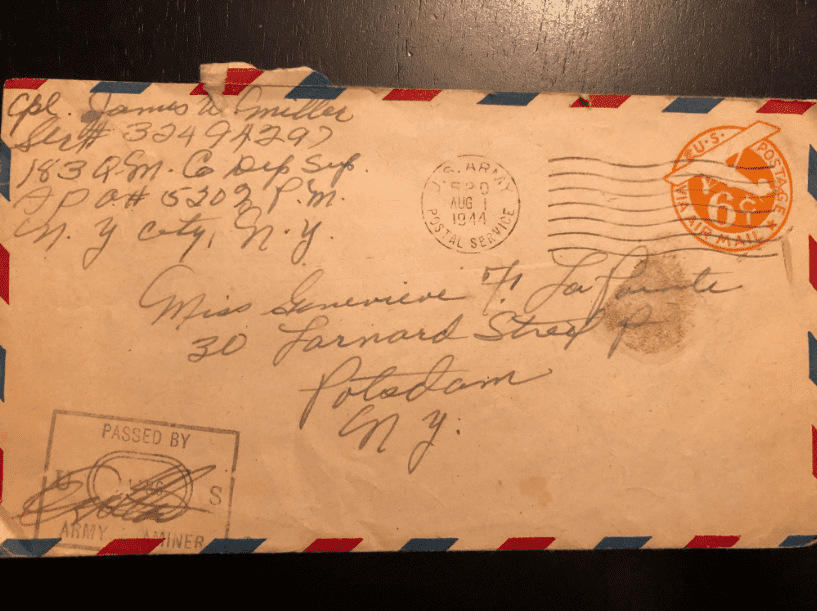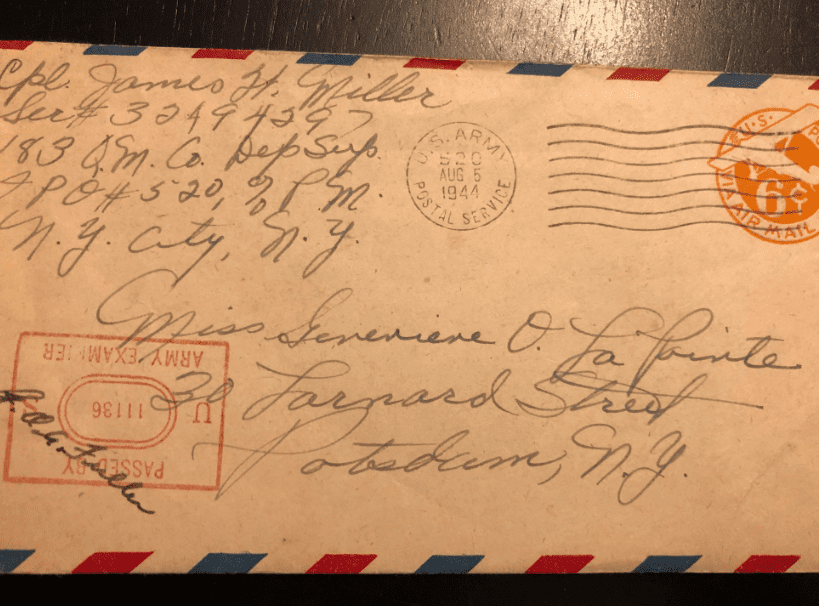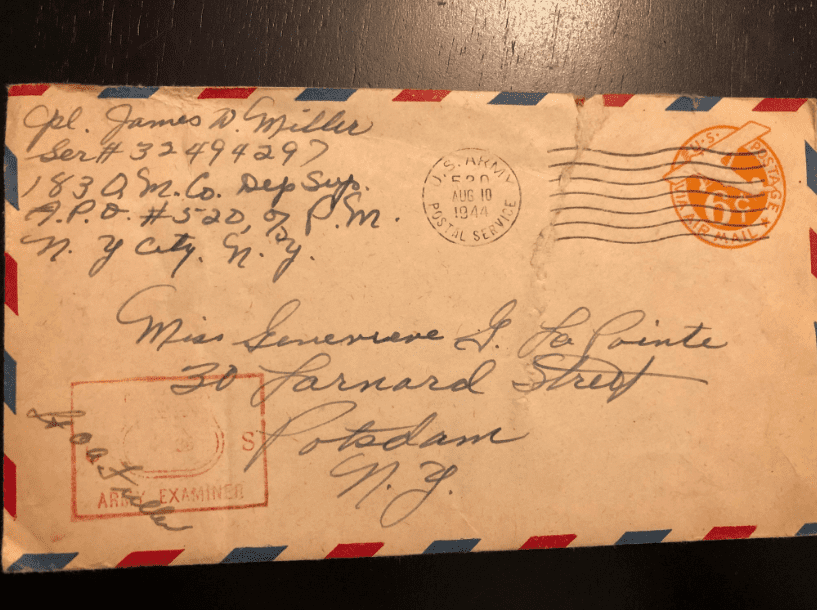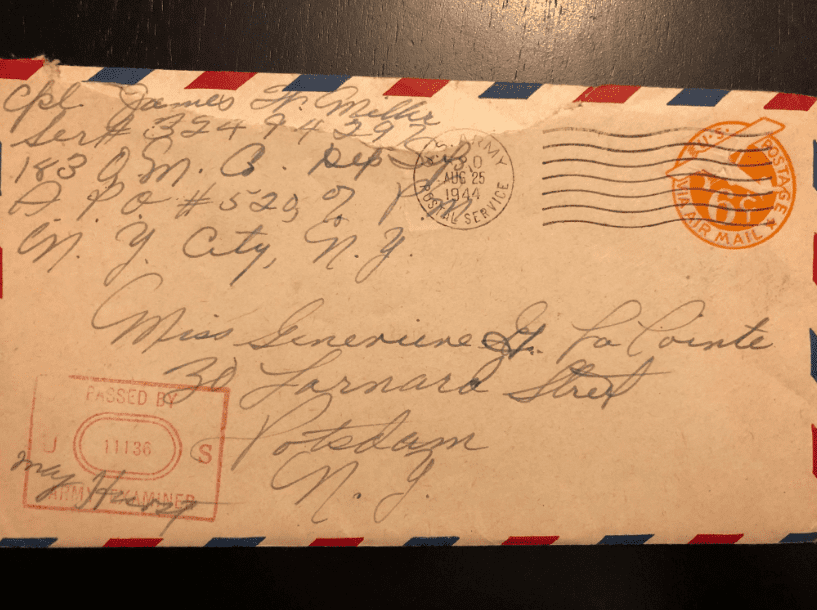 In this letter from Deborah Yegerlehner Sweeney's grandparents, what appears to be a paragraph on page 2 discussing gardening actually is a prearranged code that spells out via the first letter of each word a misspelled "New Caledonia," indicating his location to his wife during World War II:
"I hope you haven't tried to work too hard on the lawn since I've been gone but as we previously planned I think those nine evergreens would certainly add lots and during Oct. new Iris are due to be set out."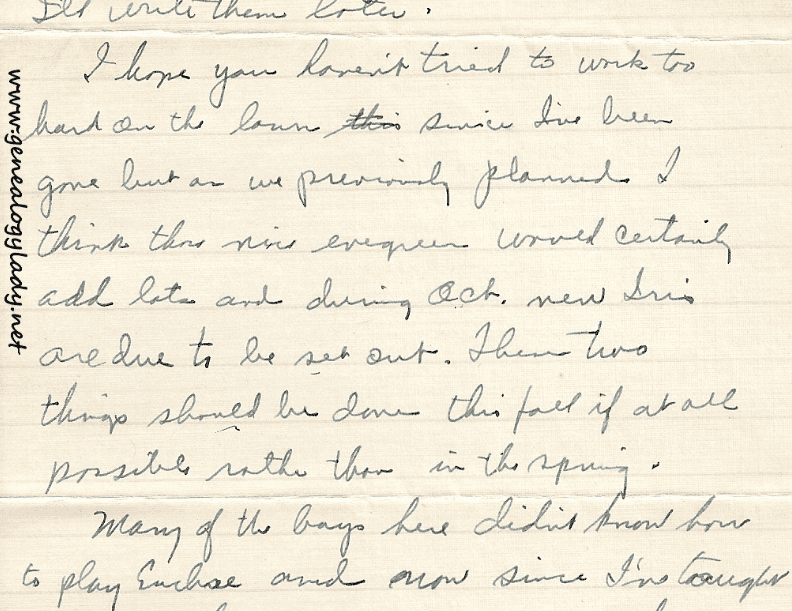 Do You Have a Secret Code?
Did you write coded letters to your sweetheart? Did you write letters with code as a teenager hiding your intentions from parents – or just from the nosy eyes of a sibling? I'd love to hear about them in the comments section below. Happy Valentine's Day!
* "Geraldine Mayo WWII Morse Code Messag…," Flickr (https://www.flickr.com/photos/north-carolina-state-archives/albums/72157711071734606: accessed 12 February 2020).