The past few weeks I've been researching my Sniffen relatives from Westchester County, New York. Today I chose to research my 2nd great-uncle Harris Sniffen (1836-1894), who was the brother of my great-great-grandmother Emma Jane Sniffen (1841-1911).
I didn't have much information on Harris other than a census record from 1850. I didn't even have Harris's year of death at that point, so I started by searching GenealogyBank for his full name in New York records.
The first result of this search was an obituary from 1894.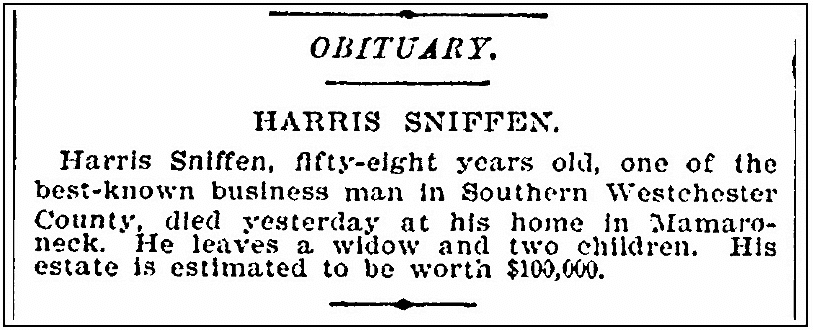 I know my 2nd great-uncle Harris Sniffen was born in 1836 and lived in Westchester County, New York, so the dates and details of this obituary seem to line up. The details of his obituary are interesting: he was successful in business, was married with two children, and lived in the small village of Mamaroneck, Westchester County, New York, at the time of his death.
Perhaps even more interesting, Harris was very wealthy. Harris was worth $100,000 at the time of his death in 1894 – which is a lot of money today, not to mention 124 years ago.
From the Inflation Calculator, In2013Dollars.com:
"According to the Bureau of Labor Statistics consumer price index, the dollar experienced an average inflation rate of 2.72% per year. Prices in 2018 are 2,678.3% higher than prices in 1894. In other words, $100,000 in the year 1894 is equivalent in purchasing power to $2,778,335.94 in 2018, a difference of $2,678,335.94 over 124 years."
Wow – so Harris's business must have been very successful: he would be a multimillionaire by today's standards.
Financial details in obituaries and other records are valuable for providing a comparison to today's standards and give you an interesting glimpse into your ancestor's life.
Genealogy Tip: Keep digging and piece together the life stories of each of your relatives – one obituary, one document at a time. Each person you document will fill in the stories of your family tree. Find and preserve more of your family's stories online today.
Related Article: