Whether you're looking for a wedding announcement published on July 22, 1802, July 22, 1862 or July 22,1962 –
GenealogyBank
is your comprehensive source.
(Dallas (TX) Morning News – 22 July 1962)
(Maine Eagle – 22 July 1802)
(Baltimore Sun – 22 July 1862)
TIP: Focus your search by the type of article – In this example limit your search to only the marriage notices. Click on the highlighted topic and only those articles will appear in your search.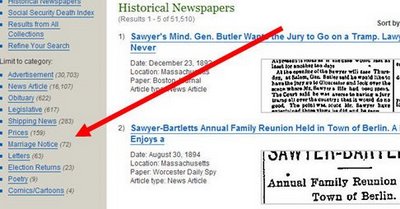 Discover your heritage, preserve it and pass it on!
Be a part of GenealogyBank – Sign up Now.

Find and document your ancestors in GenealogyBank – the best source for old newspapers & documents on the planet.

Period!
(Visited 19 times, 1 visits today)