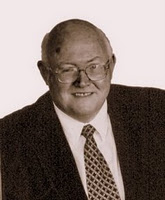 Halvor Moorshead after a lifetime of publishing in the genealogy industry is retiring.
Join us in person, by e-mail or blog to honor Halvor Moorshead on his retirement.

Dinner 7 pm Thursday, 15 May 2008 at the Hyatt Regency's Crown Center Peppercorn restaurant. On a budget? No problem, we're ordering from the menu. RSVP to the event coordinators Tom Kemp or Pat Richley by Sunday 5pm.
Sign the Guest Book:
Stop by the
GenealogyBank
booth during the NGS conference and write your best wishes to Halvor.
JOIN in the camaraderie and THANK HALVOR for his service to the genealogy community.
Everyone agrees that Halvor Moorshead lives a powerful life and has had amassive influence in the genealogy community through his three hugely popular magazines Family Chronicle, Internet Genealogy & History Magazine; and equally well-received book titles including 500 Brickwall Solutions, More Brickwall Solutions, Dating Old Photographs and More Dating Old Photographs. His newest magazine project focuses on beginning research and is titled Discovering Family History. Halvor has been publishing since 1973,with 19 magazines titles to his credit.
(Visited 8 times, 1 visits today)