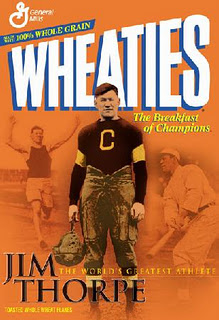 We all heard the stories of Jim Thorpe – the world's greatest athlete – while we were growing up.
He loved to compete. He enjoyed the battle itself and the drive to win.
Today is his day – he was born on May 28, 1888.
I found a great quote in the Dallas Morning News 1 Jan 1953 – that captured his love of the game. It was given in an interview just two months before he died at age 64.
The newspapers are packed with articles about him. He was a hero to young and old alike. The town of Mauch Chunk, PA even changed its name to Jim Thorpe, PA (see Dallas Morning News 23 July 1954) …

and I am still eating Wheaties.
GenealogyBank
has more than 230 million records of more than One Billion people – some of them were well known heroes and some were our often less well known ancestors. But their stories are there to be read – recorded in more than 3,400 historical newspapers – from the 1600s to today.
(Visited 97 times, 1 visits today)