Wild Bill Hickok – James Butler Hickok – was born on May 27, 1837 in Troy Grove, Illinois.
Famous in movies, films and hundreds of newspaper articles – he is central to the legends of the Old West.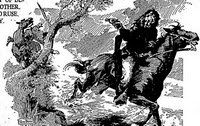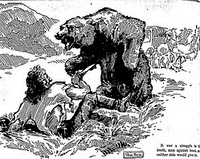 Newspapers serialized his story and pictured him fighting bears, outlaws and Confederate agents. Images by Van Ben.
Newspapers reported the high moments and the low ones – like the time he mistakenly killed a friend – Special Deputy Marshall Mike Williams.
(Aberdeen (SD) American – 10 Jan 1908).

They called him a hero and a coward (Columbus Daily Enquirer – 11 May 1899).

But the real coward was his killer Jack McCall who shot him – in the back – in 1876.
He was shot in the back and killed by
Jack McCall
in 1876 in
Deadwood, SD
.
(Visited 136 times, 1 visits today)