Introduction: In this article, Melissa Davenport Berry continues her series on descendants of the Jamestown settlers, again focusing on author and historical preservationist Helena Trench Lefroy Caperton. Melissa is a genealogist who has a blog, AnceStory Archives, and a Facebook group, New England Family Genealogy and History.
Today I continue with my "Jamestown Descendants: Who's Who" series, focusing on the lineage of author and historical preservationist Helena Trench Lefroy Caperton (1878-1962). She was a descendant of Peter Montague, who emigrated with Sir Francis Wyatt on the ship Charles, landing in Jamestown in October 1621. He rose to prominence and represented Lancaster County in the House of Burgesses.
Here is a photograph of Helena's grandparents, John Henry and Melinda Meredith (Fox) Montague, in celebration of their 60th wedding anniversary. The photo caption reads:
Mr. and Mrs, John H. Montague, of 118 East Franklin Street, who celebrated their sixtieth anniversary yesterday. These pictures are reproduced from daguerreotypes taken many years ago soon after their marriage.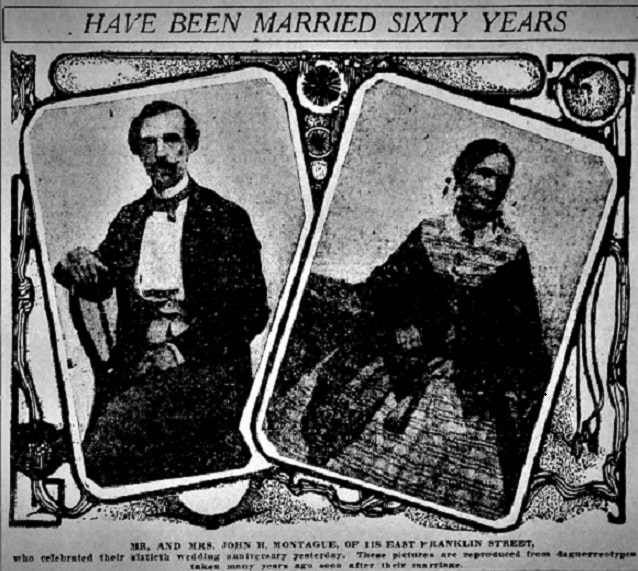 Lineage:
Peter Montague II
Peter Montague III and Maritje Doedes (aka Mary Minor)
Peter Montague IV and Elizabeth Merry
Thomas Montague and Grace Nicholson
Thomas Montague and Jane Daniel
John Montague and Rebecca Brown
Henry Brown Montague and Mary Moody
John Henry Montague and Melinda Meredith Fox
Sallie Watson Montague and Jeffry Arthur Lefroy
Helena Trench Lefroy married Clifford Randolph Caperton, son of William Gaston Caperton Jr. and Rose Alexander Stiles, and a descendant of Thomas Hunt of Jamestown
One thing is certain: these old Southern families loved their balls and galas! Helena's family was no different, and their heritage was always detailed when they were noted in the society pages. When it came to social order this lot was part of the crème de la crème in Virginia.
Most of the descendants of John H. Montague married into Jamestown lines or some royal connection.
In 1940 Helena gave a 90th birthday party for her mother Mrs. Jeffry Arthur Lefroy.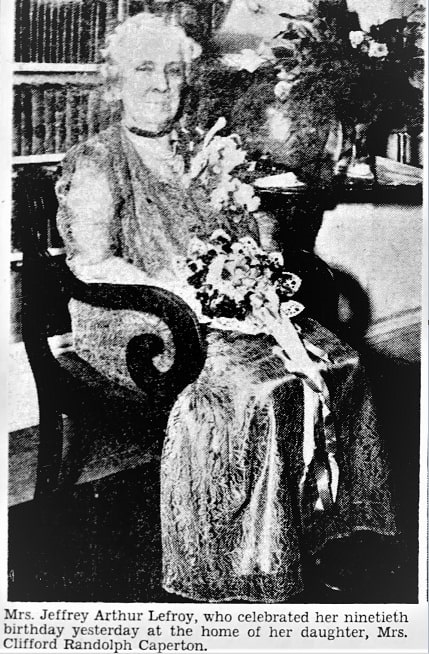 The Richmond Times-Dispatch covered the celebration and featured photographs of four generations of Montague descendants.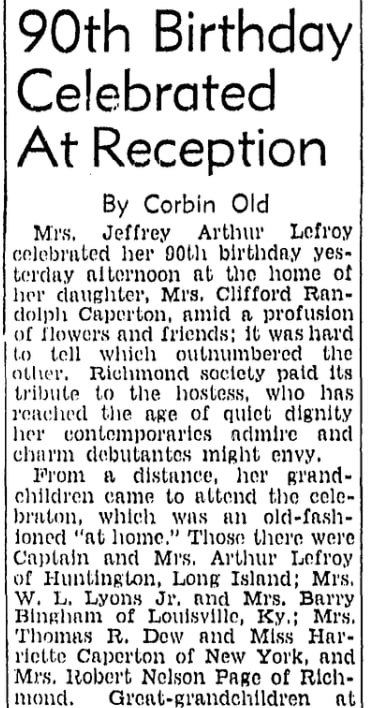 The guest list was a legion of old Virginia families, and this article reported:
"Richmond society paid its tribute to the hostess, who has reached the age of quiet dignity her contemporaries admire and charm debutantes might envy."
Here are more of the photos that accompanied this article.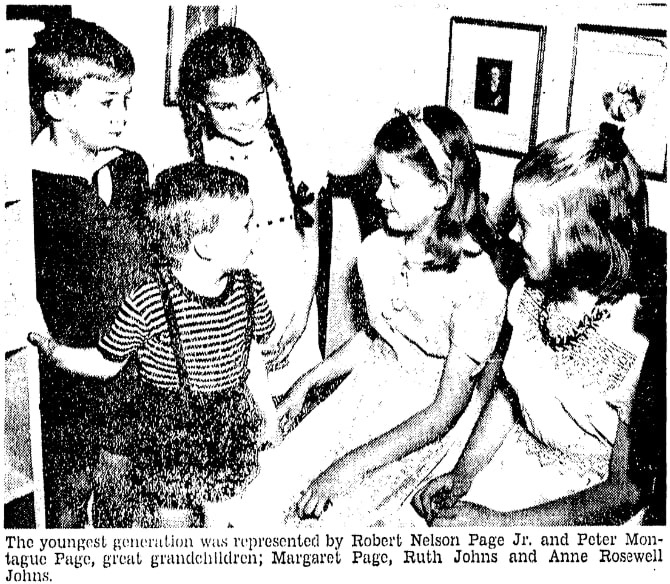 In this photo, the youngest generation are represented by Robert Nelson Page Jr. and Peter Montague Page, children of Helena's daughter Melinda Montague Caperton and her husband Robert Nelson Page Sr. He was the son of Roswell Page and Ruth Nelson, and descended from John Page, William Armistead, John Carter, Nicholas Martiau, and Edward Burwell of Jamestown – and Thomas Nelson, a signer of the Declaration of Independence.
Also in this photo are three girl cousins. On the left is Margaret Reid Page, daughter of Rowell Page Jr. and Leila Madge Wickham, a descendant of William Wickham, Mile Cary, and Thomas Taylor of Jamestown. She married Senator Fitzgerald Bemiss, a descendant of Anthony Armistead, Robert Bolling, William Randolph, Theophilus Hone, and Peter Beverley of Jamestown.
The other two girl cousins in the photo are, from left to right, Ruth [Nelson] Johns and Ann Rosewell Johns, daughters of Ann Page and Frank Stoddard Johns, a descendant of William Randolph and Arthur Allen of Jamestown.
In this photo, on the left, is Mrs. Arthur Leroy Caperton, born Martha J. D. Voight, of Long Island. Also shown, from left to right, are the grandchildren of 90-year-old Mrs. Lefroy, all born to Helena and Clifford: Mrs. Barry Bingham, born Mary Clifford Caperton, of Louisville; Captain Arthur Caperton, of Richmond; Mrs. Robert Nelson Page Jr., born Melinda Montague Caperton, of Richmond; Mrs. William Lee Lyons, born Helena Lefroy Caperton, of Louisville; and Mrs. Thomas Roderick Dew, born Sarah Montague Caperton, of New York – her husband Thomas was a descendant of Thomas Dew of Jamestown.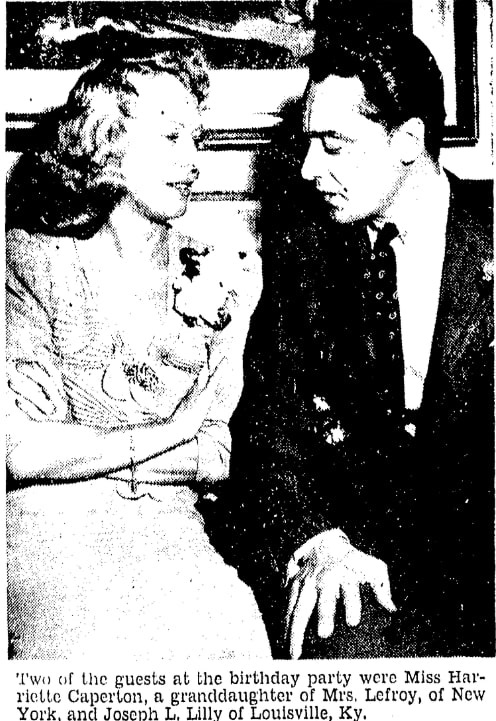 In this last photo is Harriet Alexander Caperton, born to Helena and Clifford, who married Charles Gordon Macgregor. Also in the photo is Joseph La Verne Lilly of Louisville.
If truth be told, Mrs. Lefroy was a deb herself and a social magnate. She was the grand dame of Richmond in her time. She often entertained the new debs for their season, including those in her family.
Mrs. Lefroy was a member of the Society of Colonial Dames in Virginia, served as president of the Woman's Club of Richmond, and was a member of the Daughters of the American Revolution (D. A. R.). Helena was also a member of all the above.
In 1929 Mrs. Lefroy hosted the debutante set for dinner at the Virginia Country Club, which included her granddaughter Miss Melinda Caperton, daughter of Helena.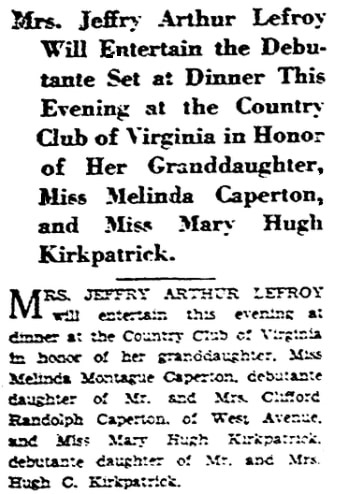 In the 1933 season a newspaper clip reported:
Four Generations of Virginia's oldest and most socially distinguished families will be represented. Mrs. Jeffrey Arthur Lefroy will give a party to honor her great granddaughter Miss Austin Caperton Brown, daughter of Rose Gaston Caperton and John Wilson Brown III [and granddaughter of Helena and Clifford].
Austin's debut would not come for another three years, and would be presented in Richmond, Baltimore, and Philadelphia.
An interesting note in the article on the family read:
For years Richmond's society news had been headlined by the names of Miss Brown's family. Her great-great grandmother Mrs. John Henry Montague, who was Melinda Meredith Fox, led the first german of the Richmond German Club with General Jo Lane Stern.

Her grandmother, Mrs. Lefroy, who was still Sallie Watson Montague, led the first german with the General. Mrs. Caperton, then Helena Lefroy, was one of the season's buds. General Stern selected her in return.
Stay tuned for more on Jamestown descendants!
Note: An online collection of newspapers, such as GenealogyBank's Historical Newspaper Archives, is not only a great way to learn about the lives of your ancestors – the old newspaper articles also help you understand American history and the times your ancestors lived in.
Note on the header image: Helena Caperton's grandparents, John Henry and Melinda Meredith (Fox) Montague, in celebration of their 60th wedding anniversary in May 1908. Courtesy of George Seitz.
Related Articles: