Like many of you, I am actively on Facebook. I particularly like a group that posts items from the history of Springdale, Connecticut. Springdale is a section of Stamford, Connecticut; I lived and worked there for many years.
Last month a reader posted this old school photo from a play.
Hmm…according to the posting, this old photo of a Springdale School play was from 1936.
I needed to look closely at this – my Dad could possibly be in this photo.
That looked like it might be him in the third row.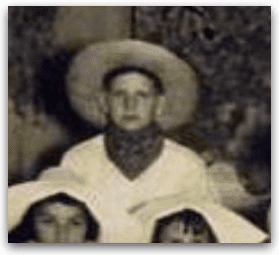 So – I reached out to the extended Facebook network for their collective opinions. I posted other photos of my Dad from that time period and asked: Was it him?
Some thought yes – some thought it could be, but said the hair was too dark.
I continued to work back through the many postings on this Springdale page in Facebook – and then I found this old newspaper clipping listing the names of the pupils in the play.
This old newspaper article described a Springdale School play in May 1936. The time was right. There was my Dad's name – misspelled – but there it was.
Hmm…and the newspaper article described a "Sunbonnet Chorus" and the "Overall Boys' Chorus." That accurately described the way these students were dressed.
So – could this old newspaper article be confirmation that that was my Dad in the old Facebook photo? Did the Springdale School present the Otis Carrington play Polished Pebbles every year, – or was 1936 the first and only time it was performed?
[search_box]
Then yesterday another old newspaper clipping was posted to Facebook.
Here was the proof.
It was my Dad in the newspaper photo – cowboy hat, dungarees and all.
Thanks to these old newspaper clippings I could confirm that was him, as well as the names of dozens of other students that were in the school play.
My tough old Dad – World War II hero and all – at age 13 was a star in a school play!
Great story.
Great photo of my father.
And now our family has another photo and story for our family history – and we only have it because it was preserved in the pages of old newspapers.
Dig in and find your old family stories preserved in old newspaper collections, such as GenealogyBank's Historical Newspaper Archives.
Related Articles:
[bottom_post_ad]