Introduction: Gena Philibert-Ortega is a genealogist and author of the book "From the Family Kitchen." In this guest blog post, Gena searches old newspapers to investigate the murder mystery of Louise Bailey back in 1914.
"If she is innocent, may God help her."

~ Mrs. Duryea
Imagine a story that involves jealousy, murder, and a bullet through a window. The players in this tragedy include the jealous society wife of a physician, the doctor, and a female patient. And as with all good whodunits the story ends with more questions than answers.
Is this the plot of a recent murder mystery novel? Perhaps one of those episodes of Law and Order ripped from the headlines? No, this is a murder mystery that happened almost 100 years ago, specifically June 1914 in Freeport, New York. A story preserved in old newspaper articles.
It involves Dr. Edwin Carman, his wife Florence Carman, and a patient named Mrs. Louise Bailey. On that June evening Mrs. Bailey was in the exam room of Dr. Carman's home medical office, seeking a remedy for malaria. Suddenly a bullet was fired from outside that went through the window of the exam room and killed Mrs. Bailey instantly. Later, speculation would arise that Mrs. Bailey was the unintended murder victim and the real target was the doctor himself.
As with any murder that involves a married woman, first suspicions might rest with the husband of the victim. In this case, Mr. Bailey was at home at the time of the shooting, wondering what was taking his wife so long. It is thought that this was the first time Mrs. Bailey had sought Dr. Carman's services.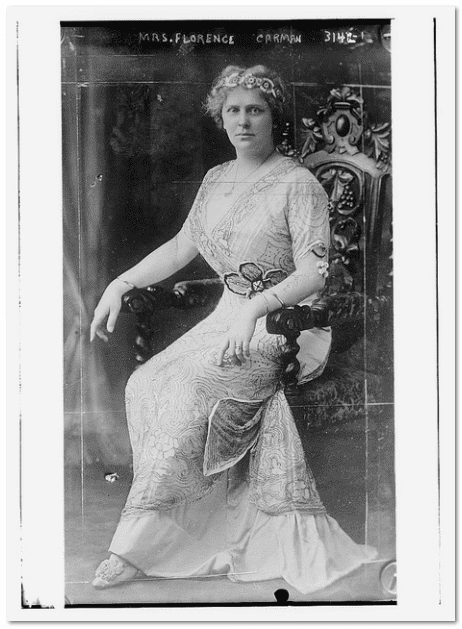 Suspicion quickly turned to Mrs. Carman, who admitted that in the past, jealousy had driven her to such acts as setting up a recording device in her husband's office so that she could hear anything going on behind those closed doors. Bugging her husband's office wasn't the first time Mrs. Carman had allowed jealousy to cloud her judgment. Her husband relayed a story where Mrs. Carman had burst into the exam room and slapped and pulled the hair of a female patient.
So from their own admission, Mrs. Carman had been known to be jealous of her husband's female patients—but was she capable of murder? While Mrs. Carman and another family member insisted she was in bed at the time of the shooting, a male patient in the waiting room testified that he had seen her walking around.

Whether it was the vengeance of a disgruntled employee—or the true testimony of someone who heard Mrs. Carman admit her guilt—the Carman's maid said that Mrs. Carman had confessed to her that "she shot (at) him." The maid's claim sealed the deal and Mrs. Carman was put on trial for first degree murder.
The alleged confession added to the speculation that the doctor was the true target of the crime. Mrs. Carman's defense team argued that the real killer was an unknown man. Another possible suspect for the shooting raised by the defense was an "insane" patient exacting some sort of revenge on the doctor. But Dr. Carman couldn't think of any possible patients who fit that profile.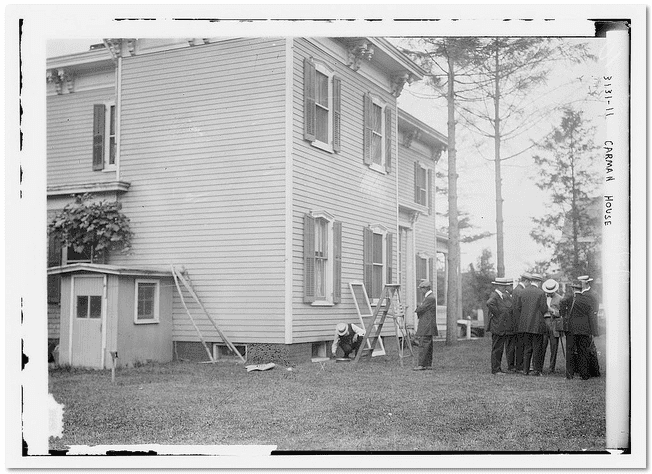 After a sensational court trial, the jury reported to the judge that they were hopelessly deadlocked on the verdict. Later, a second murder trial acquitted Florence Carman. Did Florence Carman get away with murder or was this a case of some random act of violence? Maybe Mrs. Carman had reason to be jealous or maybe an equally jealous husband pulled the trigger, intent on ending the life of the doctor.
We may never know what really happened that summer evening at the home office of Dr. Carman, but if you're investigating a case of a murder in your family history, remember that those who commit murder leave a paper trail—and that trail can often be found in old newspapers.
Have a murder case or other crimes in your family tree? Consult newspapers in the city that the ancestor was from, as well as newspapers from across the United States because the story may have been picked up and republished. Read histories of the area for information about the case and the families involved. If the case went to trail, spend some time at the courthouse or hire someone to find documents relating to the case. Also, peruse old newspapers for court case articles. The public hearings and verdicts of superior, civil and criminal court cases can often be found in old newspapers. A criminal case may just be the tip of the iceberg. The victim's family may have also decided to sue, so check the civil trial index. Looking for other records to consider? Coroner's inquests and criminal records might also help.
What happened to Dr. and Mrs. Carman? They continued to live out their days in Freeport, New York. Some books suggest that her new-found infamy led her to the New York stage where she spent a short time singing.* It seems that even in the "good old days" those who committed murder sometimes found a fame that escaped them prior to their notorious deeds.
While you may never know what really happened in your family's murder case, with enough research you can at least tell the story. Whether your ancestor was the accused or the victim of the crime, resources exist to help piece together and document this part of your family history.
____________________
Note: the quote at the beginning of the post refers to the fact that Mrs. Bailey's mother, Mrs. Duryea, reportedly said of the accused killer Florence Carman: "If she is innocent, may God help her." "Mrs. Florence Carman Arrested and Held on Charge of Murder." Meridian Weekly Republican (Meridian, Connecticut), 9 July 1914, page 1.
* The books Ghosts of 42nd Street by Anthony Bianco (page 40) and When I'm Bad, I'm Better: Mae West, Sex, and Entertainment by Marybeth Hamilton (page 4) both suggest Florence Carman spent some time singing on stage.
(Visited 217 times, 1 visits today)