Introduction:  In this article, Mary Harrell-Sesniak explains that some of your ancestors may have patented inventions – and finding the government records or newspaper descriptions of these inventions may fill in some gaps in your family history. Mary is a genealogist, author and editor with a strong technology background.

When we think of patented inventions (not to be confused with land patents), the more famous inventors—such as Thomas Edison (inventor of the phonograph and 1000+ other inventions)—overshadow lesser-known American inventors.
But take a moment to reflect on life before the Industrial Revolution, when our early American ancestors were left to their own ingenuity. The family stories may have become lost over the years, but perhaps some of your ancestors invented unique tools or machines—and finding information about their patented inventions may fill in some gaps in your family history.
Necessity was the driving force behind many of these historical inventions, creating devices to deal with problems that don't concern us today.
Peter Zacharie's Mud-Moving Machine
For example, mud was a large problem in the late 18th century. When you cleared a swamp, it was a back-breaking, labor-intensive chore, and undoubtedly the inspiration for Peter Zacharie's (of Baltimore) mud-moving device, which is described in this 1792 newspaper article.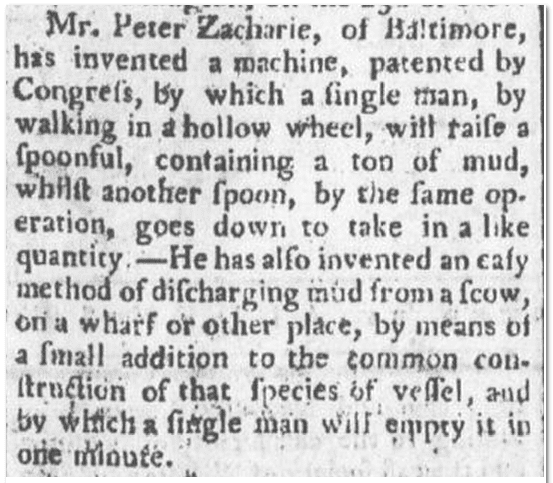 His device allowed a person to walk in a hollow wheel and raise, with what must have been a large spoon, a ton of mud. As the first one went up, a corresponding spoon simultaneously went down to get another load, thereby allowing a single man to empty it in a minute. What a fantastic labor-saving invention!
Although no drawing has been located of Zacharie's machine, List of Patents for Inventions and Designs Issued by the United States from 1790 to 1847 (Edmund Burke, Commissioner of Patents, 1847) on Google Books, described it as an "Excavator, mud machine." I imagine it more as an early elliptical machine—as this would undoubtedly have kept the farmer in shape!
Obadiah Herbert's Spinning Wheel
That same 1792 newspaper reported that Obadiah Herbert (of Mount Pleasant) had created a spinning wheel that could eliminate the need for a second person. As noted, "the advantages of such a machine were evident."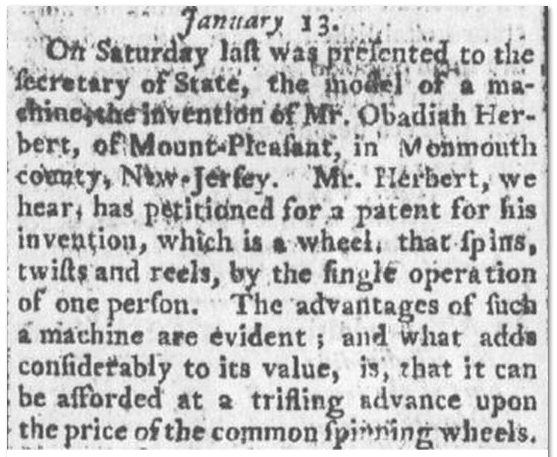 Miss E. A. Judkins Lace Loom
You'll find descriptions of other lesser-known American inventions in early newspapers, such as this one by Miss E. A. Judkins (of Portland), who invented a loom to weave lace, fringes, etc., eliminating the need for tatting and crocheting.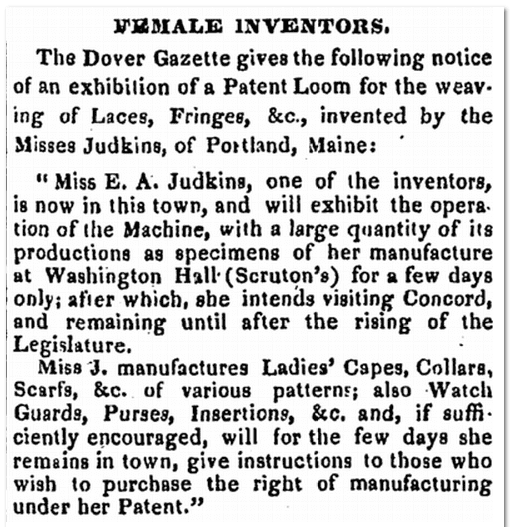 Patent Protection in Early America
These early inventions received patent protection under the "Act to Promote the Progress of Useful Arts" of 10 April 1790. Protection under this act was granted:
"to such persons or petitioners, his, her or their heirs, administrators or assigns for any term not exceeding fourteen years, the sole and exclusive right and liberty of making, constructing, using and vending to others to be used, the said invention or discovery."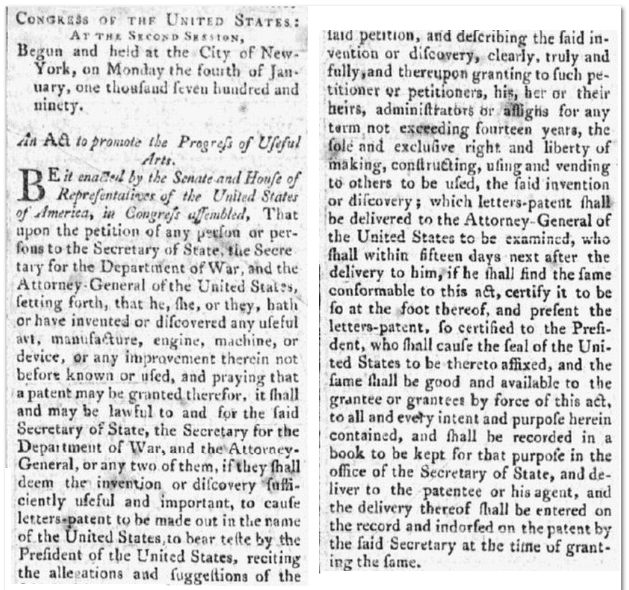 There were various other stipulations, and the act included a statement that the issued patent "would be prima facia evidence that the said patentee or patentees, was or were the first and true inventor or inventors, discover or discovers of the thing so specified." Filing fees were specified, which totaled $3.85:
50¢ to receive and file the petition
10¢ per copy-sheet containing one hundred words
$2.00 for making out the patent
$1.00 for affixing the great seal
25¢ to endorse the day of delivering the same to the patentee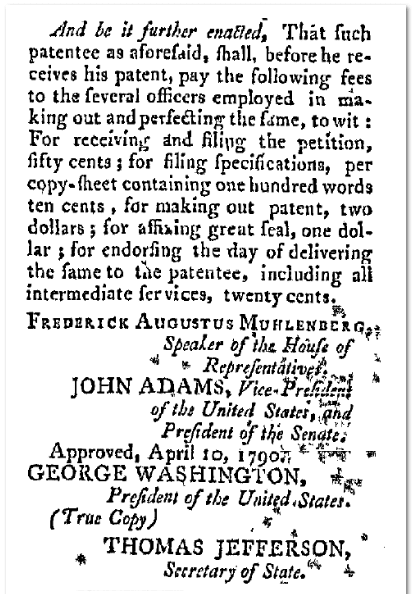 Where to Find These Historical U.S. Patents?
Unfortunately for family historians searching government records, about 10,000 of the earliest patent documents were destroyed in an 1836 fire at the Post Office building. Luckily, many American patentees kept copies of their prized patents.
Known as the "X-Patents," less than 1/3 of the documents destroyed in that fire have been restored to the United States Patent Office—mostly from personal collections or archives. One of the surviving early documents was Eli Whitney's patent for the cotton gin.
If you find one of the missing X-Patents in your family archives, be sure to contact the U.S. Patent Office. They'll be appreciative you contacted them so that they can save more of these missing historical patents.
To learn more about patented early American inventions search GenealogyBank's Newspaper Archives, along with Google Books and Google Patents. You'll also find a number of accounts and related reference material in GenealogyBank's Historical Books collection.
Also visit the United States Patent and Trademark Office. There you'll learn that protection for patented inventions is not much longer than it was in 1790, but fees now run into thousands of dollars!
From their website:
"How long does patent protection last?
"For applications filed on or after June 8, 1995, utility and plant patents are granted for a term which begins with the date of the grant and usually ends 20 years from the date you first applied for the patent subject to the payment of appropriate maintenance fees. Design patents last 14 years from the date you are granted the patent. No maintenance fees are required for design patents."
Recommended reading from the newspaper archives:
Do you have any American inventors in your family tree? Share with us in the comments!
(Visited 233 times, 1 visits today)