Introduction: In this article, Gena Philibert-Ortega gives tips for attending RootsTech 2021 online, as "RootsTech Connect" is going virtual. Gena is a genealogist and author of the book "From the Family Kitchen."
It goes without saying that 2020 and now 2021 are "interesting" years. But we as genealogists benefit in some ways from this unique moment in time via online learning opportunities. Take conferences for example. Don't have the time or money to go to Salt Lake City for RootsTech? No problem! This year RootsTech is coming to you, virtually!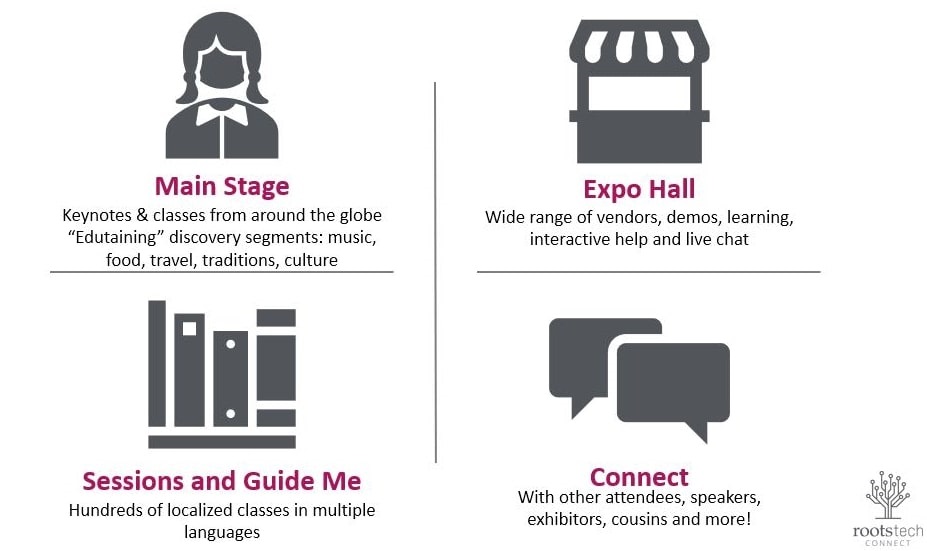 RootsTech Comes to You
So, what's different about RootsTech this year? A lot! Some of the differences you'll notice include:
The name is different. Welcome to "RootsTech Connect." This virtual conference includes live sessions as well as archived sessions you can watch for a year.
It's global. A virtual event means that the restrictions of an in-person event are gone. Speakers from around the world. Presentations in numerous languages. Vendors in the marketplace from across the globe.
Cultural Events. Cooking demonstrations, yoga, music and other activities from around the world will make this an event, not just a typical conference. RootsTech Connect is planning experiences in 11+ languages including Chinese, French, German, Italian, Portuguese, Russian, and Spanish.
It's BIGGER. While the in-person RootsTech draws about 30,000 participants, the online version will attract an estimated 350,000 people participating in over 1,000 sessions.
It's free. Yes, free. 100%. The only thing you have to do is register.
RootsTech Ambassadors
The RootsTech Ambassadors* have been spreading the word about what's new at RootsTech Connect this year. I talked to a few of them and this is what they told me they were most excited about.
DNA courses and new innovations at FamilySearch – Mariann Littell
The wide range of classes that are geared toward a global audience. I can't wait for the introduction to Middle East family history research. This type of class would not have been offered at the traditional in-person RootsTech. – Amber Oldenburg
I am most excited about being able to attend RootsTech for the first time! Not only as an attendee but as a speaker. The opportunity to be part of a worldwide event virtually from my home is a wonderful genealogy educational opportunity. – Melissa Barker
RootsTech Ambassadors are in the know with RootsTech information, but they also have great tips for making the most of attending RootsTech Connect.
Watch as many presentations as possible and take good notes and download syllabi. – Mariann Littell
Take some time to mingle with other attendees. Don't be afraid to put yourself out there. You have an incredible opportunity to meet people from all over the world who are interested in the same thing as you, so have fun and connect with someone new in the RootsTech chat rooms. – Amber Oldenburg
The one tip I would give is to pace yourself. Don't think you have to watch all the sessions within the three days of RootsTech Connect because they are going to be available for FREE for the next year. Also, be sure to watch and listen to the keynote speakers; they have wonderful stories to tell. – Melissa Barker
Prepare!
Get ready for RootsTech Connect by following these suggestions:
Get registered. You can register for RootsTech simply by filling out a form on the website or you can use your FamilySearch account to register. The benefit of registering using your FamilySearch account is that you can view a list of other attendees who are related to you. This is calculated based on your FamilySearch Tree and changes as the website discovers more relatives – and as more people register to attend the conference. From your FamilySearch account you can view your relationship to other attendees and even send them a message. It's a great way to collaborate on your shared family history.
RootsTech runs from 25-27 February 2021. Before the big event, make sure to download the list of RootsTech sessions. I suggest having a goal for the conference. What do you need/want to learn more about? Go through the presentations and highlight those topics. You might also want to note any speakers that you enjoy learning from. This way you can create a plan that prioritizes your must-see presentations. Remember: these presentations are recorded. So, you can watch as much or as little as you want. And because they are 20 minutes or less, you are getting a focused, brief presentation which allows you to watch even more.
Set your alarm so that you can join the main stage live events and the keynote speakers presenting there. You can download the schedule.
You can get a taste for what to expect by watching the "Roads to RootsTech" videos available from the

FamilySearch YouTube channel

. These videos will give you a taste of what the virtual conference is all about.
Time for RootsTech Connect
It's almost that time of the year for RootsTech, and this year will be different. That's a good thing. Access to over a thousand presentations from the comfort of your home, plus live events that include keynotes, networking, and an Exhibit Hall, mean more opportunities for you to learn more about what you love: genealogy.
"See" you at RootsTech!
*Special thanks to RootsTech Ambassadors Mariann Littell, Amber Oldenburg (Instagram: @one_branch_at_a_time), and Melissa Barker (http://agenealogistinthearchives.blogspot.com/) for their thoughts about RootsTech.