Sometimes you'll be searching for one family member and end up discovering someone else entirely – and if you're lucky, that surprise discovery will be just what you needed to fill in multiple missing links in your family tree.
Such was the case when I discovered George William Lane (1818-1883). I was searching GenealogyBank's Historical Newspaper Archives for information about the Wright family of Lake Mahopac, Putnam County, New York, using the search terms "Wright" and "Mahopac," when I happened upon George's obituary, dated 31 December 1883.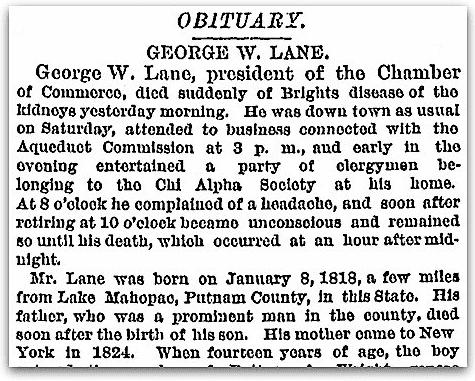 As I read further, I realized that the archive had returned this obituary in my search results for "Wright" and "Mahopac" because George was born in Lake Mahopac and had been employed by "Bettner & Wright" as a merchant.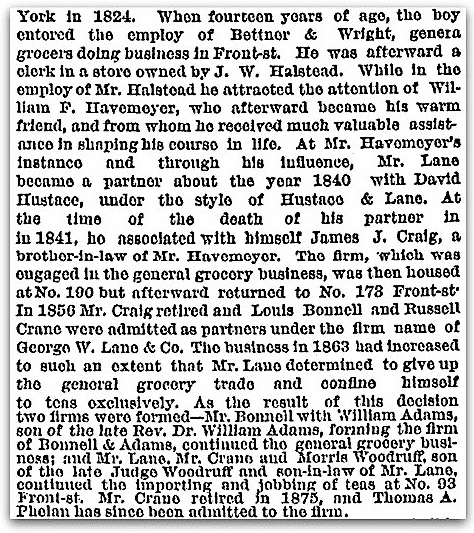 The amount of detail included in the obituary made it an interesting read, but I didn't realize George was connected to me until I reached the end of the obituary – where the writer mentioned who George's family was.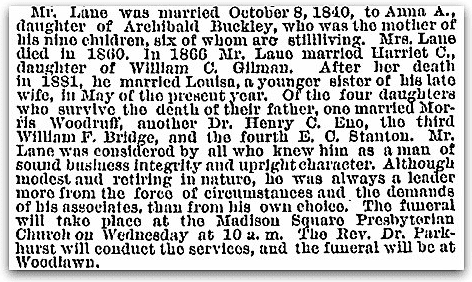 According to this, George was married three times. First, he married Anna A. Buckley, "the mother of his nine children, six of whom are still living," and who died in 1860. George then married Harriet G. Gilman in 1866. After Harriet's death in 1881, he married her younger sister Louise Gilman "in May of the present year [1883]."
Very cool – I know that nearly everyone born in Mahopac is related to me, and that the Gilman family are also my relatives, which means that George is likely related to me after all.
Next, I decided to search for him in FamilySearch to see if I could connect George to my online family tree. I found him (and noted that the "W" in his obituary stands for "William"), but also realized that there was a lot of missing information on his page that I could fill in using this obituary.
George's birth and death dates and his birthplace were recorded correctly, but the entry was missing his exact place of death (New York City, New York), as well as any information about his wives or children.
However, because the obituary gave us the name of all three of George's spouses, I can now add them to George's page on my family tree and can begin connecting the Gilman sisters back to the Gilman line also in my family tree. While I don't have the names of his daughters just yet, I do have the names of several of their husbands, which will give me the background information I need to begin searching for them.
Genealogy Tip: When searching GenealogyBank's Historical Newspaper Archives for articles mentioning the small towns your ancestors were from, don't discount your search results because they don't mention the exact person you had in mind. Many 19th century villages were made up of large extended families, meaning you could have just discovered a relative you didn't know you had.