Genealogists often see the abbreviation "Æt" on tombstones, and it also commonly appeared in American newspapers. Here is an example, published in a Maine newspaper 200 years ago, in 1819.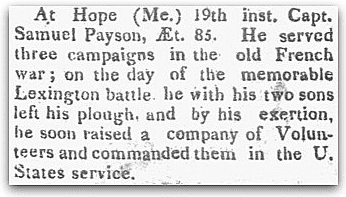 According to Merriam-Webster, Æt is the abbreviation for the Latin adjective "aetatis" and means: "at the age of."
In this example we see that Capt. Samuel Payson was aged 85 when he died.
And now you know.
Read the old newspapers with confidence.
Related Article: