Introduction: In this article, Katie Rebecca Garner writes about 1890 U.S. Census records, which were mainly destroyed in a 1921 fire at the Commerce Building in Washington, D.C. Katie specializes in U.S. research for family history, enjoys writing and researching, and is developing curricula for teaching children genealogy.
Most of the time, a census study of a family in the late nineteenth century and early twentieth century skips the "missing" 1890 census, going straight from 1880 to 1900. This means a 20-year gap between censuses, which means missing a lot of information about an ancestral family. However, it is still possible to research ancestors in 1890.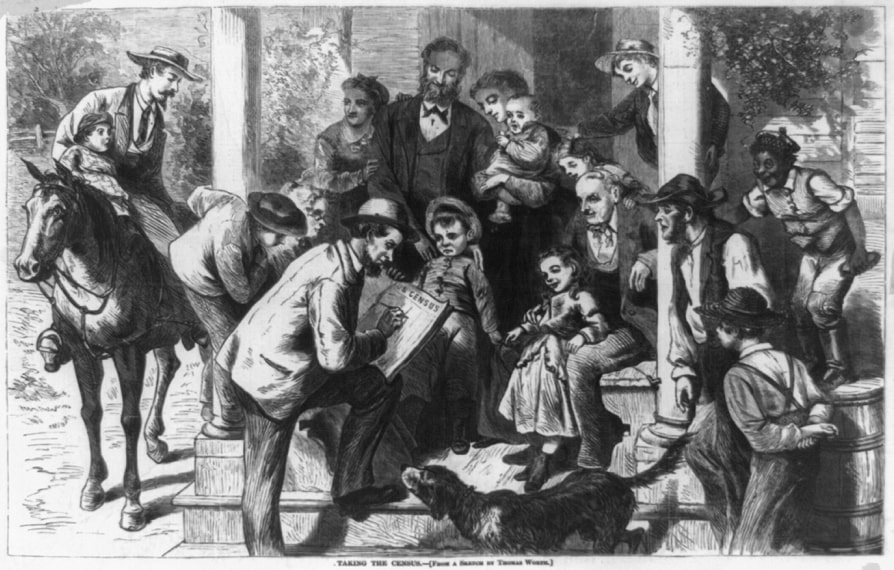 What Happened to the 1890 Census?
Before the National Archives was established, census records were stored in the basement of the Commerce Building in Washington, D.C. A fire in 1921 in this basement destroyed or damaged many of the 1890 census returns. Twelve years later, the surviving 1890 census schedules were included in a list of records to be destroyed, which was sent to the Librarian of Congress. The Librarian, asked to identify records to be preserved for historical purposes, didn't choose the census records for preservation. Thus, the remaining 1890 census schedules were destroyed by government order a few years later. (1)
Very little of the population schedule of the 1890 census survives. These surviving schedules include a few enumeration districts in each of the following states (and the District of Columbia): (2)
Alabama
District of Columbia
Georgia
Illinois
Minnesota
New Jersey
New York
North Carolina
Ohio
South Dakota
Texas
What's in the 1890 Census?
The 1890 census is formatted differently from the other censuses. There is a sheet for each household, and the information for each individual is arranged in columns instead of in rows. Below the header information is a row for household and dwelling information: numbering the dwelling and the family; counting the number of families in the dwelling, the number of people in the dwelling, and the number of people in the family. Information for each person includes name, age, gender, race, relationship to head of household, marital status, birthplace, birthplaces of parents, whether able to read and write, occupation, months unemployed during census year, whether able to speak English (asked for language spoken if unable to speak English). The race row specified the following: white, black, mulatto, quadroon, octoroon, Chinese, Japanese, or Indian. Mothers were asked how many children they had borne and how many were living. Those of foreign birth were asked how many years they were in the U.S. and whether they were naturalized or in the process of naturalization. The census also asked about chronic diseases; defectiveness in mind, sight, hearing, or speech; crippled or maimed; prisoner, convict, homeless child, or pauper. Names of diseases and defects were asked for when applicable. The population schedule also asked whether people were soldiers, sailors, or marines during the Civil War or widows of such, for both the Union and the Confederacy. (3)
Case Study – Fragment
The Nelson family lived in Jersey City, Hudson, New Jersey, in 1890. Note that very few of the returns for Jersey City survive: there are images for only three families on this return. The dwelling included two families, totaling fourteen people; seven people were in the Nelson family. (4)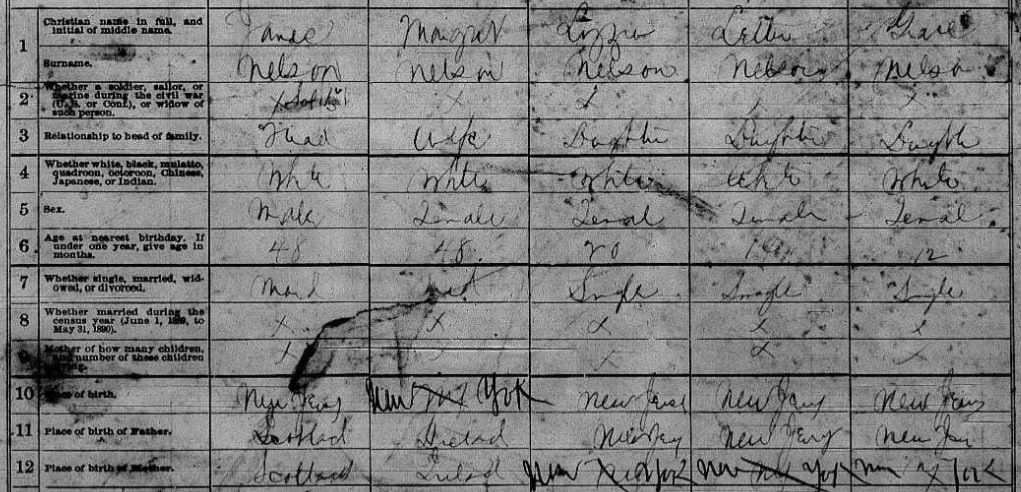 Household members on the first page included: Jande, age 48; his wife Magret, age 48; and their daughters Lizzie, age 20; Lettie, age 14; and Grace, age 12. There is a large age gap between Lizzie and Lettie, which hints that there is either a deceased child(ren) in between or a blended family. The enumerator left blank the row for number of children born and number of children still living, which could have given insight into the large age gap between Lizzie and Lettie. Investigating this will require researching birth and marriage records for the Nelson family.
Magret was born in New York and the other household members were born in New Jersey. Jande's parents were born in Scotland and Magret's parents were born in Ireland. Tracing back either line would involve immigration research to the British Isles.
Jande's occupation was a machinist, Magret's was a housewife, Lizzie's was a soap factory packer, and the other children were at school. Jande had been a soldier in the Civil War, so military research could be conducted on him.
What if My Ancestors Were Not on the Surviving Schedules?
If your ancestor was enumerated on one of the many schedules of the 1890 census that were destroyed, you can search for them in substitute records. Any record that established residency at a particular place and time and helps differentiate your ancestor from others of the same name can help in this. Such records include directories, tax lists, state censuses, and newspapers – such as GenealogyBank's Historical Newspaper Archives. In the area your ancestor lived, search for record types available for 1890 and surrounding years, then look up your ancestor in those records. Note that substitute records may not contain all the data that was recorded in the 1890 census.
_________________
(1) https://en.wikipedia.org/wiki/1890_United_States_census
(2) https://www.familysearch.org/en/wiki/United_States_Census_1890
(3) https://wiki.rootsweb.com/wiki/index.php/1890_U.S._Census; https://www.familysearch.org/en/wiki/United_States_Census_1890
(4) 1890 U.S. Census, Hudson County, New Jersey, Population schedule, Jersey City, p. 243 (penned), dwelling 165, family 231, James Nelson household; digital images, GenealogyBank.com (https://genealogybank.com: accessed 4 May 2022), citing FamilySearch collections.
Related Articles: