Introduction: In this article, Gena Philibert-Ortega searches old newspapers to find recipes to add flavor and color to your Fourth of July celebration. Gena is a genealogist and author of the book "From the Family Kitchen."
Are you ready for Independence Day? You might be planning a get-together with your family, watching fireworks, or just enjoying the day off.
What will you eat? There are some foods that seem as American as apple pie and worthy of a Fourth of July get-together – and there's no better place to find those recipes than historical newspapers. The following are some recipes I found that might be new to you and worth a place on your picnic table.
Main Dish
Fourth of July lends itself to cooking items on the grill and eating outside. I have to admit that most likely I will go with something simple for the Fourth – like a hot dog wrapped in bacon, accompanied by a bunch of toppings such as sauerkraut, diced onions, jalapenos, relish, and cheese. You may think that cooking a hot dog is a simple task, not worthy of a printed recipe, but I did find one for the "Glickman Great-Tasting Danny Dog." This hot dog features mustard, onions, and vinegar. The hot dog is named for Dan Glickman, who was the U.S. Secretary of Agriculture when this recipe appeared.
One traditional summer picnic-type food is fried chicken. This recipe can help you make your own fried chicken – and along with it, potato salad.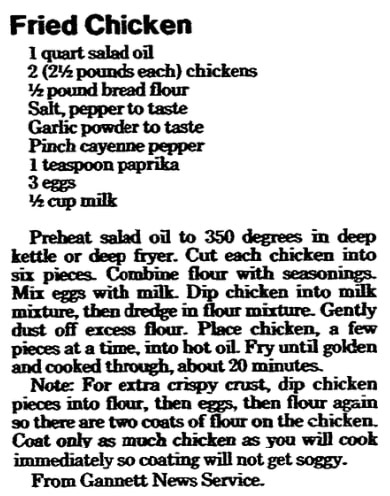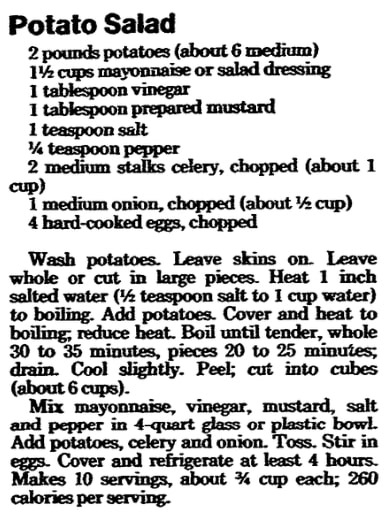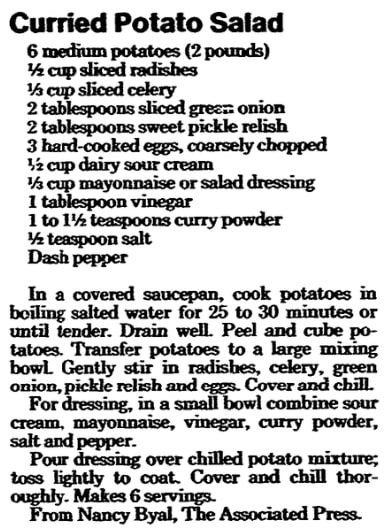 Whatever meat you are serving, most likely it will be cooked on the grill. So why not create your own barbecue sauce? This recipe for "Michael's Barbecue Sauce" is vinegar-based and includes prepared hot pepper sauce.
Sides
I don't know about where you live, but July 4th will be hot where I am – and although I haven't seen the projected forecast yet, if I had to guess based on current temperatures it will be over 100 degrees. So, foods that are "cool" would be a nice addition to an outdoor meal.
One such dish is gazpacho. Gazpacho is a cold tomato-based soup made with raw vegetables. Gazpacho is refreshing on a hot day and this recipe combines vegetable juice, cucumbers, onions and other ingredients for a soup that would be great as a starter.
Whether you plan on a main meal of fried chicken, hot dogs, or really anything else, baked beans make a great side. This recipe combines beans, brown sugar, salt pork, and pepper to make a baked beans dish that the article says was a staple at previous Aurora, Ohio, Fourth of July celebrations.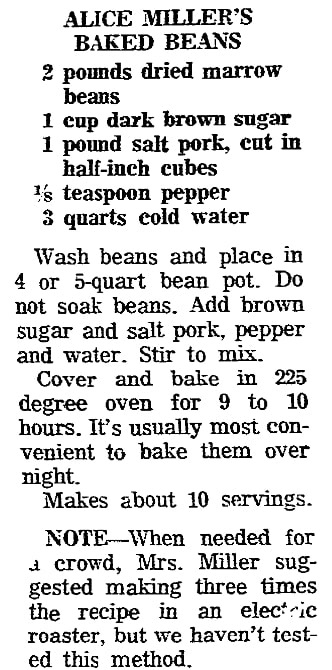 Desserts
What kind of dessert can accompany your Independence Day meal? If you want to go with easy and portable, cookies are a great idea. This recipe is for a shortbread cookie: Fourth of July Stars.
This newspaper article has a few good ideas for a July 4th dessert, but one of my favorites is the Red, White, and Blue Milkshake. Best of all, it includes some blueberry pie as an ingredient. I'm definitely trying this one.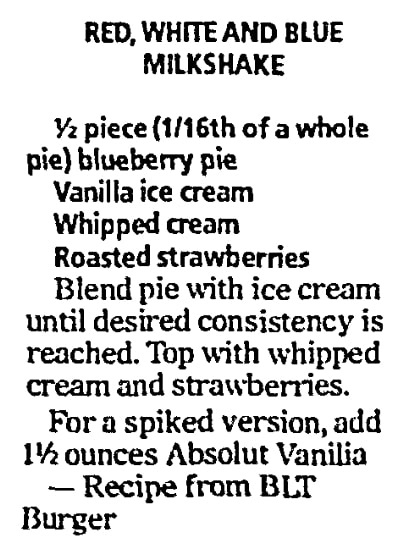 Time to Eat
Nothing says a summer party like the Fourth of July, and food is an essential element. There's nothing wrong with going with the old standards your family loves, but why not try something new, found in a collection of newspapers such as GenealogyBank's Historical Newspaper Archives? You might find that the "new" dish will become an annual tradition.
Happy Fourth of July!
Note on the header image: Fourth of July fireworks over the East Village of New York City. Credit: David Shankbone; Wikimedia Commons.