Introduction: In this article, Gena Philibert-Ortega gives tips for searching for obituaries in old newspapers to get better search results. Gena is a genealogist and author of the book "From the Family Kitchen."
How do you search for an obituary in an online collection of newspapers, such as GenealogyBank's Historical Newspaper Archives? You most likely search by the deceased's name – but what other information do you add to the search?
Adding a place or a date range may help to narrow and focus your search. But what about other keywords? Are you adding the keyword "obituary" or "obituaries"? Should you?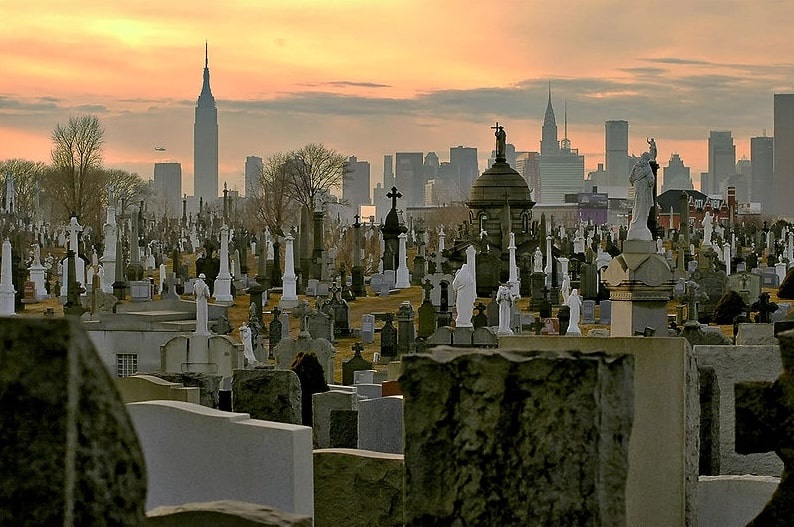 Obituaries Are Not Always Called Obituaries
We refer to a newspaper article that include the name of the deceased and biographical information as an obituary. But in newspapers, they aren't always titled that way. Sometimes a whole group of them are titled "obituary," singular, even though there are many of them. Sometimes a group is called "obituaries." Other times they're called something else entirely, such as "funeral notices" or "death notices."
Let's take a look at some examples.
This 1970 example from Flint, Michigan, titles these death articles as "Obituary and Funeral Notices." Note the word "obituary," singular, is used, even though there are several obituaries in this group.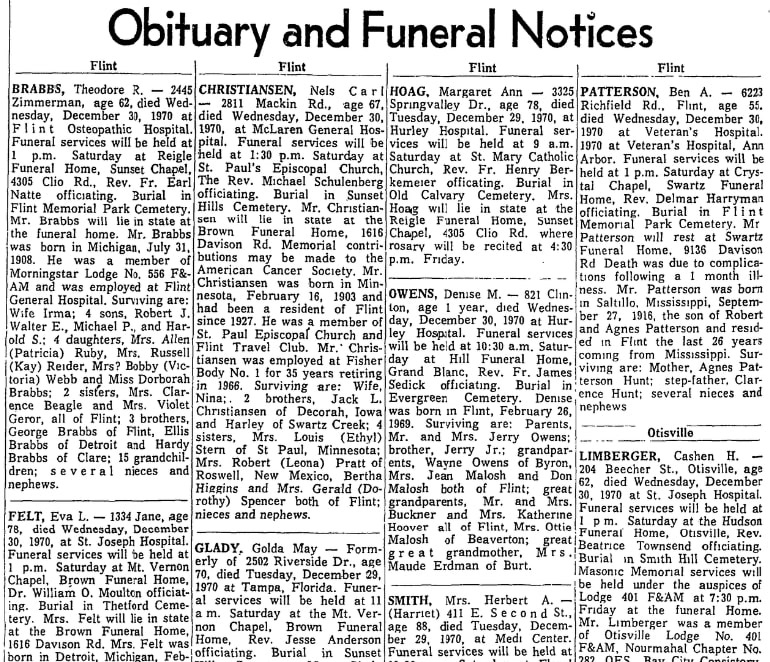 This 1950 example from Springfield, Illinois, is titled "Obituary" even though there are three obituaries printed underneath this column heading. To make things even more confusing, there are more obituaries printed to the right of these three – and they are grouped under the heading "Central Illinois Deaths."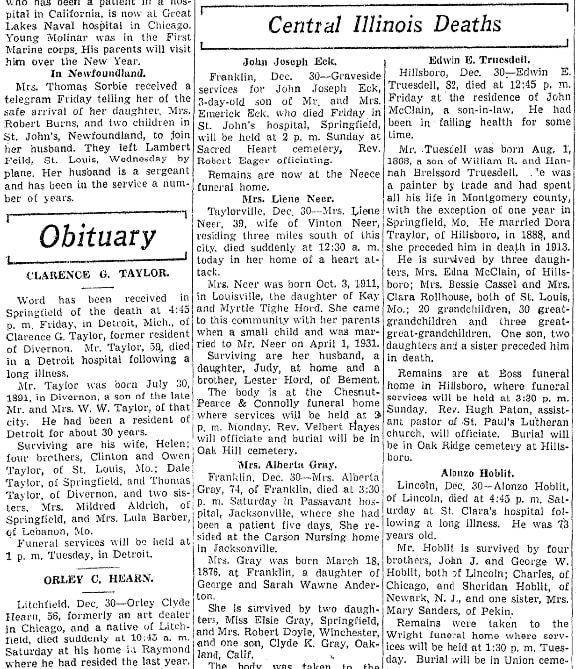 In other cases, some newspapers list a group of death notices as "obituaries," plural – as you might expect – rather than "obituary," singular, as in this 1920 example from Columbus, Ohio.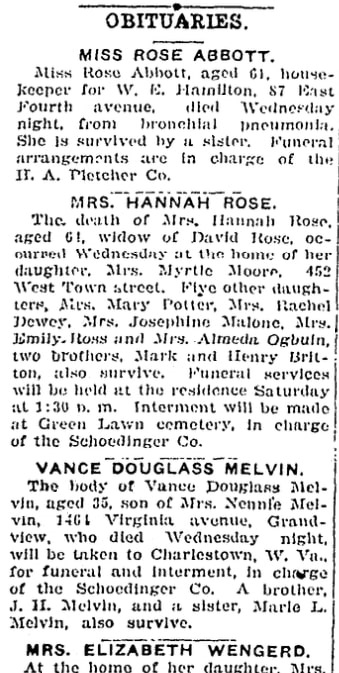 Although there are newspaper columns titled "obituary" or "obituaries," they also may be called something else. Consider this 1900 example from Sumter, South Carolina, which is simply titled "Death." Note also that this column contains two death notices, yet it is titled "Death" instead of "Deaths."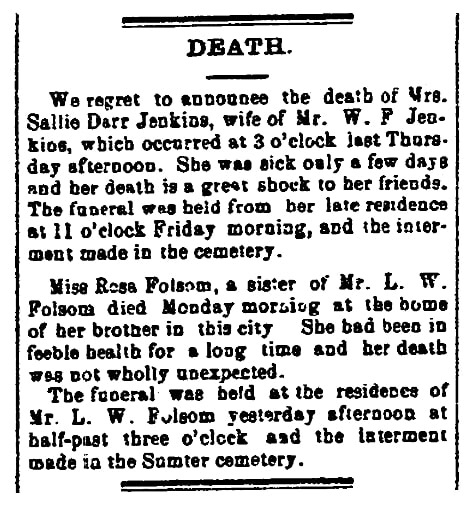 And then there's the possibility that obituaries are found in a column that lacks a title at all, as in this 1704 example from Boston, Massachusetts. These two death notices at the top left of the newspaper page were printed sans a title.
How to Search for an Obituary
You might notice from the above examples that including the word "obituary" in your search may not result in finding what you would hope. So, how should you search? Here are a few suggestions.
Search by the person's name only. Once you get the results, narrow them by a state. If narrowing by a state still leads to too many results, consider focusing that search by a city.
Search using name variations. Just because their name was John G. Smith doesn't mean that is what name appears in the obituary. Make sure to try variations of the name (e.g., J.G. Smith, John Smith, Jno Smith, etc.).
Search by the person's name and a date range. I tend to first narrow my search by a year range but if that still leaves you with too many results, narrow it by a range of a month or two. If you know the date of death, narrow your search by that month or the month of death and the following month.
Once you search, add a keyword. Remember that GenealogyBank allows you to add a keyword/s to include or exclude. Consider including a keyword like "died," "survivors" or "buried." These are words that I often find in obituaries.
Add another name to your search. Search for the deceased but also include the name of someone who should appear in that obituary (like a child or a spouse) in the keywords search box.
In order to best search a particular newspaper title, take some time to read your ancestor's hometown newspaper. Notice the layout of the newspaper. What articles appear, and where? Where do obituaries appear? What is the title for that column? Does it change depending on how many obituaries are listed (for example, "Obituary" or "Obituaries")? Do obituaries only appear on a certain day or days?
Keep in mind that if you don't find an obituary, there could be a few reasons. The newspaper that printed the obituary (or that specific date) may not be part of GenealogyBank's Historical Newspaper Archives. Perhaps the date the obituary appeared, or the newspaper it appeared in, is different from what you are assuming. Also, keep in mind that not everyone had an obituary. Even when obituaries were more common (the 20th century), not everyone would have had one for a variety of reasons.
Think before You Search
Although it seems to make sense to search for an obituary using the word "obituary," not all obituaries appear in the newspaper in a column with that title. It's better to start your obituary search with the ancestor's name (and name variations) and then once you receive those results, focus your search according to a place, a date range, or even by adding a relative's name.