Genealogy Research Tip: Don't judge a book by its cover. Carefully read every genealogy record of your ancestor's life—you never know what you will find. I recently made some surprising discoveries about the Morse family after digging deep into genealogy records online.
I found the obituary of Daniel Morse, published in the Cherry Valley Gazette (Cherry Valley, New York), 15 June 1819, page 3. It's a simple obituary, just one line: "At Herkimer in an apoplectic fit, Daniel Morse, Esq. formerly of Brookfield, Mass. aged 60."

Then I found another version of Morse's obituary, published the next day in the Commercial Advertiser (New York City, New York), 16 June 1819, page 2.

This obituary is even shorter than the first one, omitting the cause of death and his age, simply stating: "At Herkimer, N.Y. Daniel Morse, Esq. formerly of Brookfield, Mass."
Another New York City newspaper ran Morse's obituary two days later. That death notice appeared in the Spectator (New York City, New York), 18 June 1819, page 3.

Three days after that, the exact same death notice was published in a newspaper from a neighboring state, The Connecticut Mirror (Hartford, Connecticut), 21 June 1819, page 3.
Again, no mention of the cause of death, but his age is included: "At Herkimer N.Y. Daniel Morse, Esq. aged 60, formerly from Brookfield Ma."
So here we have four obituaries, and from them we have some basic genealogical facts:
His name
His age
Where he died
A hint about his occupation ("Esquire" often meant lawyer)
His former place of residence
But we don't know more about him—or his family—than that.
Digging deeper into my genealogy research with GenealogyBank, I wanted to see if there is more information about him.
There is.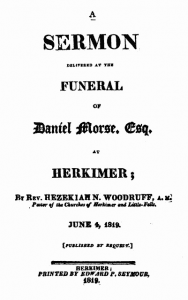 I found a copy of the sermon preached at his funeral.
Wow—the actual funeral sermon?
Yes, word for word.
What a terrific genealogical find this turns out to be—a document packed with family history information.
For starters, we learn that the funeral service was held on 4 June 1819, led by Rev. Hezekiah N. Woodruff, A.M., Pastor of the churches of Herkimer and Little Falls, New York. This gives us a good clue where we might find church records about Daniel Morse and his family.
This 16-page funeral sermon outline pamphlet includes extensive biographical material about Morse, as well as information about his family.
On page 13 of the funeral sermon outline pamphlet I read that:
Daniel was born on 2 August 1759
His wife was Lois Groat, born 18 March 1758
Both were born in Massachusetts
They married in August 1782 and had "several children"
They moved to Herkimer, New York, in 1800

The narrative goes on to describe the final days before he died 4 June 1819.

Reading more, I discovered that the pamphlet also contained a lengthy extract of the funeral sermon for his wife Lois (Groat) Morse! Suddenly, the second paragraph just leapt off the page at me: Lois died just a few weeks after her husband because of a fit of her own, a "paralytick" one.
Wanting to know more, I turned to a new search in GenealogyBank, looking for her obituary.
I found it in the New York Columbian (New York City, New York), 6 July 1819, page 2.

Now we know much more about Daniel Morse and his wife.
When I started searching I quickly found Daniel's death notice. It was a lucky break that GenealogyBank also had scanned in his funeral sermon.
But, don't judge a book by its cover. The title page states that it is the funeral sermon of Daniel Morse—it does not say that it also includes the funeral sermon of his late wife, Lois (Groat) Morse.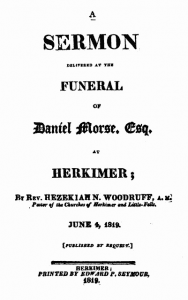 I had no idea that his wife Lois died less than four weeks after her husband. And since the title page of his funeral sermon made no mention of his wife, it was only by carefully reading the entire funeral sermon pamphlet that I learned the rest of the story.
The brief biographies of both of the Morse's, Daniel's funeral sermon, along with a lengthy extract from the sermon preached at Lois's funeral, are welcome additions to the family record.
So now we not only know when and where the Morse's died, we learned the tragic circumstances of how close in time their deaths were. They've become more than just names and dates on a family tree—we've come to know something about them as real people.
Don't judge a book by its cover. Always be prepared to go beneath the surface—dig deeper with your family history searches and find as many genealogy records about your ancestors as you can. And then read them all, thoroughly. You never know what you'll find!
(Visited 155 times, 1 visits today)