Introduction: In this article, Gena Philibert-Ortega searches the Internet and newspapers to learn more about a stranger whose calling card she found tucked inside an old book she purchased. Gena is a genealogist and author of the book "From the Family Kitchen."
In an effort to do a better job of taming my growing paper piles, I decided to go through some of those piles to discard items I no longer needed. Many family historians can empathize with my piles of old photocopied census records, no longer legible random scribbled notes, receipts from 2010, and brochures from out-of-state attractions.
Obviously, those piles included material I had long forgotten. One such item was an old calling card long tucked away, originally found in some books I purchased.
Because I can't resist a good mystery, I decided to see what I could find about the name on that card: Mrs. M. A. H. Jones.
Mrs. M. A. H. Jones' Calling Card
The handwritten card simply says "Mrs. M. A. H. Jones" and lists a street address of "635 S. Governor St."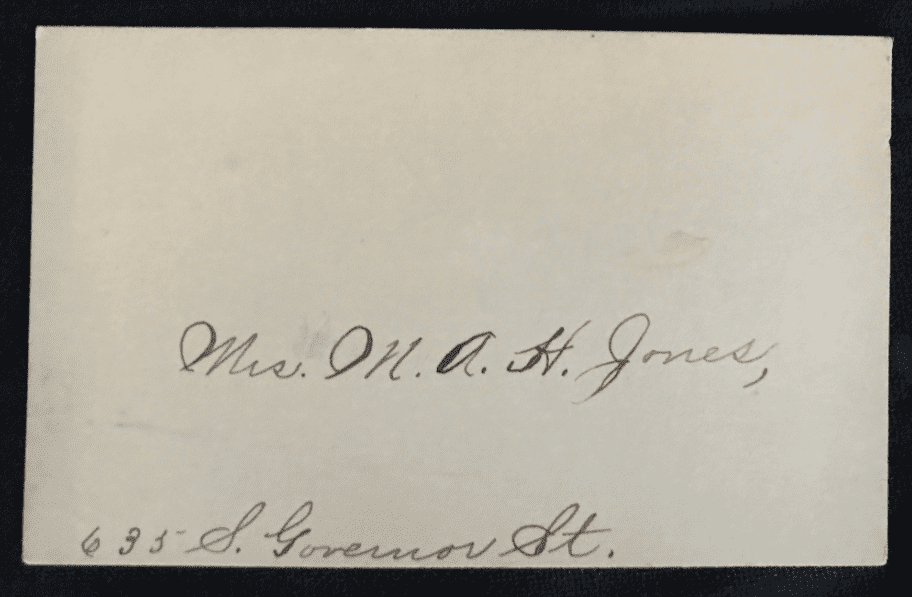 On the back of the card is a list that appear to represent years: "'03 – Ph B; '06 Ph B; '06 – Nurse."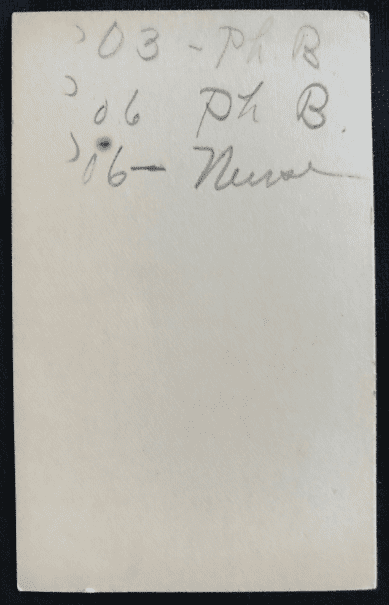 That's it. No other written clues to go on.
First Step: Google Search
I decided my first step would be to conduct a Google search on "Mrs. M. A. H. Jones" and her street address to see if I could learn her given name or her husband's. I could just search for the street address – but without a city name, I risk multiple unrelated hits that could cause me to waste time on a wild goose chase. Luckily for me, the combination of her name and street address helped me learn a little more.
My Google search results included two "hits" found in digitized books on the website Internet Archive. First was the book (Iowa) State Normal School Bulletin Triennial Catalog of Graduates from January 1904. On the page for the Class of 1900 was this listing:
"Barnett, E. Francis, Mrs. M.A.H. Jones, 635 S. Governor St., Iowa City. Married July 30, 1902." (1)
Wow! It looked like I not only now had the given and maiden name of Mrs. M. A. H. Jones, but verification of her address and a marriage date. Now, I had something to continue my research.
The second result from Google was a 1909 alumni register for the Iowa State Normal School with the same information as above except for a slight change in the wedding date: "July 13, 1902." (2)
Now, with more to go on than just a married name and street address, it was time to check GenealogyBank's Historical Newspaper Archives.
Second Step: Old Newspapers
One of the first newspaper articles I found was a list of marriage licenses in the Omaha World-Herald, including one for a M. A. H. Jones from Iowa City, Iowa, and an Eliza Francis Barnett from Weston, Iowa.
I'm glad I didn't go with my first instinct – to limit my search to newspapers in Iowa because she went to school in Iowa – or I would have missed this marriage license notice. Interestingly, they are not the only couple from Iowa seeking a marriage license in Nebraska. This may indicate that Omaha was a "Gretna Green" (a place couples ran off to for marriage), but further research would be needed to confirm that.
It also seems to confirm the first alumni listing I found that put the date of marriage at 30 July, not 13 July. Interestingly enough, a third source, the Dental Digest found on Google Books, lists a Jones and Barnett wedding on 23 July 1902. (3)
One last note about the Jones-Barnett marriage. A search on FamilySearch Records reveals a MAH Jones marriage to an Eliza Francis Barnett on 30 July 1902 in Pottawattamie, Iowa. Despite the announcement of a Nebraska marriage license, this record seems to indicate the couple married in Iowa. (4) I'm not sure how they received a marriage license in Nebraska and then married in Iowa on the same day – but since this is from an index, I would need to order the actual marriage record.
With no further Nebraska newspaper results, I limited the remaining results for M. A. H. Jones to Iowa, which showed 16 relevant results from Council Bluffs. These results ranged in date from 1899 to 1948. They provide a snapshot of the M. A. H. Jones family, such as when M. A. H. Jones visited his sick brother Dr. J. M. Jones in Iowa whose "condition is grave" in 1938.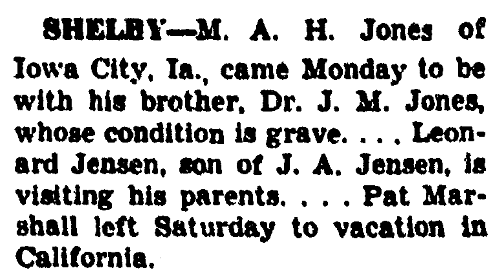 A clue to Mrs. M. A. H. Jones' life comes from the Daily Nonpareil on 23 July 1946, when it is reported that near Underwood, Iowa, there was a family gathering at the home of Mr. and Mrs. Ralph Barnett. "Mrs. M. A. H. Jones of Iowa City," along with Mr. and Mrs. Ray Barnett, Zola-Beth Barnett, Mr. and Mrs. Walter Cleary, Charles Hough, Mr. and Mrs. Bill Barnett, and Jack Barnett were present. Further research might reveal Ralph Barnett's relationship to Mrs. M. A. H. Jones. Since they share a surname (remember that Barnett was her maiden name), he could be her father, brother, uncle, or cousin.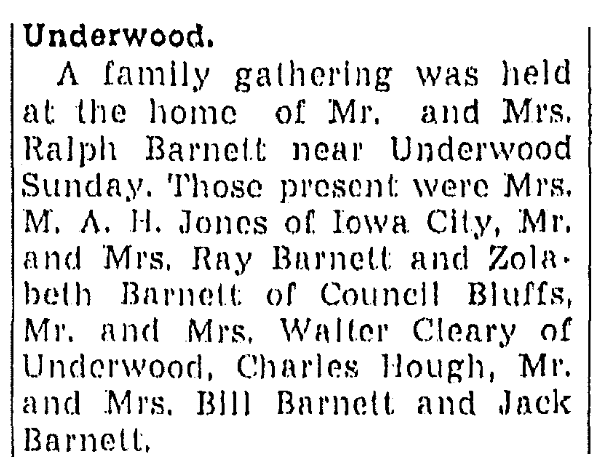 Further clues to the Barnett relationships can be found in the Society pages of the Daily Nonpareil in 1948. Zola Beth Barnett, the daughter of Mr. and Mrs. Ralph Barnett, was married and the out-of-town guests include Mrs. M. A. H. Jones.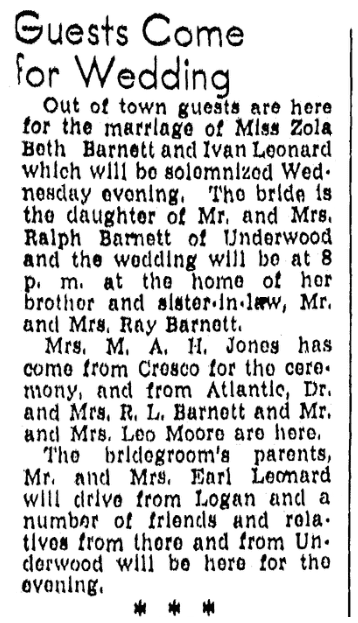 Who Were Mr. and Mrs. M. A. H. Jones?
I have much more research to do, but some of my initial hypotheses are based on the newspaper articles and digitized books I have already found. Newspaper stories prior to Jones' 1902 wedding referred to a Dr. M. A. H. Jones, which made me wonder if he was a medical doctor and his wife worked as his nurse. One mention I found in the Iowa Alumnus from the State University of Iowa lists a M. A. H. Jones, 1892, from Iowa City. (5)
A further search in Google Books sheds light on Dr. M. A. H. Jones and shows that he was an alumnus of the State University of Iowa's Dental Department. (6) Google searches also revealed that Dr. M. A. H. Jones' first name was Maurice. This new fact means I need to search not only for M. A. H. Jones, but also Maurice A. H. Jones and other variations of his name.
Some evidence exists that Eliza Francis Barnett Jones worked as a teacher after her graduation from Iowa Normal School. Dr. Maurice A. H. Jones died on 13 February 1948 at the age of 80, and his wife died 11 years later at the age of 87. They are buried together in Oakland Cemetery, Iowa City, Iowa. (7)
It's amazing what one small calling card can eventually reveal!
_____________________
(1) https://archive.org/stream/triennialcatalog1904mccl
(2) https://archive.org/stream/alumniregister191909iowa
(3)https://books.google.com/books?id=omIBAAAAYAAJ&dq=%22M.A.H.%20Jones%22%20iowa&pg=PA718#v=onepage&q=%22M.A.H.%20Jones%22%20iowa&f=false
(4) "Iowa, County Marriages, 1838-1934," database, FamilySearch (https://familysearch.org/ark:/61903/1:1:QJDS-KYSV: 4 November 2017), M A H Jones and Eliza Francis Barnett, 30 Jul 1902, Pottawattamie, Iowa, United States; citing reference, county courthouses, Iowa; FHL microfilm 1,018,512.
(5) https://books.google.com/books?id=U4UmAQAAIAAJ&lpg=RA1-PA10&ots=kFaA1xMmnO&dq=%22M.%20A.%20H.%20Jones%22%20Iowa&pg=PA2#v=onepage&q=%22M.%20A.%20H.%20Jones%22%20&f=false
(6) A.W. Harlan, M.D., D.D.S. (ed). The Dental Review (Chicago: H.D. Justi and Son, 1892) https://books.google.com/books?id=WJE1AQAAMAAJ&dq=%22M.%20A.%20H.%20Jones%22%20Iowa&pg=PA326#v=onepage&q=%22M.%20A.%20H.%20Jones%22%20Iowa&f=false
(7) "Frances E. Jones," FindAGrave (https://www.findagrave.com/memorial/71837615/frances-e.-jones: accessed 20 April 2018).