Introduction: In this article – part of an ongoing "Introduction to Genealogy" series – Gena Philibert-Ortega describes several good genealogy research books she uses with her own family history research. Gena is a genealogist and author of the book "From the Family Kitchen."
Do you have a genealogy library at home? Whether they're on your e-reader or on bookshelves in your home, genealogy reference books are an important investment. As you research, it's normal to have questions about what you're finding or where you should look next. I have some books that I refer to again and again – but depending on where your ancestor's homeland was or your genealogical research question, your reference bookshelf might look different. Here are a few categories of books I refer to as I research.
Atlases
Yes, I know maps are available online. I love historical map websites, but I also find it convenient to have some maps and atlases in my personal collection. I actually have a few different types of atlases on my bookshelf. For example, one is of current U.S. highways. I find that looking at it helps me figure out what's near a location or how far apart two places are.
I also have a few books similarly titled Atlas of American History, which include historical maps of the United States, railroad lines, canals, Civil War history, and religious groups. One edition is from 1943, which is fine because these are historical maps from the eighteenth and nineteenth century. I love this atlas because if I have a question about what the U.S. looked like during a specific time in history, I can consult it. Because it lacks detail for every territory or state, I do consult online map websites as well.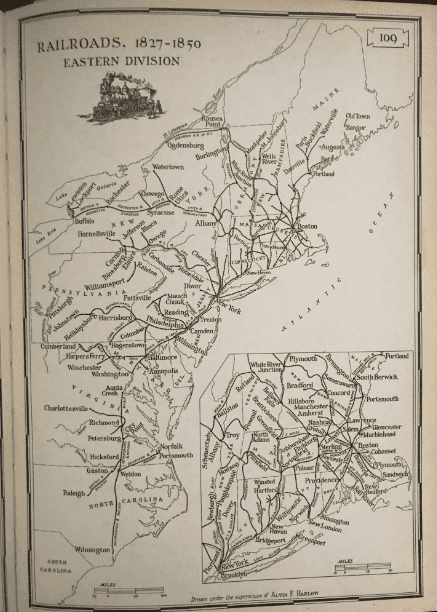 In addition to atlases I also have some map reference books that I refer to as I learn more about a family's history. My favorite is Melinda Kashuba's Walking with Your Ancestors: A Genealogist's Guide to Using Maps and Geography.
Slang Dictionary
Just as there are different atlases, there are different types of dictionaries. One type of dictionary, a slang dictionary, might be new to you – but it's one of my favorites. (Yes, I really do love dictionaries). A slang dictionary provides definitions to everyday language throughout time, some of which started off as "slang" but after time became standard usage.
So, why do I have these dictionaries? They help me to understand the meaning behind words that we either don't use anymore or don't use in the way an ancestor used it in a letter or diary entry. Don't think of slang just as vulgar words or phrases; think of it as nicknames and phrases that are used during a particular time period. (However, be forewarned that slang dictionaries do also contain vulgar language.) All types of slang dictionaries exist online and in print for everything from old occupations and historical time periods to words used today.
Genealogy How-To
When I started genealogy, it was pretty common to acquire certain books to use for reference. Those were the pre-Internet days, so unless you owned the book, you would seek out a copy at a nearby (or not-so-nearby) library. There were some books that most genealogists owned – and a few of them continue to be important.
What you need in relation to genealogy how-to books might differ according to what country you're researching, but one of my favorites for U.S. research is Val Greenwood's The Researcher's Guide to American Genealogy.
Another good source for U.S. research is The Source: A Guidebook to American Genealogy. It's available from the RootsWeb Family History Wiki. This is a great book to learn more about various record sets, including those you may not use a lot like court or institutional records.
Source Citation
One of the important steps in research is to cite your sources. Many genealogists will admit they were not consistent with this when they started, and years later they regret it. Why? Because without a complete source citation you have no idea where you found that important piece of information.
I cringe when I think about how many times I cited something as "1880 U.S. Census" in the past without listing any other details. You may feel like it doesn't matter since you are researching just for yourself – but it's important to have enough source information so that you can go back and find that record again in case you need to further analyze it, or if there's a question as to whether it's really your ancestor in the first place.
The source citation guide I have on my bookshelf is Evidence Explained by Elizabeth Shown Mills. Throughout college I used the APA (American Psychological Association) format to cite sources, but I switched to Evidence Explained for my family history work because it takes into consideration the diverse types of sources that we use for genealogical research, everything from heirlooms and oral interviews to vital records.
I also recommend the Evidence Explained website for helpful tutorials and answers to source citation questions.
Genealogy Encyclopedias
You might be thinking "there's such a thing as genealogical encyclopedias?" Yes! And I have a few that I refer to when I'm looking for a quick answer to better understand everything from a genealogical word to a record.
The genealogy encyclopedias on my bookshelf include Genealogical Encyclopedia of the Colonial Americas by Christina K. Schaefer, and The Genealogist's Encyclopedia by L. G. Pine. Schaefer's encyclopedia's subtitle is A Complete Digest of the Records of All the Countries of the Western Hemisphere. For example, I can turn to the Connecticut section and read a history of the state, information about statewide records, and information about what records are available for various counties, complete with the film number to help me find the record easier in the FamilySearch Catalog. Contents of this encyclopedia include: Chronology of Colonial History; Latin America, The Caribbean; The Thirteen Colonies. Maine, and Vermont; Other U.S. States and Settlements Prior to the Revolution; and Canada. It's a great resource for learning more about some of the earliest records available.
What's on Your Bookshelf?
I could go on and on about what genealogy books I own, but what's more important is that you find books that help you become a better researcher and that serve as references to the family history research you are conducting. Your bookshelf should be customized for your research.
The printed word is not obsolete. Books are important tools for the genealogist, and whether you have a collection sitting on some bookshelves or virtually in your e-reader, books can help you find answers to your family history problems.