Joseph Hayne Rainey was the first African American ever elected to Congress, winning the 1870 election to represent the First District of South Carolina in the U.S. House of Representatives. (Hiram Rhodes Revels has the honor of being the first African American to serve in Congress, having joined the U.S. Senate on Feb. 25, 1870 – but he was appointed by the Mississippi State Senate to finish a term, not directly elected to his seat as Rainey was.)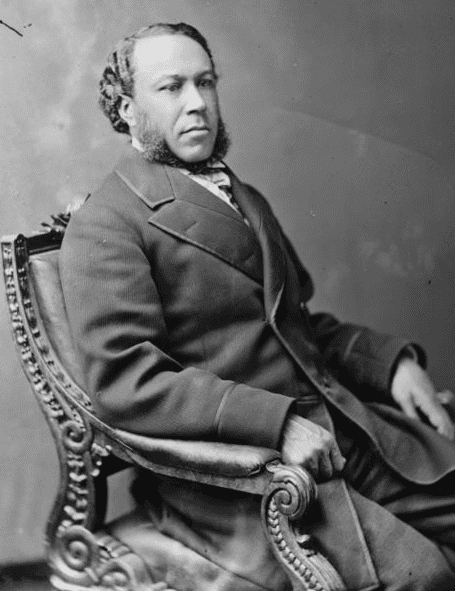 Rainey's congressional opportunity came about as the result of scandal. The vacancy he filled was due to his predecessor, Benjamin F. Whittemore, being censured by the House for corruption. Rainey performed his duties admirably, and was re-elected to Congress four times, serving from 1870 until 1879.
When Rainey was sworn in for the first time on 12 December 1870, newspapers across the country had a range of reactions: some laudatory, some sarcastic and racist.
Perhaps the bluntest comment was this report, published by a Northern newspaper in Ohio.
Here is a transcription of this article:
The Democracy will now have another spasm, a colored delegate from South Carolina, Hon. James H. Rainey, having been admitted to a seat in the National House of Representatives. Shades of John C. Calhoun and nullification, only think of it! South Carolina, the hot bed of treason, in which sprouted the seeds of the late slaveholders' rebellion, represented in the Congress of the United States by a "nigger."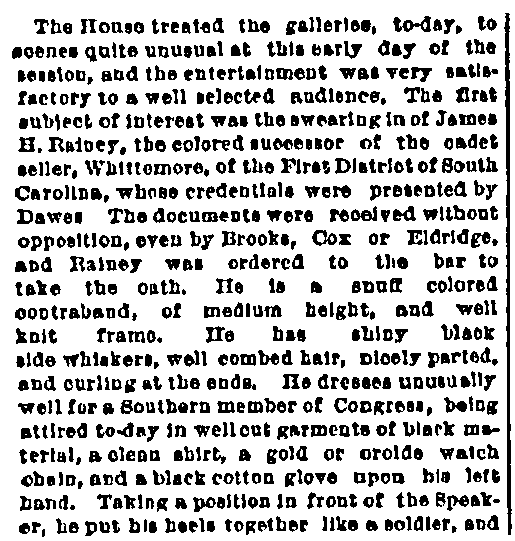 Here is a transcription of this article:
The House treated the galleries, today, to scenes quite unusual at this early day of the session, and the entertainment was very satisfactory to a well selected audience. The first subject of interest was the swearing in of James H. Rainey, the colored successor of the cadet seller, Whittemore, of the First District of South Carolina, whose credentials were presented by Dawes. The documents were received without opposition, even by Brooks, Cox or Eldridge, and Rainey was ordered to the bar to take the oath. He is a snuff colored contraband, of medium height, and well knit frame. He has shiny black side whiskers, well combed hair, nicely parted, and curling at the ends. He dresses unusually well for a Southern member of Congress, being attired today in well cut garments of black material, a clean shirt, a gold or oroide watch chain, and a black cotton glove upon his left hand. Taking a position in front of the Speaker, he put his heels together like a soldier, and raised his hand to take the oath, which was administered by the Speaker, Blaine, in his usual manner, while the whole House looked on in amazement. He is evidently a polite contraband, for he bowed courteously to the Speaker, and punctuated the oath with an inclination of the head as every sentence was pronounced. When this ceremony was over the man and brother shook hands with Maynard, and he was assigned a seat in the furthermost corner of the Hall. Rainey was born in Georgetown, [South Carolina], and is thirty-eight years old. He never went to school, but is reasonably well educated. His parents were slaves, but by industry purchased their freedom, and with them he removed to Charleston, where he has since resided. His first vote was given for Banks' San Domingo resolution.
Here is a transcription of this article:
J. W. [correction: H. – ed.] Rainey, the colored member from South Carolina, took his seat in the House of Representatives December 12. The New York Herald says: "A bright mulatto, with long, dark, straight, glossy hair, bushy side whiskers, and decidedly Caucasian features, he looks more like a Cuban than a negro. His first vote was in favor of Gen. Banks' St. Domingo resolution. He was born in Georgetown, D.C., where his father and his mother were both slaves, and is about thirty nine years of age."

Here is a transcription of this article:
A Half-Way Measure – The Hon. Joseph H. Rainey, the new "light complected" colored member of the House of Representative from South Carolina, sworn in yesterday. Let the full-blooded Scipio Africanus appear and then the House will be all right.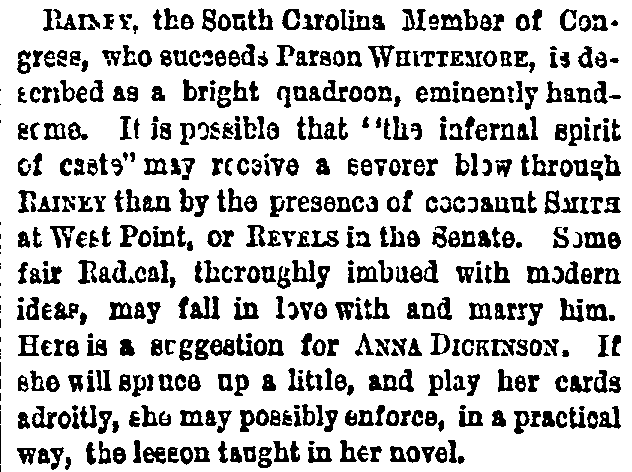 Here is a transcription of this article. [Note: the reference to Dickinson concerns her 1868 novel What Answer, which features an interracial marriage.]
Rainey, the South Carolina Member of Congress, who succeeds Parson Whittemore, is described as a bright quadroon, eminently handsome. It is possible that "the infernal spirit of casts" may receive a severer blow through Rainey than by the presence of cocoanut Smith at West Point, or Revels in the Senate. Some fair Radical, thoroughly imbued with modern ideas, may fall in love with and marry him. Here is a suggestion for Anna Dickinson. If she will spruce up a little, and play her cards adroitly, she may possibly enforce, in a practical way, the lesson taught in her novel.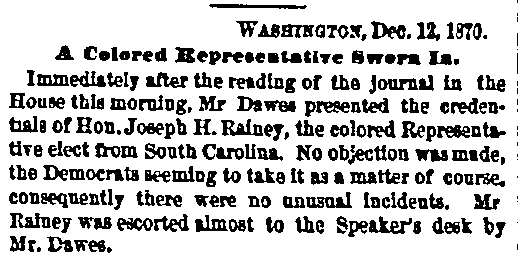 Here is a transcription of this article:
Washington, Dec. 12, 1870.
A Colored Representative Sworn In.
Immediately after the reading of the journal in the House this morning, Mr. Dawes presented the credentials of Hon. Joseph H. Rainey, the colored Representative-elect from South Carolina. No objection was made, the Democrats seeming to take it as a matter of course; consequently there were no unusual incidents. Mr. Rainey was escorted almost to the Speaker's desk by Mr. Dawes.

Here is a transcription of this article:
The House of Representatives has opened its doors to the colored man. Yesterday the Hon. Joseph H. Rainey presented his credentials as a member of Congress from the State that was formerly represented by the Hon. Preston Brooks, and was admitted to his seat.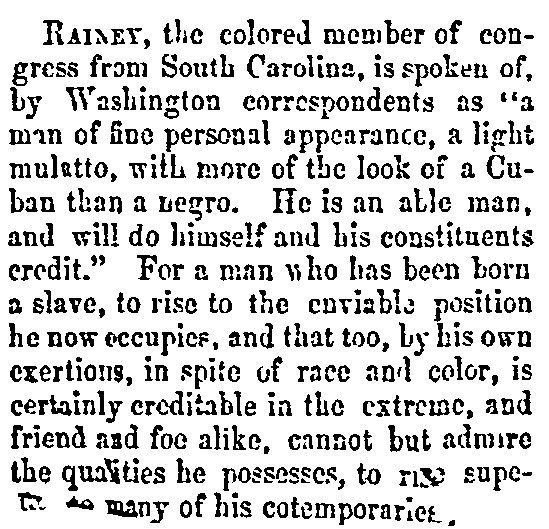 Here is a transcription of this article:
Rainey, the colored member of Congress from South Carolina, is spoken of by Washington correspondents as "a man of fine personal appearance, a light mulatto, with more of the look of a Cuban than a negro. He is an able man, and will do himself and his constituents credit." For a man who has been born a slave, to rise to the enviable position he now occupies, and that too, by his own exertions, in spite of race and color, is certainly creditable in the extreme, and friend and foe alike, cannot but admire the qualities he possesses, to rise superior to many of his contemporaries.
Note: An online collection of newspapers, such as GenealogyBank's Historical Newspaper Archives, is not only a great way to learn about the lives of your ancestors – the old newspaper articles also help you understand American history and the times your ancestors lived in, and the news they talked about and read in their local papers.
Related Articles: