Introduction: In this article, Gena Philibert-Ortega searches old newspapers to discover what family traditions people have for Christmas breakfast, and includes recipes. Gena is a genealogist and author of the book "From the Family Kitchen."
I recently asked my Facebook friends about the one meal they consistently enjoy on Christmas day year after year. In other words: what Christmas food traditions did their families have? I received answers that I expected about holiday dinners with prime rib, turkey, ham, and tamales – but what I wasn't expecting was the descriptions of Christmas breakfast! Of course, people have a great breakfast each year at Christmas because everyone in the family is up early and once the presents are dispatched with, they are hungry!
What do you eat on Christmas morning? Does it consist of something sweet like a cinnamon roll or is it a savory dish or two? Historical newspapers provide some great recipe ideas for a Christmas breakfast that are sure to make everyone happy.
Sweet
The majority of my friends talked about "big" breakfasts that include eggs, meat, toast and pancakes, but if you're a fan of everything sweet for breakfast this newspaper column on Christmas breakfast recipes includes a Rum-Raisin French Toast recipe which appears to be devoid of any rum, though you could add it – or instead try the coffeecake that the column's author says can be quickly made the morning of Christmas that includes cranberry sauce and bananas using a ready-made biscuit mix.
A few of my Facebook friends answered my Christmas food question with two words: Cinnamon Rolls! This 2007 newspaper recipe is from Barbara Davis, whose son is local Charleston, South Carolina, chef Mike Davis. I love this tribute to his mom that combines his family's food history with family history.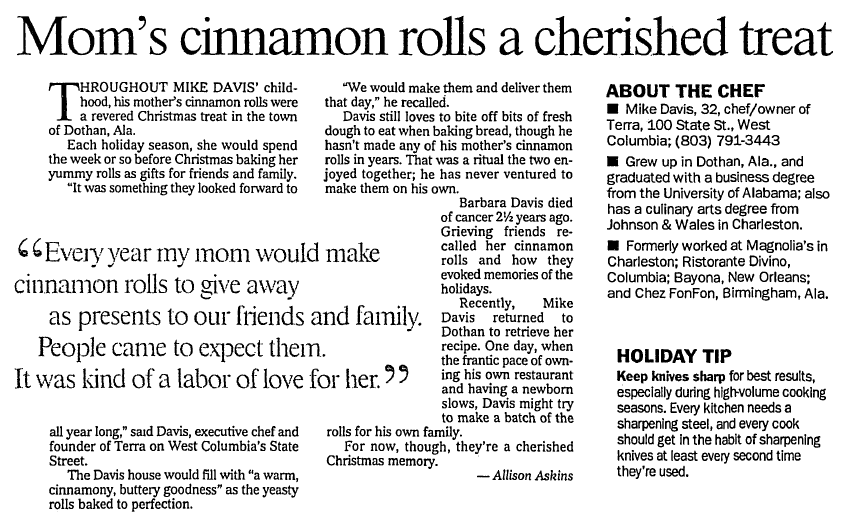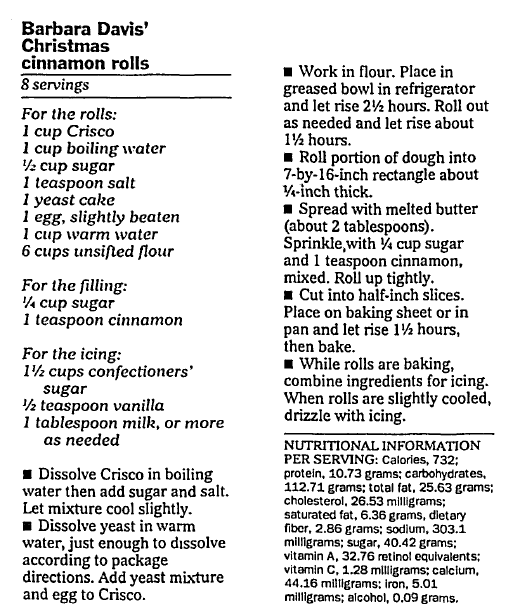 Savory
A few of my friends mentioned eating a breakfast casserole that could be made the night before or the morning of the big day. While the casserole bakes, the family can start emptying their stockings of Santa's surprises. I remember when I was younger a co-worker told me about a casserole very much like this newspaper recipe appropriately named Christmas Breakfast Casserole that includes eggs, bread, and mustard. My co-worker's version was assembled the night before, but this recipe is one you can make the morning of and start cooking before, hopefully, anyone wakes up.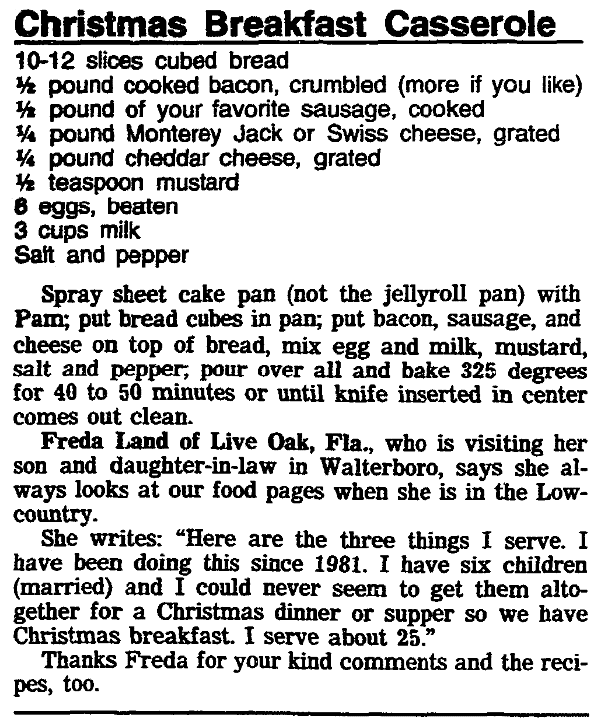 I especially love this 1974 Rockford, Illinois, newspaper article with recipes from a local Daughters of the American Revolution cookbook. It includes the names and photos of those supplying these recipes, as well as the addresses of those featured on a related holiday home tour. One of the recipes, Christmas Breakfast Hash, would take some time to make with its two "heavy" briskets but I bet it's worth it. The recipe suggests serving it with toasted English muffins topped with a red and green pickle relish.
Christmas Breakfast of Our Ancestors
Some of my Facebook friends reminisced about enjoying big Christmas morning breakfasts that included such well-known favorites as eggs, bacon, and pancakes. Historically, the idea of a large breakfast to start Christmas day was not what everyone encouraged. This 1926 newspaper article gave me a little bit of a laugh with the advice of one Mrs. B. E. Komp, who said:
"We must bear in mind that Christmas breakfast starts the holiday, and while we wish to have an attractive meal to start on, we must keep it from being too heavy or we would not have room for the king of all birds, the turkey."
Other ladies in the article concur that the holiday breakfast should be a simple affair that is not too filling because of the more important Christmas dinner. So, it's probably not surprising that the menu Mrs. Komp suggests includes a half of a grapefruit topped with the obligatory cherry or a square of cranberry jelly. Accompanying the fruit is a poached egg, toast, and bacon. An alternative to that meal suggestion is cold cereal, a hot muffin, and creamed beef on toast.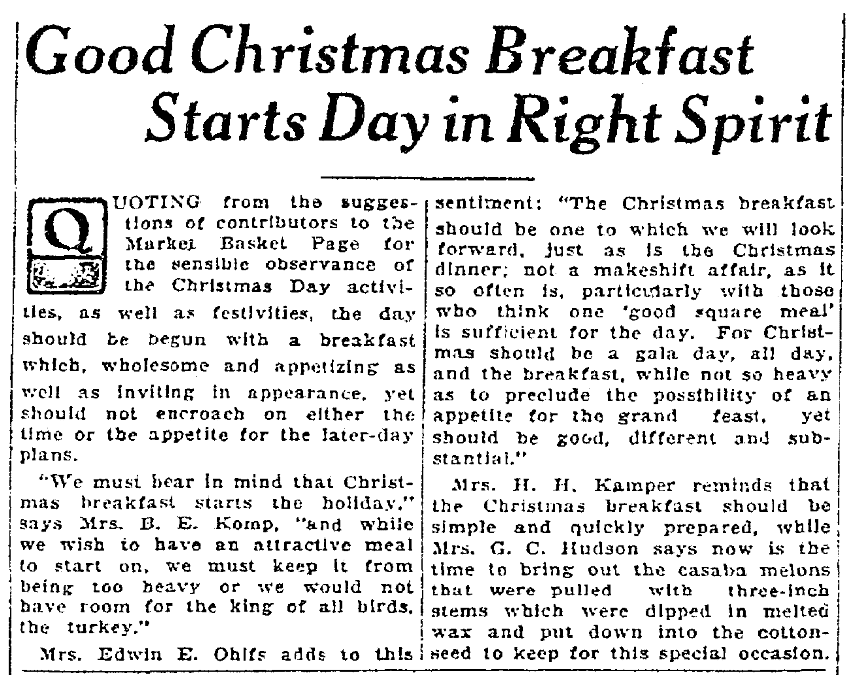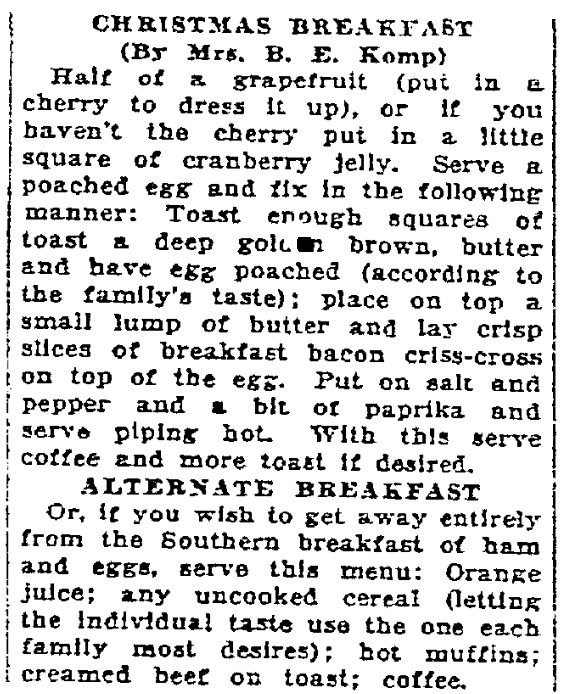 Christmas Breakfast
What are you having for breakfast Christmas morning? In my family we will probably enjoy at least bacon and eggs. I might also add Corned Beef Hash since that's something my dad would make us on Christmas morning. I'd love to hear about your Christmas breakfast in the comments section below.
Merry Christmas!