Introduction: Mary Harrell-Sesniak is a genealogist, author and editor with a strong technology background. In this guest blog post, to celebrate March being Irish American Heritage Month, Mary explains that many of us have at least a little Irish in our family history—including President Barack Obama and Martin Luther King, Jr.
With the St. Patrick's Day celebrations this week, plus March being Irish American Heritage Month, everyone is feeling a wee bit Irish. And, as it turns out, quite a few of us have actual Irish roots—including U.S. President Barack Obama and civil rights leader Martin Luther King, Jr.
Irish Diaspora
Population estimates vary, but most historians and researchers agree that the Irish Diaspora (persons of Irish heritage living outside of Ireland) is significant.
By some estimates, at least 10% of the world is Irish (according to the Irish tourism board)—and others report that there are at least seven times as many people of Irish descent in America as the entire population of Ireland! (See Huffington Post article.)
So when everyone claims to be a wee bit Irish in March, especially on St. Patrick's Day, you shouldn't be surprised. Many Americans, including several prominent African Americans, can trace their roots to the Emerald Isle.
The Obamas' Irish Ancestry
One of the first studies on President Barack and Michelle (Robinson) Obama's ancestry was conducted by genealogist Megan Smolenyak Smolenyak (yes, she is a double Smolenyak).
She discovered that Mrs. Obama's third great grandmother Melvinia was the granddaughter of Andrew Shields, a white Irish protestant immigrant, via his son Charles Shields.
The President's direct immigrant Irish ancestor was Falmouth Kearney, a native of Moneygall in County Offaly. He left his homeland in 1850 to escape the great famine (which lasted 1845-1852). Once the people of Ireland learned this, there was much celebration and pride in being connected to the U.S. President. See:
DNA Study of Martin Luther King, Jr.'s Family
Another historical figure connected to the Republic of Ireland is Martin Luther King, Jr. (15 Jan. 1929 – 4 April 1968).
Rev. Martin Luther King, Jr.'s roots are a wee bit elusive, as traditional research methods using a path of documentary evidence have failed.
However, a DNA study conducted on his son Michael Luther King, III, indicated ties to the Mende people of Sierra Leone on his mother's side, and Ireland on his father's.
MLK's Family Tree through the Paternal Line
Jacob Branham & wife Dinnah

|

Nathan King (a.k.a. Branham or Brannan) & wife Malinda
|
James Albert "Jim" King & Delia Lindsey
|
Martin Luther King, Sr. & Alberta C. Williams
|
Martin Luther King, Jr. & Coretta Scott
In the MLK family tree, note the name change from Branham or Brannan (and other spellings) to King. This occurred sometime between 1870 and 1880, when Nathan appeared on the U.S. Federal Census as a King. The reason for the name change is not clear, but perhaps the family wished to disassociate themselves with the oppressive slavery of the Branham family of Putnam County, Georgia.
No records have been located to prove which Branham family owned the slave plantation where the King ancestors lived, but in all likelihood it was Dr. Joel Branham (1799 – 1877) or his father Henry Branham (or both). The family is thought to have removed to Georgia from Virginia in the 1700s. By 1812 Henry Branham had become active in his community, and he ran for the State Legislature.

The family's opposition to the abolishment of slavery is indicated by this article of 1837, when Dr. Joel Branham opposed the election of President Martin Van Buren.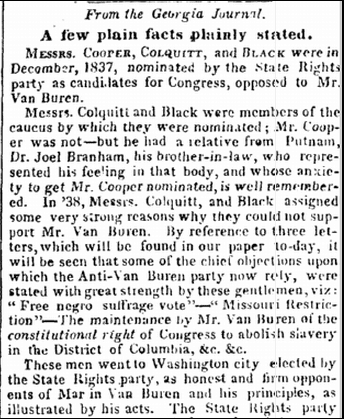 The Mysterious Reference to James King & Ireland
Several genealogists have presented comprehensive articles discussing the King family's connection to the Branhams and Ireland (see links below)—and surprisingly, they have identified one mysterious reference to Ireland in connection with Rev. King's grandfather.
An examination of the records reports a bit more detail.
In 1910, the U.S. Federal Census reported that the James and Delia King family (James King was MLK's grandfather) were renting a farm on the Jonesboro and Covington Road in the Stockbridge District of Henry County, Georgia. It was the first marriage for James and Delia, who had been married 15 years (so they were married c. 1895). There had been eight children, but only seven were still living. The eldest child could read and write, and the second child could read but not write, and neither James nor Delia could read or write.
The birthplace of Delia and all the children was reported as Georgia—but James King's birthplace was reported as Ohio. Most interestingly, the birthplace of James King's father was reported as Ireland.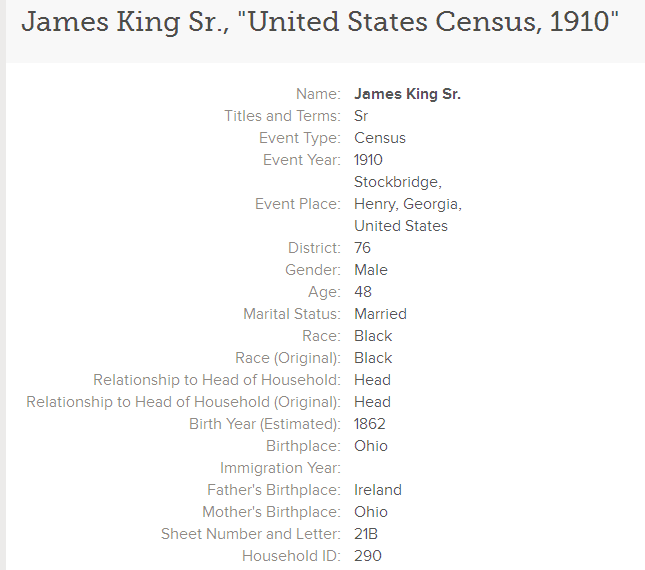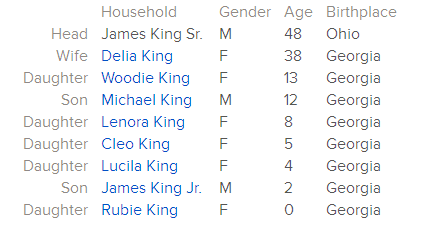 For further reading on this interesting subject, see these articles:
Cluster Analysis of the Branham Irish Origins
So if you accept the theory that one of Martin Luther King, Jr.'s ancestors was a man named Branham from Ireland, how would one determine where the family originated?
Since early records are scant, a surname distribution map such as the one hosted by the Irish Times is useful. It works by enumerating names found on surveys, such as the 1847-64 Primary Valuation Survey.
Some might criticize this tool for being too late a time period. However, if a significant number of families were only found in a limited area, then a sampling of family (siblings and cousins of the immigrants whose descendants stayed in the area), could be examined.
By searching for Branham, the results showed six households under an alternate spelling of Brangham.
Other related spellings include Brannan, Brannon, Bringham, Brinham, Brennan, etc.—and when they were searched, a significant cluster appeared. It turns out that these families are associated with Northern Ireland, and in particular the counties of Londonderry, Antrim, Tyrone, Down, Armagh and Fermanagh.
Although not conclusive, this at least provides researchers who wish to trace the King Irish ancestry more of a target region.
Further Reading:
(Visited 37 times, 1 visits today)