Introduction: In this article, Melissa Davenport Berry delves into the tangled affairs of British royalty and the Boleyn line, with ties to Jamestown, Virginia. Melissa is a genealogist who has a blog, AnceStory Archives, and a Facebook group, New England Family Genealogy and History.
On the wall of St Edmund's chapel in Westminster Abbey, England, there is an exquisite monument in honor of Lady Katherine Knollys, who held the most senior post among the ladies-in-waiting to Queen Elizabeth I: the Chief Lady of the Bedchamber.
The inscription on this monument reads:
The Right Honorable Lady Katherin Knollys Cheeffe Lady of the Quenes Maties [Majesty's] Beddechamber and wiffe to Sr. Frances Knollys Knight Tresorer [Treasurer] of her Highnes Howsholde. Departed this lyefe the 15. of January 1568. At Hampton Courte. And was honorably buried in the flower [floor] of this chappell. This Lady Knollys and the Lord Hundesdon her brother were the childeren of William Caree Esquyer, and of the Lady Mary his wiffe one of the doughters and heires to Thomas Bulleyne Erle of Wylshier [Wiltshire] and Ormond. Which Lady Mary was sister to Anne Quene of England wiffe to Kinge Henry the Eyght father and mother to Elizabeth Quene of England.
Lady Katherine Knollys (1524-1568), born Katherine Carey, daughter of Sir William Carey and Lady Mary Boleyn, married Sir Francis Knollys and left many descendants. Some married into the royal houses, and others ferried across the Atlantic to Jamestown, Virginia. (More on that in future articles.)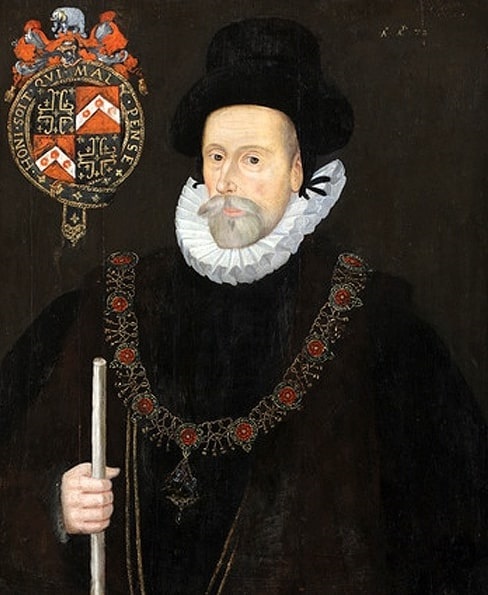 Today I focus on one offshoot born to Lady Katherine and Sir Francis: Lady Lettice Knollys, who married Sir Walter Devereux. They are the 10th generational grandparents to the late Queen Elizabeth II through her mother, Elizabeth Bowes-Lyon.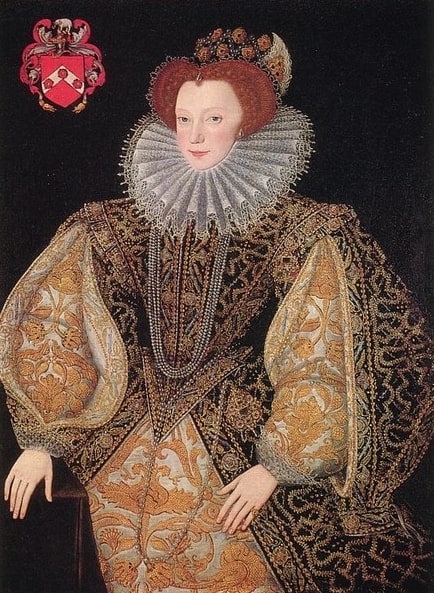 After the wedding of Prince Charles (now King Charles III) and Lady Diana Spencer on 29 July 1981, newspapers were buzzing about the marriage which, as this article declared, "brought together two families with a long and sometimes checkered past."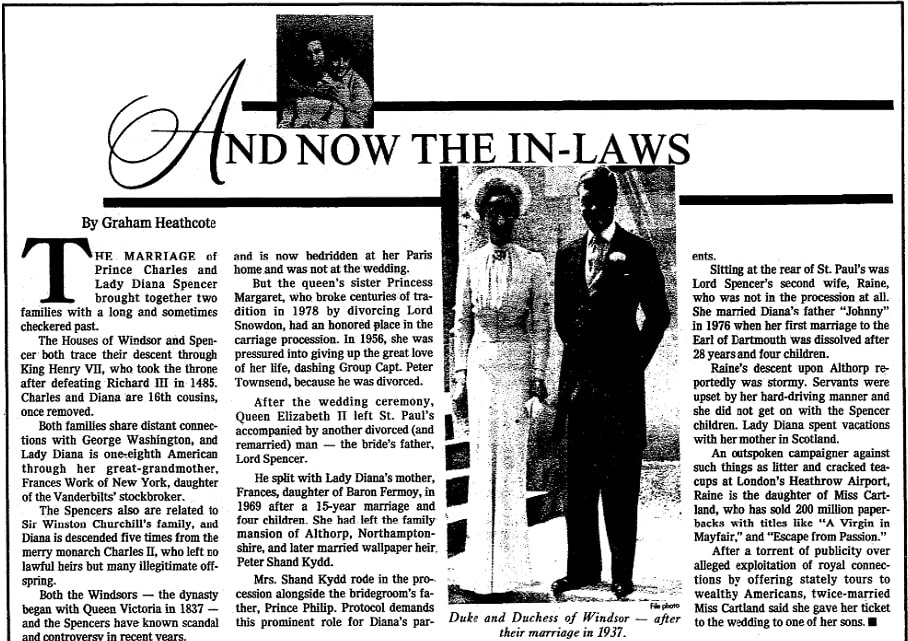 This article included a full lineage chart of the couple.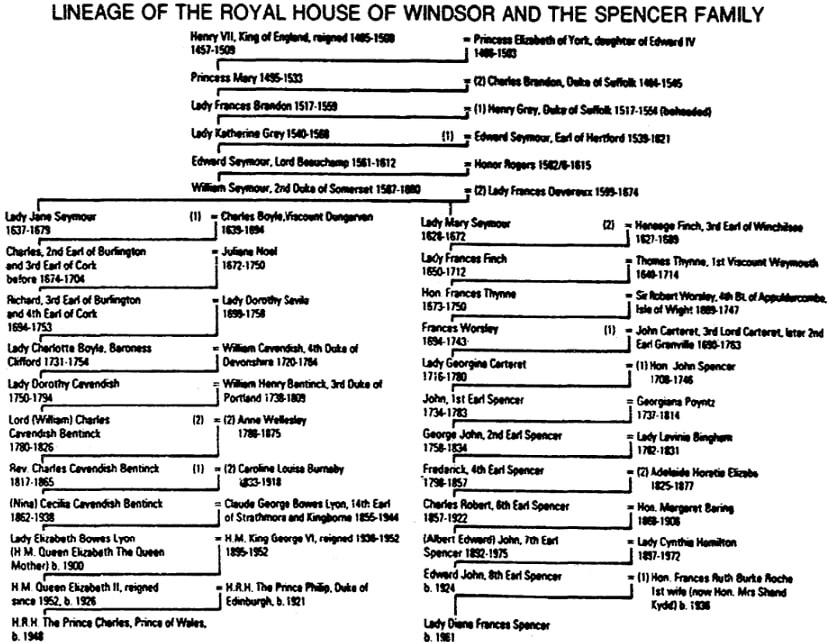 This article reported:
The Houses of Windsor and Spencer both trace their descent through Henry VII, who took the throne after defeating Richard III [in the War of the Roses] in 1485. Charles and Diana are 16th cousins, once removed.

Both families share distant connections with George Washington, and Lady Diana is one-eighth American through her great-grandmother, Frances Work of New York, daughter of the Vanderbilt's stockbroker. [Frances Work, the daughter of Frank H. Work and Ellen Wood, married James Roche, 3rd Baron Fermoy.]

The Spencers also are related to Sir Winston Churchill's family, and Diana is descended five times from the merry monarch Charles II, who left no lawful heirs but many illegitimate offspring.
The newspaper failed to mention another branch – one that is traced to the infamous Boleyn family through the marriage of Sir William Seymour to Lady Frances Devereux.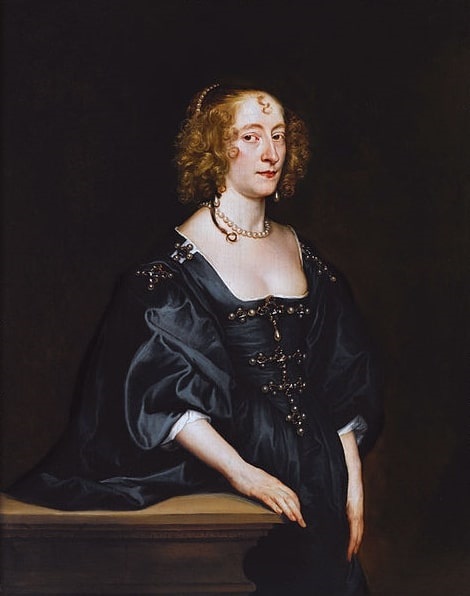 The lineage for Lady Frances Devereaux, starting with her parents:
Sir Robert Devereux and Lady Frances Walsingham, daughter of Francis Walsingham ("spymaster" and principal Secretary to Queen Elizabeth I) and his wife Joyce Denny
Sir Walter Devereux and Lady Lettice Knollys
Sir Francis Knollys and Lady Katherine Carey
Sir William Carey, son Sir Thomas Carey and Lady Margaret Spencer (her brother John is a direct line to Diana, Princess of Wales) and Lady Mary Boleyn
Sir Thomas Boleyn and Lady Elizabeth Howard
The "checkered past" noted in the article above about the Windsors and Spencers also applies to the Boleyn line, who had a few scions born from the wrong side of the blanket as well. Apples never fall far from the tree. And while much of this cannot be proved without a DNA test, one must be open to possibility. And the royal court can be like Vegas – what happens at court stays at court.
Background:
Lady Mary Boleyn had two siblings who need no introduction: Ann Boleyn, the second wife of Henry VIII; and George Boleyn, who married Jane Parker. Both lost their heads and have their own colorful dramas.
Before King Henry VIII tied the knot with Ann Boleyn, he had taken Lady Mary Boleyn as his mistress, and many speculate that Lady Katherine (nee Carey) Knollys is Henry's daughter. See "Mary Boleyn's Carey Children—Offspring of King Henry VIII?"
Lady Katherine was a close and trusted friend to Queen Elizabeth. Her husband Francis was a Knight of the Garter and Treasurer of the Royal Household. They never lost royal favor.
Their daughter Lettice was another matter. Her conduct was scandalous, and she was banished from court. Her children followed suit. Some were executed.
One daughter is the sexy subject in Sir Philip Sydney's literary work, while another had an affair with her uncle.
Sir Robert, who married Francis Walsingham, had a rap sheet of indiscretions and fathered an illegitimate child.
Lettice married 1st Sir Walter Devereux, Earl of Essex; 2nd Sir Robert Dudley, Earl of Leicester; and 3rd Sir Christopher Blount. Her last two husbands were executed.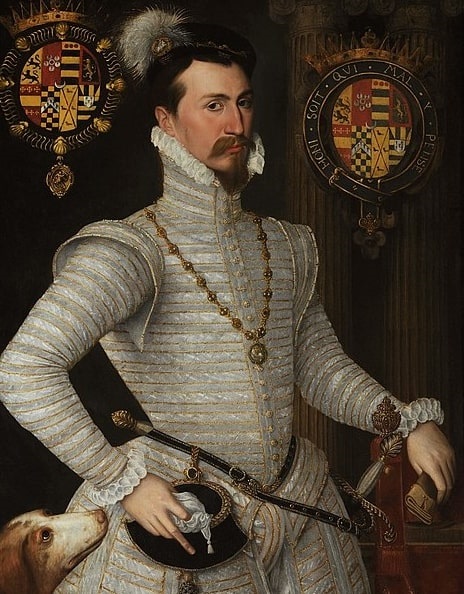 Part of this tangled drama was chronicled in the New-Hampshire Statesman.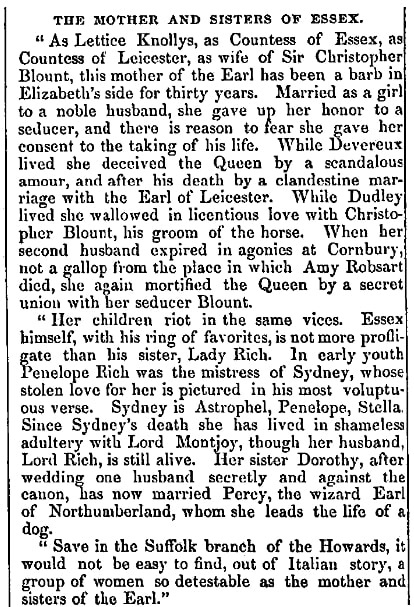 This article reprinted excerpts from the unpublished "Personal Memoirs" of historian William Hepworth Dixon (1821–1879):
The Mother and Sisters of Essex.
As Lettice Knollys, as Countess of Essex, as Countess of Leicester, as wife of Sir Christopher Blount, this mother of the Earl [Robert Devereux] has been a barb in Elizabeth's side for thirty years. Married as a girl to a noble husband, she gave up her honor to a seducer, and there is reason to fear she gave her consent to the taking of his life. While Devereaux lived she deceived the Queen by a scandalous amour, and after his death by a clandestine marriage with the Earl of Leicester [Sir Robert Dudley, Queen Elizabeth's favorite]. While Dudley lived, she wallowed in licentious love with Christopher Blount, his groom of the horse. When her second husband expired in agonies at Cornbury, not a gallop from the place in which Amy Robsart [wife of Dudley] died, she again mortified the Queen by a secret union with her seducer Blount.

Her children riot in the same vices. Essex himself, with his ring of favorites, is not more profligate than his sister, Lady Rich. In early youth Penelope Rich was the mistress of Sydney, whose stolen love for her is pictured in his most voluptuous verse. Sydney is Astrophel, Penelope, Stella. [Sydney was married to Frances Walsingham, who later married Sir Robert.] Since Sydney's death she has lived in shameless adultery with Lord Mountjoy [Charles Blount, brother of Christopher Blount, 3rd husband of her mother] though her husband Lord Rich, [Robert Rich, 1st Earl of Warwick] is still alive. Her sister Dorothy, after wedding one husband [Sir Thomas Perrot] secretly and against the canon, has now married [Sir Henry] Percy, the wizard Earl of Northumberland, whom leads the life of a dog.
Stay tuned as I explore the Boleyn descendants in my "Jamestown Descendants: Who's Who" series.
Note: An online collection of newspapers, such as GenealogyBank's Historical Newspaper Archives, is not only a great way to learn about the lives of your ancestors – the old newspaper articles also help you with other research projects.
Note on the header image: a portrait of Catherine Carey, Lady Knollys, by Steven van der Meulenj, 1562. Credit: Yale Center for British Art; Wikimedia Commons.