During this October week in American history three pioneering activists died who had a big impact on American society:
Elizabeth Cady Stanton, American women's rights activist, died at 86 on 26 October 1902
Jack Roosevelt "Jackie" Robinson, American baseball player and civil rights activist, died at 53 on 24 October 1972
Rosa Louise McCauley Parks, American civil rights activist, died at 92 on 24 October 2005
Newspapers are filled with obituaries and profiles that help us better understand the lives of our ancestors—and the famous people who lived during their times. You can use historical newspapers to research their public careers and trace their family trees. The following old newspaper articles about these three famous Americans are good examples.
Elizabeth Cady Stanton (1815-1902)
An activist from an early age, Elizabeth Cady Stanton was involved in the abolitionist and temperance movements—but the cause to which she primarily devoted her considerable powers was women's rights and their equality before the law, especially the right to vote. She was instrumental in organizing the first women's rights convention: the Seneca Falls Convention, a two-day meeting convened on July 19, 1848, in Seneca Falls, New York.
Over 300 people attended the women's rights convention, whose highlight was the reading and discussion of a statement of women's rights called the Declaration of Sentiments, primarily written by Stanton. After much debate, the declaration (deliberately modeled after the Declaration of Independence) was signed by 100 of the participants: 68 women and 32 men.
Of the 12 resolutions debated and approved at the convention, the most controversial was the ninth, written by Stanton. It read: "Resolved, that it is the duty of the women of this country to secure to themselves their sacred right to the elective franchise." Women's suffrage was a divisive issue and many of the convention's participants opposed its inclusion, fearing that an element this controversial would weaken support for women's equality. However, others argued persuasively in favor of supporting women's suffrage—and in the end the voting rights resolution was approved.
Stanton met another pioneering suffragist, Susan B. Anthony, in 1851, and the two women were close friends and allies in the women's rights movement for the rest of Stanton's life.
This obituary was published the day after Stanton died.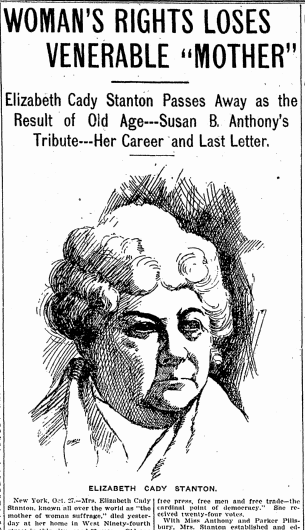 This old newspaper obituary included a tribute penned by Susan B. Anthony: "Through the early days, when the world was against us, we stood together. Mrs. Stanton was always a courageous woman, a leader of thought and new movement. She was a most finished writer and every state paper presented to Congress or the state legislatures in the early days was written by Mrs. Stanton. I cannot express myself at all as I feel, I am too crushed to say too much, but if she had outlived me she would have found fine words with which to express our friendship."
This tribute to Stanton was published two days after she died.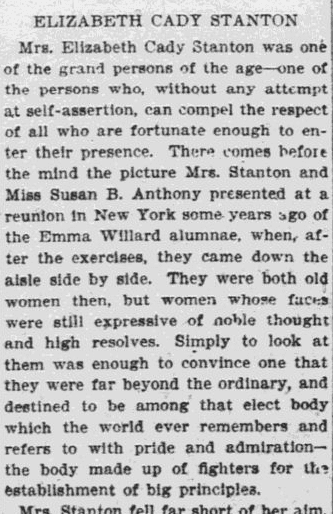 It concluded: "Mrs. Stanton fell far short of her aim, in what she actually accomplished, just as Susan B. Anthony finds herself far short of the goal toward which she has struggled [the 19th Amendment, granting women the right to vote, was not ratified until 1920]. The world is not ready to grant their contention in its fullness, and indeed is still to a great degree hostile toward it, but the two remarkable women long ago won recognition of the principle by which they were inspired, and through that recognition extended the power of women in public affairs to a wonderful degree, and made great progress toward establishing women in a position more equitable with that of men so far as property rights are concerned.
"Work like that carried on by Mrs. Stanton cannot cease with her life, nor can it end when Miss Anthony, her illustrious co-worker, passes away. It is everlasting, and will constantly bring fresh benefits to womankind."
Jackie Robinson (1919-1972)
A superb all-around athlete and a man of strong principles, Jackie Robinson is most remembered as the African American who broke baseball's color barrier when he started a game for the Brooklyn Dodgers on 15 April 1947. Despite vicious racial taunts and threats, Robinson played the game with great intensity and excellence, gradually winning the respect and admiration of most of his peers and helping to advance the cause of the Civil Rights Movement in America.
During his 10-year baseball career, Robinson played in six World Series, had a lifetime batting average of .311, won the Rookie of the Year award in 1947, and was the National League Most Valuable Player in 1949. He became the first African American player inducted into the Baseball Hall of Fame when he was accepted in 1962, in his initial year of eligibility.
After his professional baseball career ended, Robinson continued to break racial barriers with a series of firsts for an African American: baseball television analyst; vice-president of a major American corporation (Chock full o'Nuts); one of the co-founders of an African American-owned financial institution called the Freedom National Bank; owner of a construction company that built housing for low-income families.
Robinson died a much-respected figure on 24 October 1972 of complications from diabetes, high blood pressure, and heart disease at the young age (for a prime athlete) of 53. After his death tributes poured in for the man who had accomplished—and endured—so much.
This tribute, published in the newspaper the day after Robinson died, told a story about his minor league playing career with the Montreal Royals that showed how much testing Robinson had to endure.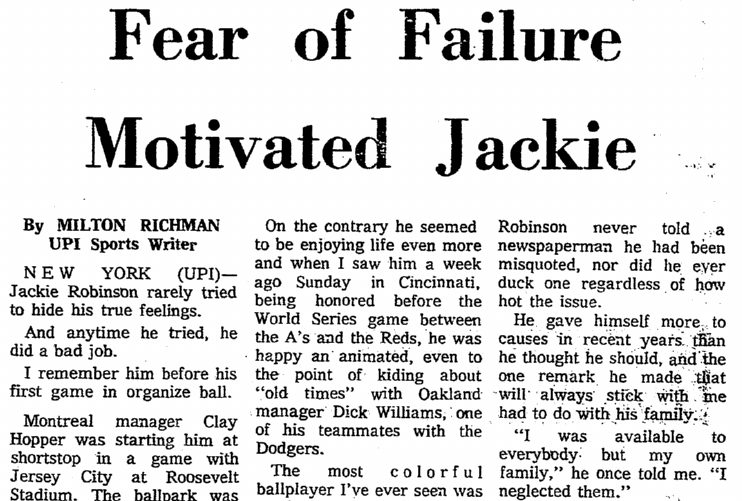 "There was the exhibition game against Indianapolis, and Paul Derringer, the one-time Cincinnati ace, was pitching against Montreal. He was a friend of [Montreal Manager Clay] Hopper's and he said:
"'Tell you what I'm gonna do, Clay. I'm gonna knock him (Robinson) down a couple of times and see what he's made of.'
"Robinson had to eat dirt to avoid a high, inside pitch his first time up, but then picked himself up and singled. Derringer decked him again the next time up, but Robinson bludgeoned a screaming triple to left-center.
"'He'll do, Clay,' Derringer hollered into the Montreal dugout."
This tribute to Robinson was penned by famed sportswriter Red Smith.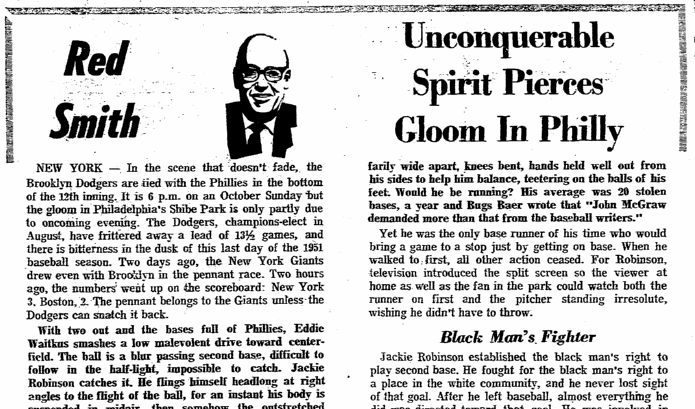 Calling Robinson the "black man's fighter," Smith wrote: "Jackie Robinson established the black man's right to play second base. He fought for the black man's right to a place in the white community, and he never lost sight of that goal. After he left baseball, almost everything he did was directed toward that goal. He was involved in foundation of the Freedom National Banks. He tried to get an insurance company started with black capital and when he died he was head of a construction company building houses for blacks. Years ago a friend, talking of the needs of blacks, said, 'good schooling comes first.'
"'No,' Jackie said. 'housing is the first thing. Unless he's got a home he wants to come back to, it doesn't matter what kind of school he goes to.'"
This Jackie Robinson obituary article was published the day after he died.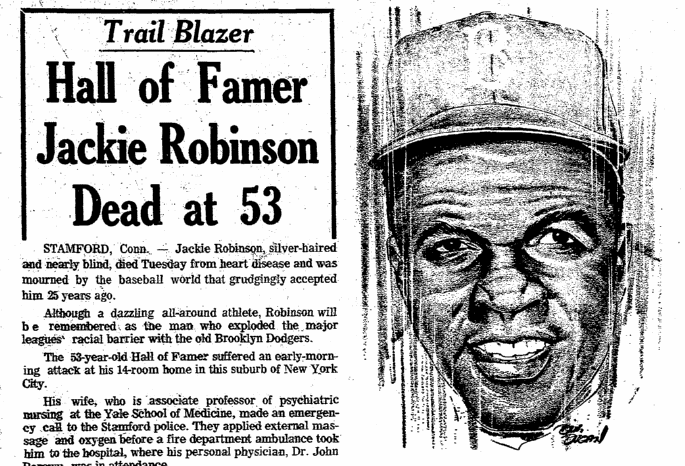 It included a tribute to Robinson from the head of baseball: "Baseball Commissioner Bowie Kuhn said Robinson was unsurpassed in contribution to sports. 'His entire life was courage. Courage as the black pioneer of the game. Courage in the way he fought for what he believed.'"
Rosa Parks (1913-2005)
When Rosa Parks, an African American woman in Montgomery, Alabama, refused to give up her bus seat to a white person on Dec. 1, 1955, her act of resistance ignited the Montgomery Bus Boycott—which in turn accelerated the Civil Rights Movement and forever changed America. It was not that Parks was too physically tired to move that evening, though it was the end of another long day working as a seamstress in the Montgomery Fair department store. Nor was she old and infirm; at 42, she was a strong and healthy African American woman. She had simply had enough of the city's segregation laws that gave whites more rights than blacks.
Her arrest for refusing white bus driver James Blake's order to give up her seat on the bus galvanized the African American community in Montgomery. Thousands of leaflets were distributed calling for a boycott of the city's buses until the Jim Crow segregation laws were changed. The boycott was led by a young minister, Martin Luther King, Jr., who soon rose to national prominence as a civil rights leader. After 381 days the segregation laws were finally changed and blacks once again rode Montgomery's buses—but that victory was only the start of a movement much, much bigger.
The Civil Rights Movement gained momentum, and Rosa Parks went on to receive national recognition—including the Presidential Medal of Freedom and the Congressional Gold Medal.
This 1955 news article reported on her arrest, fining, and the subsequent bus boycott.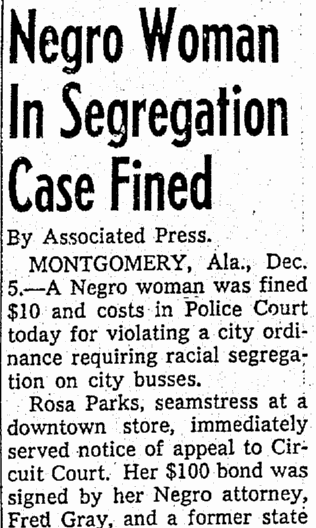 The newspaper article about the Montgomery bus incident reported: "The woman was taken off a bus and jailed last Thursday night after refusing to leave a section reserved for white passengers. The [Montgomery] City Code requires segregation in all forms of public transportation and gives bus drivers police powers to enforce the law.
"Meanwhile, other Negroes boycotted city buses in protest against the woman's arrest. Police cars and motorcycles followed the busses to avert trouble."
This obituary and appreciation was published in the newspaper two days after Parks died.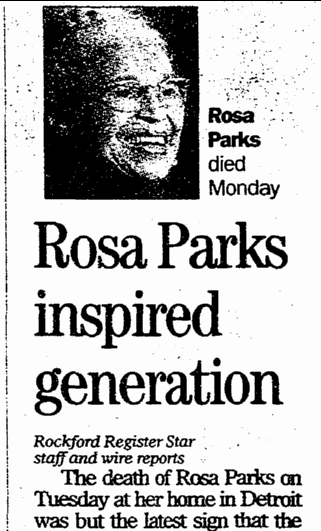 It reported: "Attorney Vernita Hervey, a civil rights activist, said Parks' defiance of Alabama's Jim Crow laws sparked an uprising that 'probably was the defining moment in African-American collective action.'"
To honor Parks, this drawing graced the editorial page of the Register Star.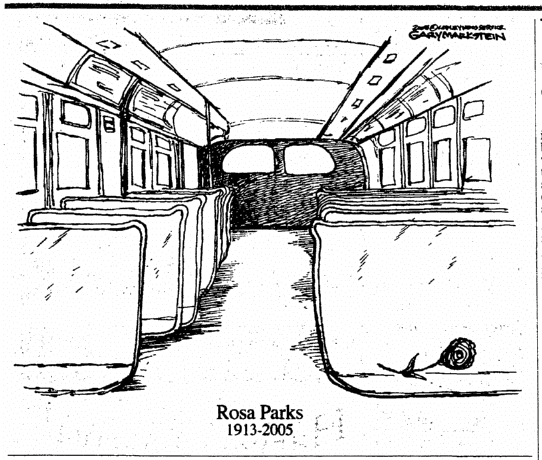 Today there is even an American holiday in Rosa Parks' honor.
Newspaper Obituaries provide personal details about someone's life that can't be found elsewhere—whether they are stories about our ancestors or articles about famous people we're interested in. GenealogyBank features two collections of online obituaries:
Dig into these obituary archives today and see what you can discover about your family tree and the famous people you admire most!