Introduction: In this article, Melissa Davenport Berry tells a heartwarming story of a generous man who embodied the Christmas spirit of giving. Melissa is a genealogist who has a blog, AnceStory Archives, and a Facebook group, New England Family Genealogy and History.
Edward Rowe Snow, aka the "Flying Santa," dropped bundles of Christmas cheer to America's lighthouses. Lighthouse keepers (or duty workers) and their families annually received a gift package from Santa Snow. Edward was a "Flying Santa" wonder in New England who became a legend.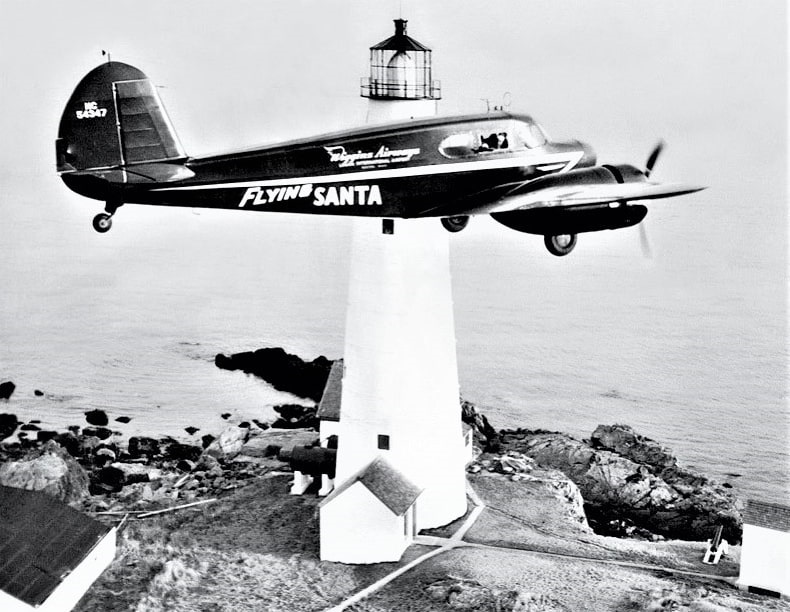 Snow, son of Edward Sumpter Snow and Alice Nichols Rowe, was a direct descendant of Mayflower passenger Stephen Hopkins. Like his Pilgrim ancestor, Snow led a life of community service and adventure.
He was a well-known author, preservationist, and historian. More will come in the New Year as Snow will be featured in my "Mayflower Descendants: Who's Who" series. He learned how to fly in the U.S. Air Force and served in the XII Bomber Command during World War II.
Here is the skinny on this soaring Santa through the seasons, as highlighted in articles I found in GenealogyBank's Historical Newspaper Archives.
The Omaha World-Herald published these photos of Snow in action in 1940.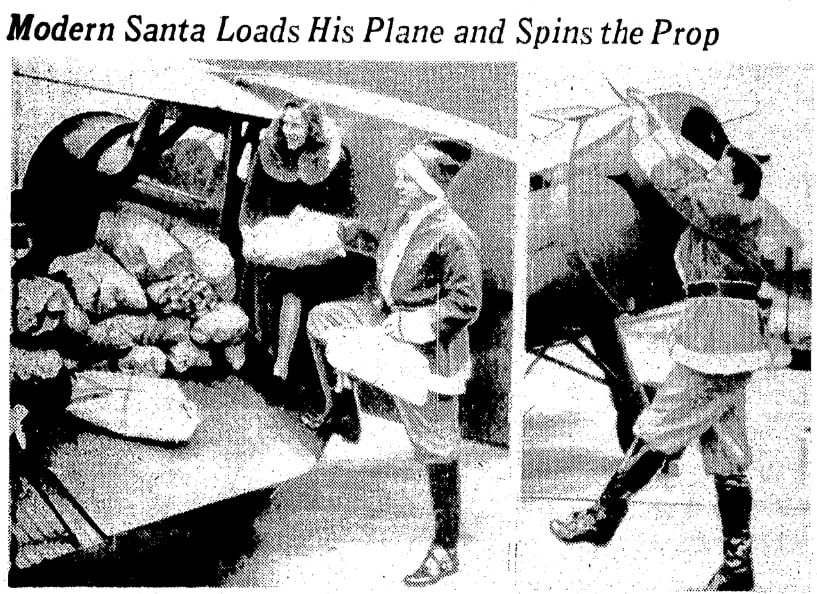 The photo caption read:
A Flying Santa Claus – Edward Rowe Snow, high school teacher and coastal historian – loaded his plane with heavily wrapped bundles yesterday before taking off to drop Christmas cheer to lonely lighthouses along New England's coast. He was assisted by his wife (shown with him at left), who accompanied him on the flight. Right – Santa spins the prop. In the picture below Santa sends a bundle (arrow) spinning to keepers of Boston light[house].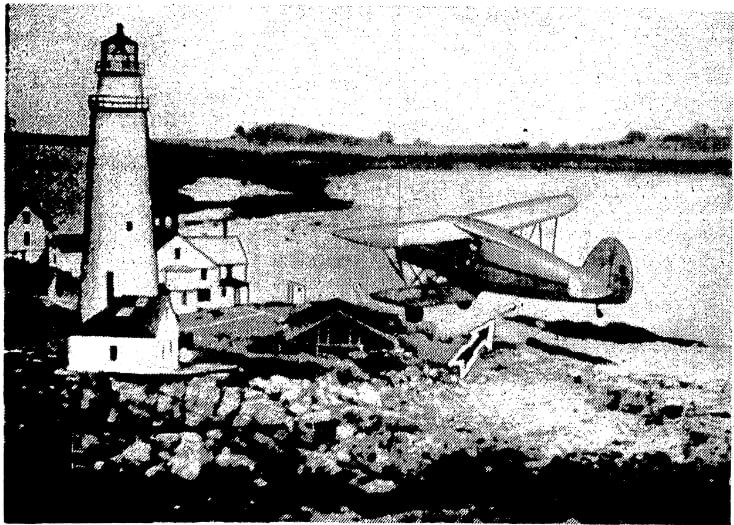 Here are more photos of the Flying Santa in action, from the Newark Star Ledger.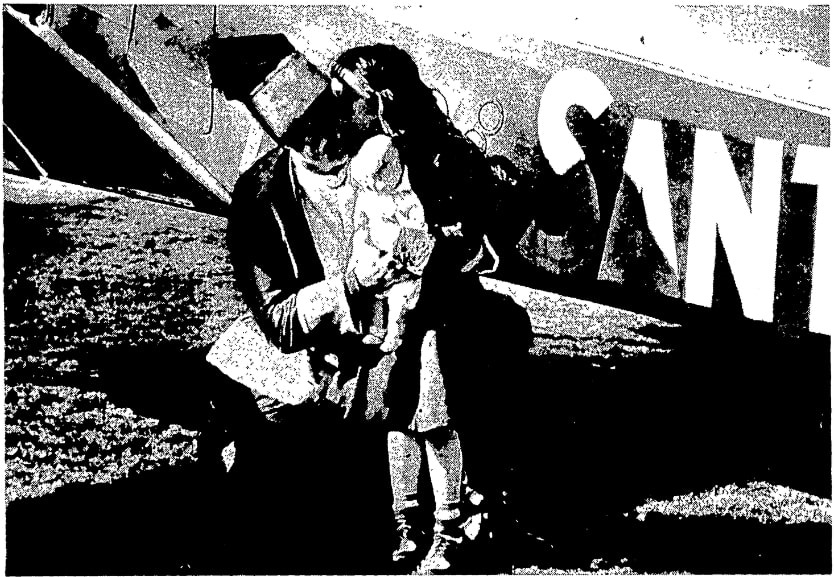 The photo caption read:
Safe Delivery – Seven-year-old Seamond Ponsart gets a doll from Boston's "Flying Santa" – Edward Rowe Snow. Seamond, daughter of the West Chop lighthouse keeper at Martha's Vineyard, Mass., was disappointed last year when her doll was dropped and broken. Snow thereupon promised to land his plane and deliver the doll in person this year. Bottom photo: Airborne Cheer – Coast Guardsmen at Brant Point Lifeboat Station near Nantucket, Mass., wave greeting to plane bearing Edward Rowe Snow as Boston's "Flying Santa" drops them Christmas packages.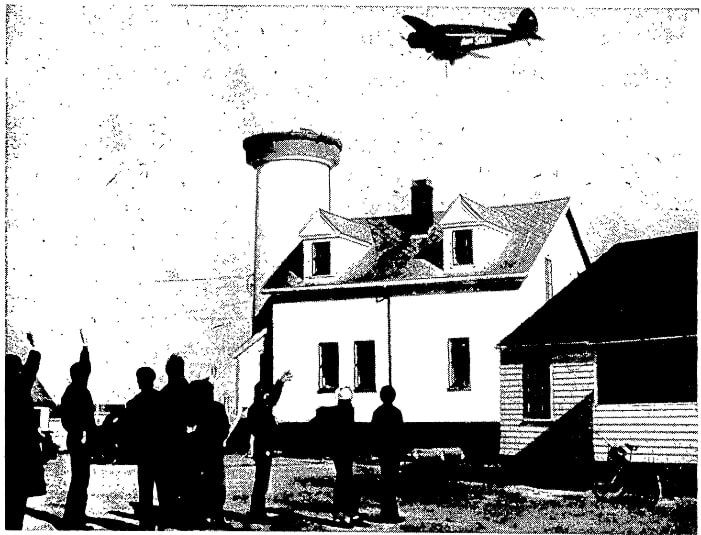 In 1947 the Dallas Morning News covered Snow's Santa flights.
This article reported:
BOSTON, Mass., Dec. 7 (AP). – Flying Santa Claus is loading his pack and his gasoline tanks for the longest Merry Christmas mission he has ever flown.

Edward Rowe Snow, now pilot of the yule flights started twenty years ago, this year has set a course of 4,750 miles and has the names of a thousand persons on his list of 340 lighthouses from Canada to Florida.

Canada will be getting its first holiday visit from the red, twin-engine plane which first took off with the late Capt. William H. Wincapaw as pilot to bring Christmas packages to lightkeepers and other families on duty in isolated spots.

Snow, who has been flying the mission since 1936, plans to drop a memorial wreath in the harbor at Rockland, Me., where Wincapaw was killed in a plane crash last summer.

The over-the-rooftops journey starts Sunday, Dec. 14, and between then and Christmas Day Snow will touch at points ranging from a Canadian light at Sable Island to one in St. Augustine Harbor in Florida.

At St. Croix Island, near Eastport, Me., Snow and lightkeeper George S. Morrison have scheduled a special observance patterned after one more than three centuries old. It will commemorate the first Christmas service held on the island in 1604 by Sieur de Mont, associate of the French explorer Champlain.

Snow's Christmas calendar is also for a children's party with the family and neighborhood children at Owl's Light, off Maine, where the seven children of keeper Archford V. Haskins reside.

This year even the plane has a special Christmas wrapping.

To insure identification, Snow says, his red plane is marked with letters which spell: Flying Santa.
Here is a photograph of Santa Snow with French children. It was the kids' first Santa Claus meeting!
You can view many more photos of Snow and other Flying Santas through the years on The Friends of Flying Santa website.
In 1953 Santa Snow extended his generous spirit and traveled to the Pacific Coast, taking Mrs. Claus and a little Santa helper (his two-year-old daughter Dorothy) with him.

This article reported that come rain, hail, or high-water, Santa Snow will travel 17,000 miles with 465 packages to bring "a bit of cheer to lonely lighthouse keepers, Coast Guardsmen and their kids along the coast."
What was in each package?
They'll have candy, cigarettes, pen and pencil sets, cigars, rubber toys, Boy Scout knives, gum, and books including historian Snow's latest, "True Tales of Pirates and Their Gold." A package is worth about $7 [about $70 today].
Snow told the press it was the first time he ever tackled a route so vast. He also mentioned he has many elves from his neighborhood who show up at "Santa's Workshop" (Snow's basement) to help with the wrapping and padding of the packages, which are tossed out of the plane as it passes each lighthouse.
The article concluded:
All this costs about $2,800 [about $31,000 today] for planes and presents. Of course, some gifts are donated. American Airlines is helping too. What about the rest [of the cost]?

Santa Snow does it from the proceeds of his books and lectures. Hopes to keep on three or four years more even if the coffers are getting a little empty.

"What's funny about that?" asked Santa Snow. "Everybody knows Santa brings all the presents."
Snow's wife and daughter continued helping him through his annual pilgrimages. Check out a video and read more on the Edward Rowe Snow Lane website.
Happy Christmas!
Explore over 330 years of newspapers and historical records in GenealogyBank. Discover your family story! Start a 7-Day Free Trial.
Note on the header image: Edward Rowe Snow, the "Flying Santa," dressed for duty in his plane with one of the packages he is delivering. Courtesy of Dorothy Snow Bicknell, daughter of Edward Rowe Snow.