The newspaper editor of the Norfolk Advertiser had a little fun with this marriage announcement.
The last marriage reads:
Notice that this Dedham, Massachusetts newspaper published announcements of marriages from a wide area. Barnstable, Cambridge, Dorchester, and Salem Massachusetts – and as far away as Onondaga Hollow – Syracuse, New York.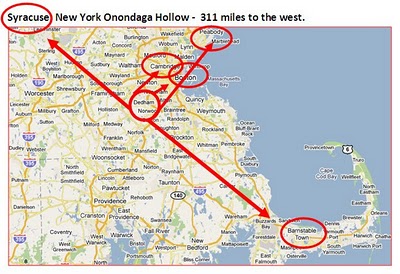 Google Maps.
It was good for business.
The wider the newspaper's net to pull in birth, marriage and obituary notices, the wider their circulation would be.
The same principle applies to genealogy research.
TIP: There may be precious little written about your ancestor – so like Sier & Precious Patterson – make up your mind to cast a wide net and look beyond your local newspaper to find the facts about your ancestor's lives.
.
(Visited 8 times, 1 visits today)