Introduction: In this article, Melissa Davenport Berry shows how women in colonial America ran businesses and took out newspaper ads to promote them. Melissa is a genealogist who has a blog, AnceStory Archives, and a Facebook group, New England Family Genealogy and History.
There was a feisty pioneer spirit in many colonial dames of the Massachusetts Bay Colony. From what was forged out of necessity to survive sprang a legion of enterprising women. An article published in the State Times Advocate newspaper revealed that businesswomen of olden times were no different than their modern sisters: they believed in advertising. These ladies campaigned to promote their products and services. Some had no shame snuffing out the competition and would target their competitors.
The State Times Advocate article mentioned the term "blue stocking," which referred to a movement that came out of London promoting women in literature and the arts. In America, early examples were spiritual reformer Anne Hutchinson and author Anne Bradstreet.
The reporter asserted that, while not all working females cited in the article were blue stockings of Boston, their entrepreneurial energy emulated similar qualities "requiring skill not only in brains, but of hand."
Here are some of their stories and advertisements.
Mary Salmon of Boston, left a widow, announced in the newspaper that she would be carrying on her husband's blacksmith business. Here is her ad from the Boston Evening-Post.

It read:
"MARY SALMON, at the South End, continues to carry on the Business of Horse-shoing, as heretofore, where all Gentlemen may have their Horses shod in the best Manner, as also all Sorts of Blacksmith's Work done with Fidelity and Dispatch."
Later that year, in the same paper, Mary placed another ad announcing the new location of her blacksmith's shop, as well as the fact that she was taking on boarders.

It read:
"MARY SALMON is removed to the House of the late Mr. Henry Howell, Blacksmith, opposite to Mr. Church's, where Boarders may be entertained in genteel Manner; she likewise carries on the Blacksmith's Business there, where Customers will be well attended."
Sarah Goodwin of Boston did chair caning and ran many advertisements from 1745 to 1756. Here is one from the Boston Evening-Post.

It read:
"IF any Person has a mind to have their Chairs bottomed with Cane, they may have them done at Sarah Goodwin's, near the Grainary in Boston."
Benjamin Franklin's sister-in-law, Elizabeth Gooch Franklin, continued the business of soap and candle making. This enterprise began with her father-in-law Josiah Franklin, and Elizabeth's husband John Franklin followed in the industry. (The family soap recipe can be found in the Benjamin Franklin papers.)
After John's death Elizabeth continued the business, known as the Genuine Crown Soap Company and operated out of the Boston Post Office. Her stock included candles and cheese. Sources reported that she had a large successful business, but "was sometimes faced with unscrupulous competitors." Here is her ad published in the Boston-Gazette.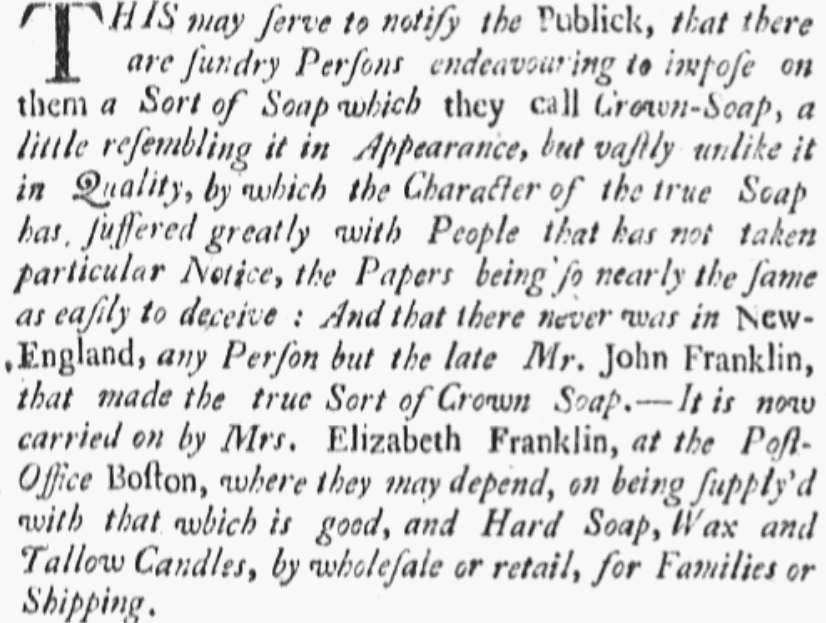 It read:
"THIS may serve to notify the Publick, that there are sundry persons endeavoring to impose on them a Sort of Soap which they call Crown-Soap, a little resembling it in Appearance, but vastly unlike it in Quality, by which the Character of the true Soap has suffered greatly with People that [have] not taken particular Notice, the Papers [wrappers] being so nearly the same as easily to deceive. And that there never was in New-England, any Person but the late Mr. John Franklin, that made the true Sort of Crown Soap. It is now carried on by Mrs. Elizabeth Franklin, at the Post-Office Boston, where they may depend on being supply'd with that which is good, and Hard Soap, Wax and Tallow Candles, by wholesale or retail, for Families or Shipping."
Elizabeth was bent on keeping the Franklins' reputation squeaky clean and anyone who messed with her would have their dirty laundry exposed. It was a Franklin trait to conduct a pristine biz. Ben's sister Jane Franklin Mecom ran a millinery and clothing business in Boston located a little below Concert Hall. Ben's wife Deborah Read operated a stationery shop out of the front of his printing house, and would take over the reins of his print shop while he was off negotiating freedom for America.
More Colonial Dames Industry and Ads coming soon!
Note: Just as an online collection of newspapers, such as GenealogyBank's Historical Newspaper Archives, told the stories of these women entrepreneurs in colonial America, they can tell you stories about your ancestors that can't be found anywhere else. Come look today and see what you can discover!
Related Articles: