Introduction: In this article, Mary Harrell-Sesniak searches old newspapers to find our ancestors' Christmas humor from the 19th century. Mary is a genealogist, author, and editor with a strong technology background who has written and collected some of the funniest, quirkiest, or most touching sayings about genealogy that she's encountered in her career as a family historian. Please attribute this article if sharing.
From jokes about holes in stockings to ones about Santa, there's a myriad of old-time humor just waiting to be found in old newspapers, such as GenealogyBank's Historical Newspaper Archives. Below find some of this year's picks. Hope you enjoy them!
Here's a mischievous use of mistletoe:
Note: With just a few exceptions (for example, by the humorist with the pseudonym "Puck"), these Christmas jokes were shared from paper to paper and printed with no attribution, which is why this article features them by date.
1850

1880
"The muss that children are anxious to get into: Christmuss."
"A young man who gave his girl a $75 gold watch last Christmas, married her during the summer, and now he thinks the present was 'time' well spent."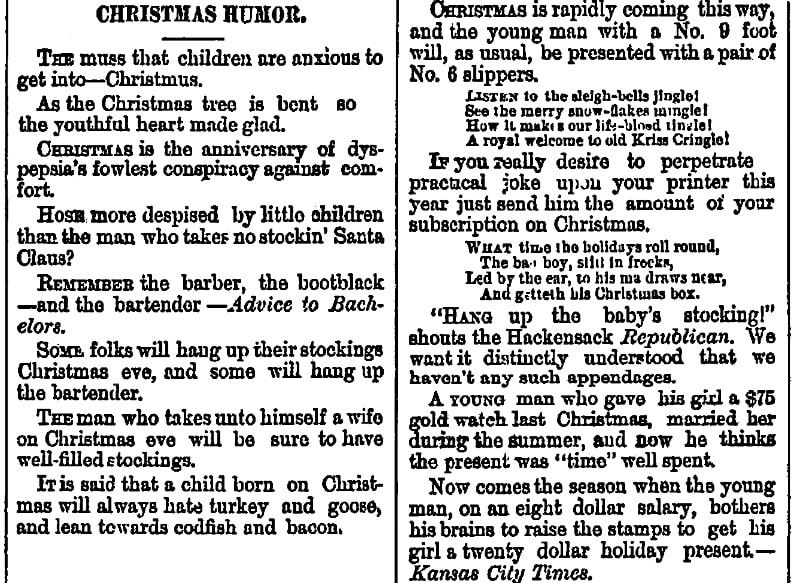 1886
Motto for Christmas card:
"You know that I love you,
and love you right hard,
or why would I trouble
to send you this card?"
1889
"Never look a gift horse in the mouth – not even a Christmas rocking-horse."
"The boy who gets more than he expected is hard to find."
"The Christmases past are often in the memories of the old folks, but the young people only think of the Christmas present."
1890
"Where there's a Christmas will there's a Christmas way."
"The bad boy can become very good around Christmas time."
"Best presents of all: the full stomach and the contented mind."
"This is about the time of year when nearly everybody seems to think it is more blessed to receive than to give."
"An old cotton stocking will hold as much as a silk one."
1892
Mistletoe again…
Hope you have enjoyed these humorous Christmas posts – but remember, whether you celebrate Christmas, Hannukah, Kwanzaa, or otherwise, we wish all of our readers a very happy and humorous holiday season!