Every Christmas we hear the familiar lyrics of "The Little Drummer Boy" Christmas classic popularized in the 1950s and still popular today.
Pa rum pum pum pum,
Rum pum pum pum,
Rum pum pum pum
Drummer boys have resonated with Americans for centuries.
Rufus Kingsley (1763-1846) was one of three drummer boys at the Battle of Bunker Hill. The town of Kingsley, Pennsylvania, was named for this Connecticut-born Revolutionary War veteran.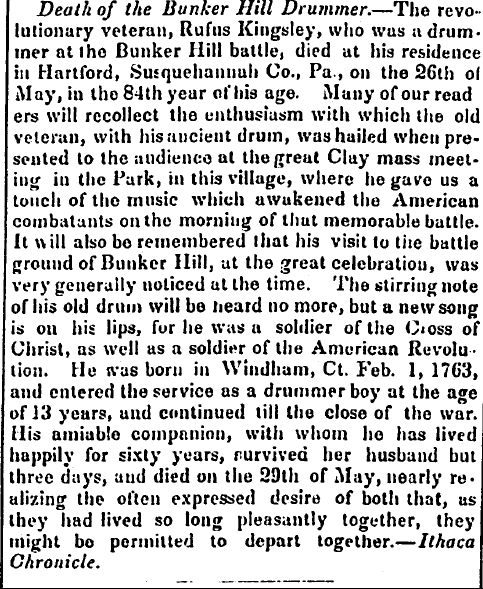 Kingsley's obituary recalled his popularity:
Many of our readers will recollect the enthusiasm with which the old veteran, with his ancient drum, was hailed when presented to the audience.

He gave us a touch of the music which awakened the American combatants on the morning of that memorable battle…The stirring note of his old drum will be heard no more.
Tragically his wife of 60 years, Lucinda Cutler, died three days later.
Don't let their stories be lost.
GenealogyBank's over 1 billion records are your best source to find their stories.
Document every drummer boy in your family tree and pass down their stories.
Note: FamilySearch International (FamilySearch.org) and GenealogyBank are partnering to make over a billion records from recent and historical obituaries searchable online. The tremendous undertaking will make a billion records from over 100 million U.S. newspaper obituaries readily searchable online. The newspapers are from all 50 states and cover the period 1730 to the present.  Find out more at: https://www.genealogybank.com/family-search/
Related Revolutionary War Articles:
(Visited 191 times, 1 visits today)