Introduction: In this article, Mary Harrell-Sesniak searches old newspapers to find letters from our ancestors, sometimes printed long after they were written. Mary is a genealogist, author and editor with a strong technology background.
As a genealogist, I've often thought of old newspapers as treasure chests. Open them up and you never know what you will find to read. One of my favorite finds are old letters.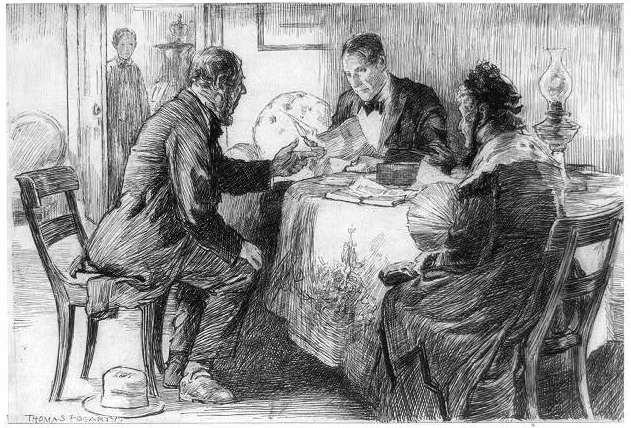 Sometimes long-forgotten letters turn up years later. When newly discovered, they were often featured in the newspapers. It wasn't just letters from famous people, either – letters from the not-so-famous were often published.
David Austin/B. J. Parker
David Austin of Knox County, Ohio, sent this letter to his brother in Vermont. B. J. Parker was a descendant of the letter writer. Although penned in 1820, Austin's letter was not published until 1919. Notice his concern about his relatives who were scattered about. All was well in Ohio, but he very much wanted to see his brother. His letter also discussed the price of land and what he currently owned.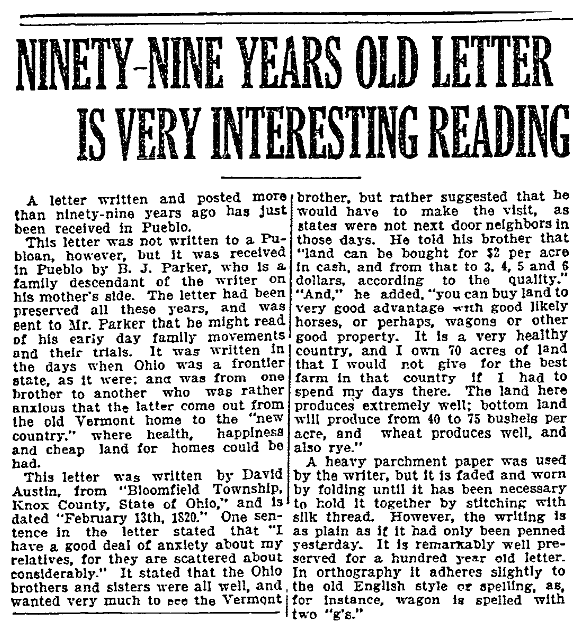 A quick search of records at Family Search shows a Knox County Ohio 1814 Land Deed to David Austin, Benjamin Austin and Myrich Higgens. This is likely the land he discussed in his 1820 letter to his Vermont brother.
Another search in the Bureau of Land Management finds a transaction by a man of the same name in the same county. If curious, follow this link: Bureau of Land Search Results.
Howard Knight's Money
In 1906, an old letter mailed from Richmond, Indiana, in 1886 was finally opened after being lost for 20 years. There was no word as to why it was in the dead letter office, but when opened by Howard Knight, he found money.
An Old Scam Revealed
This next letter reports the fleecing of the Aker family due to a "pernicious bankrupt law" passed by a Whig Congress in 1842. The author was owed $20,000 and never received it from the "villain," who got away with his crime. This letter was finally published in 1898.
Chief Black Hawk's Buried Treasure?
The proverbial buried treasure reports made residents almost giddy with excitement. This one from Jefferson County, Iowa, included clues and a map showing where Chief Black Hawk might have hidden his valuables. Not sure if it was ever located, but if not, read the entire letter and go searching for the gold!
Have you discovered old family letters in your genealogy research? Share with us in the comments section below if you found a buried treasure, or just had fun reading an old letter related to your family tree in the newspapers.
Related Articles: