Introduction: Mary Harrell-Sesniak is a genealogist, author and editor with a strong technology background. In this guest blog post, Mary writes about genealogical fakes and frauds, and cautions readers to be careful in documenting their family history.
You can't always believe what you read—or can you?
Genealogy, when done right, is a pursuit requiring patience, with family relationships being carefully established and well documented. But be wary when constructing your family tree; examine each piece of evidence with a critical eye.
Exaggerations abound in genealogy, many of which can be categorized under the "Believe It or Not" phrase made famous by Robert. L. Ripley (1890-1949).
In order to "prove" more impressive ancestry than they actually have, scoundrels and frauds sometimes doctor documents, create fictitious Bible records, and even sell services to unsuspecting family researchers.
Some of the more notorious genealogy fakes and forgers were Gustave Anjou, Harriet de Salis and Horatio Gates Somerby.
Gustave Anjou (1863-1942), a.k.a. Swedish native Gustaf Ludvig Jungberg
Anjou immigrated to America from Sweden, after being released from incarceration in 1886, reportedly on a forgery charge. He became active in genealogical societies in the New Jersey and New York areas, and proceeded to sell his services as a researcher to wealthy citizens. His specialty was fabricating descent from royal lineages.
Some of his more infamous works included supposed lineages for the families of Andrews, Dent, Duff, Grant, Houston, Hurd, Longyear, Shapleigh, Wyckoff, and many more genealogical frauds. He also published a reference on the Ulster Country, New York, Probate Records. For a more thorough list of his junk genealogies, conduct a search in WorldCat or Google Books.
Even Anjou's name is a sham or half-truth. His passport application of 1924 reported his father as "Charles Gustave Marie Anjou" and that he was born in Paris, France. This fabrication was derived from his parents' names, Carl Gustaf Jungberg and housekeeper, Maria Lovia Hapberg, along with the Anjou reference from his fiancée (later wife), Anna Maria Anjou. The passport application noted he was naturalized in 1918 and that he was following the occupation of genealogist.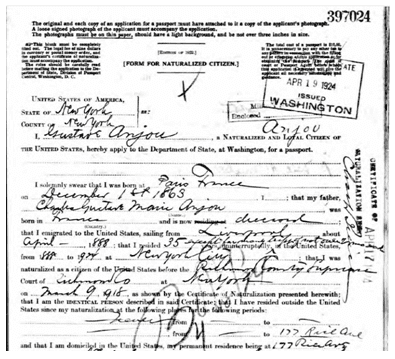 References to Anjou's association with genealogy can be found in New York City records:
The New York City Directory of 1910 reported: "British-Am Record Soc, 116 Nassau R [Residence] 1116—C. Percy Hurditch, Pres; Gustave Anjou, Sec."
The New York City Directory of 1912 reported: "Am Genealogical Soc., 116 Nassau R 1117—Gustave Anjou, Sec."
In the following historical newspaper article, we can see the ripple effect of Anjou's fraudulent genealogy work. A New Orleans newspaper's Genealogical Department ran a feature called "Who's Who and Their Forbears," and innocently quoted Anjou's work assuming it was authentic.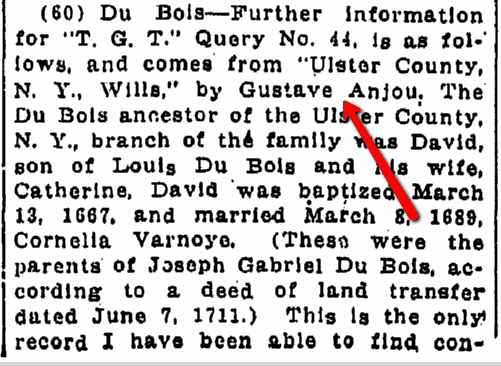 Mrs. Harriet de Salis, nee Bainbridge
De Salis was a noted cookbook author. The title of one of her publications, Tempting Dishes for Small Incomes published in 1903, seems to hold a "secret message" about her second career: junk genealogy. Her culinary skills apparently didn't generate enough income, so she turned to providing a fraudulent genealogy service, much like Anjou.
Some of her noted counterfeits were submitted by her eager clients to the New England Historical and Genealogical Register (NEHGR) . Unfortunately for de Salis, NEHGR researchers typically investigate exuberant ancestral claims, as seen in this 1943 response pointedly remarking on de Salis's "vivid imagination":
"The wills of 'Edward' and 'Valentine' [Woodman] appear to have been the offspring of Harriet de Salis' vivid imagination—at least no such wills can now be found. After this auspicious beginning she proceeded to construct a wondrous pedigree making Nicholas the ancestor of the two New England progenitors and deducing his descent from all the ancient and gentle family of Woodman of Surrey."
—The New England Historical and Genealogical Register, Vol. 97, p. 282 (1943).
Little mention of de Salis appears in GenealogyBank. Her death date and obituary were not located in its vast historical newspaper archives. Interestingly, however, there is a mention of de Salis in GenealogyBank's United States Congressional Serial Set archives, referring to her 1888 oyster cookbook.

Horatio Gates "H. G." Somerby (1805-1872)
Somerby, a native of Newburyport, Massachusetts, moved to England, where he fabricated genealogies for Americans wishing to establish English origins.
WorldCat and Google Books report a variety of publications on families that feature suspect genealogical work done by Somerby, such as The Blakes of Somerset, John Cotton of Boston, The Searstan Family of Colchester, Pedigree of Lawrence, A Sketch of the Family of Dumaresq, and Notices of the Sears Family.
GenealogyBank's newspapers report that a man by the name of "Horatio B. Somerby" was a witness at a forgery trial. Although the middle initial is incorrect, it may be a typo. One has to wonder about the association with a noted forger, especially one with New England connections, and suspect this is really Horatio G. Somerby.
GenealogyBank has a brief notice of his death in London, but this death notice makes no mention of his background in fraudulent genealogy.

There are numerous examples of scammers, frauds, fakes and forgers in genealogical research, so remember the famous words of Ripley: "Believe It or Not," and be careful documenting your family history to keep it real!