Introduction: In this article, Gena Philibert-Ortega searches old newspapers to learn more about the Alpha Suffrage Club and some African American women leaders in the women's suffrage movement. Gena is a genealogist and author of the book "From the Family Kitchen."
Names like Susan B. Anthony, Elizabeth Cady Stanton, and Alice Paul are often associated with the women's suffrage movement in the United States. But they are just some of the leaders who fought for women's right to vote. Equally important are the names of Ida B. Wells-Barnett, Elizabeth Piper Ensley, and Mary Ann Shadd Cary, all African American suffrage leaders who not only fought for women's right to vote – but also faced racism, outside and inside the larger suffrage movement, as they led the charge.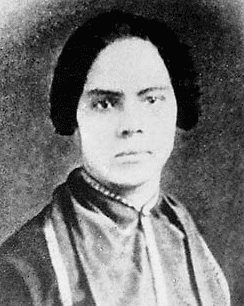 The Alpha Suffrage Club
There were many reasons why African American suffrage organizations were important in the larger 20th century women's suffrage movement. While African American men had obtained the vote with the passage of the 15th Amendment (ratified in 1870), they were rarely able to enjoy their new right. Poll taxes and literacy tests were just some of the tactics used to preclude them from the polls.
African American women knew they not only had to fight for the right to vote, but also for the ability to exercise that vote without intimidation – something that had been denied the men in their lives. African American women's exclusion from white-led suffrage groups meant organizing separate groups where African American women could work on social issues that affected them.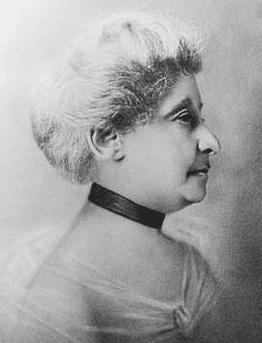 One example of an African American suffrage group was the Alpha Suffrage Club. Founded in Chicago on 30 January 1913 by Ida B. Wells-Barnett and white suffragist Belle Squire, it was the first African American female suffrage group in Illinois. Ida B. Wells-Barnett's work on behalf of the rights of African Americans is legendary, and it makes sense that she would add suffrage to her list of causes. The Alpha Suffrage Club in 1916 boasted 200 members (though that number would later swell to thousands) and information about meetings was featured in the local African American newspaper, the Broad Ax, as well as their club newsletter, Alpha Suffrage Record.*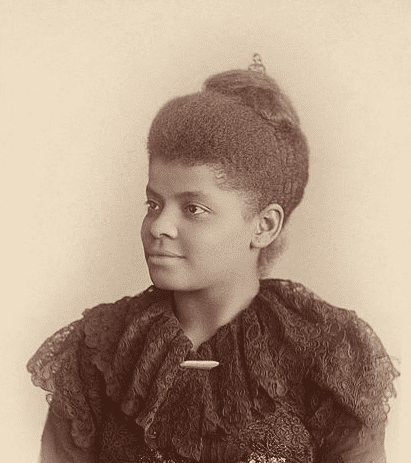 The 1913 Women's Parade
One of the first activities the newly formed Alpha Suffrage Club participated in was the 1913 Women's Suffrage Procession. In 1913, 5,000 marchers organized by suffrage leader Alice Paul marched in Washington, D.C., in support of a suffrage amendment to the Constitution.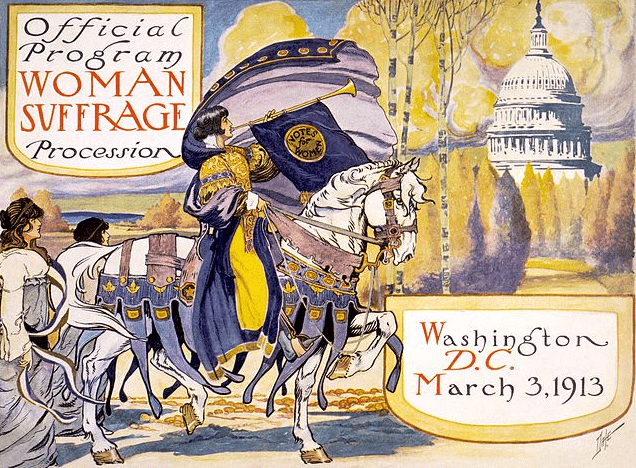 The procession was but one example of how racism hampered the fight for suffrage for all women. Initially, in order to acquiesce to the feelings of Southern white women who objected to African American women marching with them, suffrage leader Alice Paul suggested that marchers be grouped, with African American women marching at the end of the parade.
Eventually, African American women did march – not segregated at the end of the parade like initially proposed, but instead with suffragists from their home states. One of those marchers was Ida B. Wells-Barnett, who marched alongside her white colleagues Belle Squire and Virginia Brooks from Illinois.** The Alpha Suffrage Club believed in the importance of Wells-Barnett's trip to D.C. so much that they financed it. Upon Wells-Barnett's return to Illinois, the Alpha Suffrage Club threw an entertainment event to raise money to reimburse the club for its sponsorship of her trip.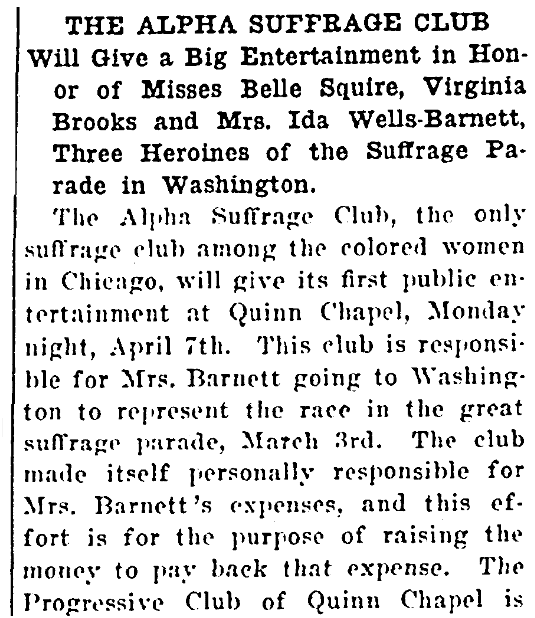 A few months after the Washington, D.C., parade, in June 1913, Illinois Governor Edward Dunne signed a law giving women from that state limited voting rights. While women couldn't vote for all state political offices, they could vote for "presidential electors, mayor, aldermen and most other local offices, but not for governor, state representatives or members of Congress."***
This new suffrage right became a topic of meetings for the Alpha Suffrage Club as they taught their members "the proper use of the ballot" and "how to use a voting machine." These women knew the importance of helping women become educated voters, and they also continued to add their voice to the call for national voting rights for women.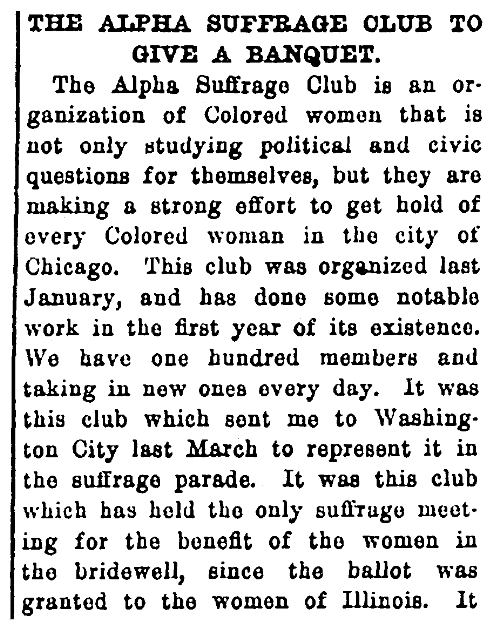 Learn More
Looking for articles about the Alpha Suffrage Club, other African American suffrage leaders, or maybe even a female ancestor? Make sure to search GenealogyBank's African American Newspapers collection. Look for articles that tell the story of suffrage and elections where your ancestor lived. I'd love to hear what you find. Please share your discoveries below in the comments section.
————————
* "Alpha Suffrage Club," Encyclopedia of Chicago (http://www.encyclopedia.chicagohistory.org/pages/39.html: accessed 1 February 2018).
** "Marching for the Vote: Remembering the Woman Suffrage Parade of 1913," American Memory (https://memory.loc.gov/ammem/awhhtml/aw01e/aw01e.html: accessed 1 February 2018).
*** "Women Get the Vote," Chicago Tribune (http://www.chicagotribune.com/news/chi-130620-100-years-women-right-to-vote-illinois-suffrage-pictures-photogallery.html: accessed 1 February 2018).
Related Articles: