Hat's off to the: East Central Georgia Regional Library. They have put their African American Funeral Program Collection online.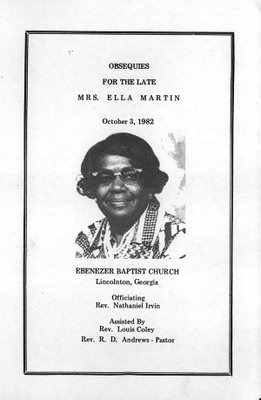 This impressive collection has more than 1,000 funeral programs from the greater Augusta, Georgia area. They date from 1933 to 2008, with the bulk of the collection starting from 1960 to 2008.
According to the website:
The programs typically contain a photograph of the deceased, an obituary, a list of surviving relatives, and the order of service. The collection provides extensive genealogical information about the deceased, including birth and death dates, maiden names, names of relatives, past residences, and place of burial. Alongside this genealogical information, the obituaries provide a rich source of local history about African Americans. Many of the people included in this collection were prominent in their communities, and many were involved locally in the struggle for civil rights.
The African American Funeral Programs from the East Central Georgia Regional Library is a project of the Digital Library of Georgia in association with the East Central Georgia Regional Library as part of Georgia HomePLACE. The project is supported with federal LSTA funds administered by the Institute of Museum and Library Services through the Georgia Public Library Service, a unit of the Board of Regents of the University System of Georgia.
.