Introduction: In this article, Gena Philibert-Ortega discusses research opportunities in Southern California for genealogists, especially those attending the Southern California Genealogical Society Jamboree. Gena is a genealogist and author of the book "From the Family Kitchen."
The 50th anniversary of the Southern California Genealogical Society Jamboree is approaching (May 30-June 2). Attending Jamboree is a great opportunity to not only take part in a large genealogy conference, but to also take advantage of the research opportunities near the conference site in Burbank, California.
You don't have to have ancestors from the Golden State to benefit from California repositories. Los Angeles County and the surrounding area features impressive libraries, archives, and museums that are excellent places for genealogical research. Looking for a few suggestions? Check out the following when you're at Jamboree this year.
Southern California Genealogical Society Library
It makes sense that if you're going to attend the Southern California Genealogical Society Jamboree you should visit their Library. The SCGS Library is perfect no matter what location your ancestors lived in, since their collection includes 40,000 books and thousands of microforms. Sure, they have a great collection of California books – but they also have resources for other states and international locations found in the collections of the French-Canadian Heritage Society of California, the German Genealogical Society of America, and the Genealogical Society of Hispanic America.
To peruse the resources available from the SCGS Library see their online Catalog. Even if you aren't attending Jamboree, you can request research lookups. Their collections that might be useful to your research include:
Los Angeles County
California Gold Rush
Cornish Records
French-Canadian Research
Germanic Research
See their Research Team Assistance web page for more details.
Los Angeles Public Library (LAPL)
I have a confession: I love going to the Los Angeles Public Library. History engulfs you as soon as you walk into this 1920s library. Aside from the building, the murals, and the museum-quality exhibits, you can wander the stacks for days and not see everything. And for the family historian, there's a whole floor of genealogy and history resources.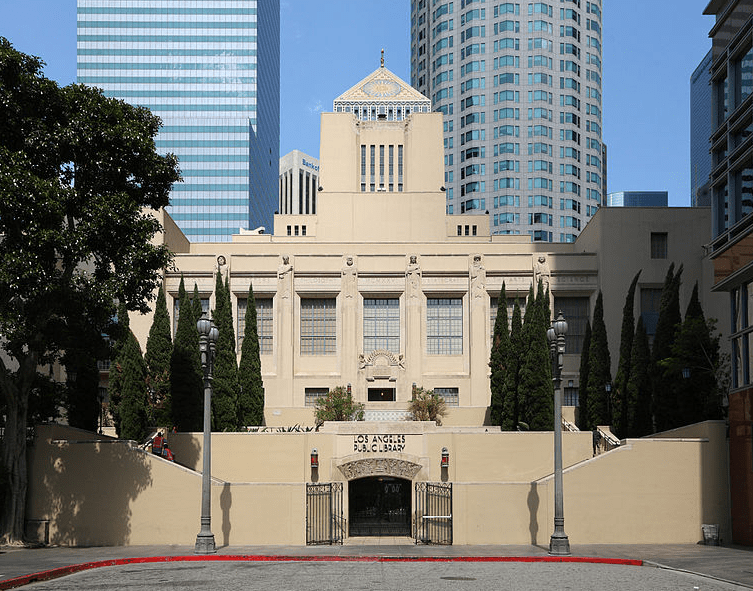 So, what does the library have for the family history researcher?
"There are over 200,000 volumes in the history book collection with especially strong collections in biography, travel, wars involving the United States, the West, Native Americans, and Los Angeles area history.
"The California Index, an online resource which may be accessed through the LAPL website, indexes information about people, places, and events that have had a significant impact on life in Southern California. It is also a guide to the department's California Biography and Vertical Files, which include clippings from journal and newspaper articles, and various ephemera on subjects of local interest.
"The Genealogy Collection at Central Library numbers more than 40,000 volumes, including more than 10,000 genealogies. A family name index to the collection is available through the databases link on the library home page."
You name it, LAPL has it – including city directories from around the U.S., family history books, transcriptions and indexes. For those who live in California, you can get a library card and search their online databases from home. For more information about the History and Genealogy Department, see the library's website.
If you're attending Jamboree, LAPL librarian Julie Huffman will be presenting on the Library and other area resources. See the Jamboree schedule for more information.
National Archives at Riverside
While the previous two libraries are located in Los Angeles County, the National Archives at Riverside is in an adjoining county, about one hour away from the conference location. So why am I mentioning it?
The National Archives at Riverside holds federal records for Southern California (as well as Clark County, Nevada, and Arizona). It's here that you can research federal land records, naturalizations, and records involving the Bureau of Indian Affairs. You can learn more about what this branch of the National Archives offers from their web page, Genealogy Research in Riverside.
When researching at the National Archives, remember that it's different than researching at a library. I would suggest that you contact the Archives by phone or email prior to your visit to ensure they have what you are looking for. Because the records are housed in closed stacks, they will need to be pulled. Although their hours are 9:00 to 4:00 Monday through Friday, they do stop pulling records at 3:00. You will need a Research Card to research at the Nation Archives, so plan on additional time to fill out the form. Contact information and other information that will be useful to your research can be found on their website. Their Plan Your Visit web page provides hours, location, and directions.
California Dreamin' of Research
Are those three repositories the only places to research when you're in Southern California? Absolutely not – numerous other research opportunities in Southern California exist at libraries, universities, archives, and museums that could keep you very busy, but these three repositories will get you started. California offers numerous genealogy research opportunities. There's more to do in Southern California than visiting Disneyland and the beach!
Good luck with your research!