Introduction: In this article – to help celebrate Cinco de Mayo – Gena Philibert-Ortega searches old newspapers to find delicious recipes for food and drink. Gena is a genealogist and author of the book "From the Family Kitchen."
Today is Cinco de Mayo, which means it's a good excuse to have some Mexican food for dinner tonight. Need some new recipes or ideas? There are so many options, but the following recipes from GenealogyBank's Historical Newspaper Archives are great ones to consider and add to your dinner repertoire.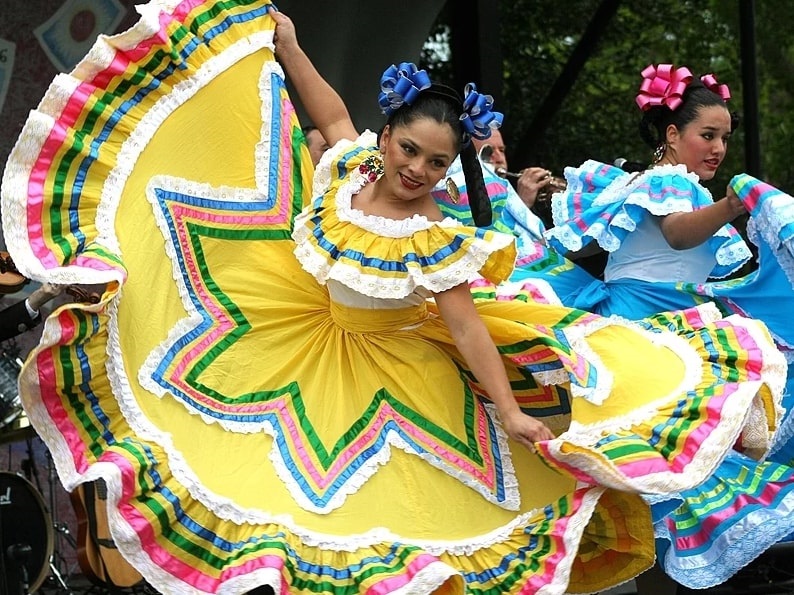 Beverages
Let's start with a beverage. Now I know you're probably thinking margaritas, and that's one idea – but what about trying Horchata? Horchata is a rice-based drink, served cold. My description of this drink won't do it justice, but it's a sweet, cinnamon milk-like drink. Just try it. I promise you it's good. A recipe can be found in the newspaper article below and in some cases, you can purchase it already made at some Mexican restaurants or grocery store refrigerator cases.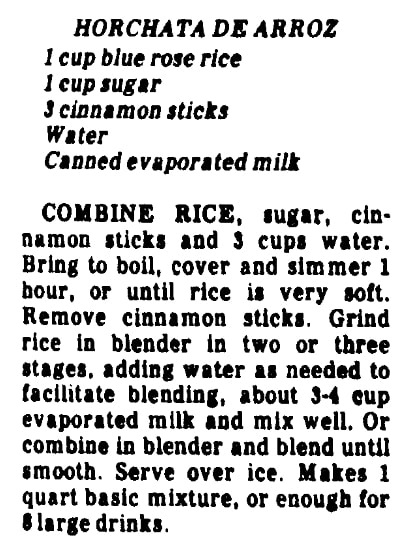 And of course, if you want to make margaritas, this newspaper article includes a recipe.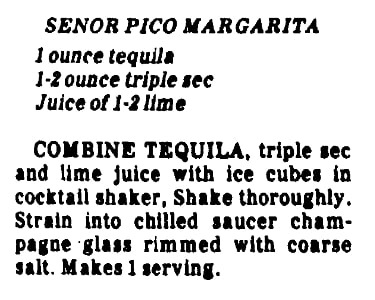 Appetizer
When you sit down at a Mexican restaurant you are usually greeted with a small basket of tortilla chips and salsa. So why not start off your home Mexican menu with the same? I especially like this 2002 San Francisco Chronicle article because it provides a variety of salsa recipes that vary in spiciness (or heat). All of these recipes, except for one, calls for tomatillos. Tomatillos are small, green tomatoes that have a thin papery husk (however, sometimes they are sold in the store without those husks).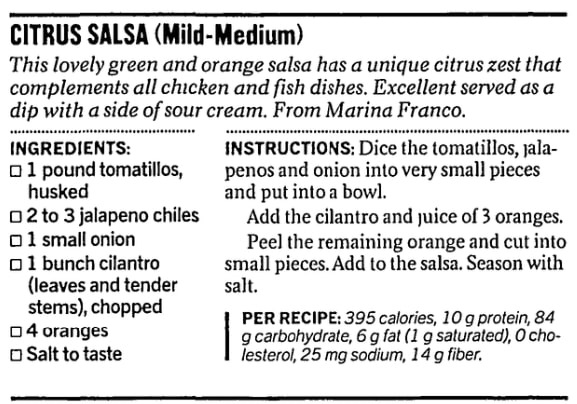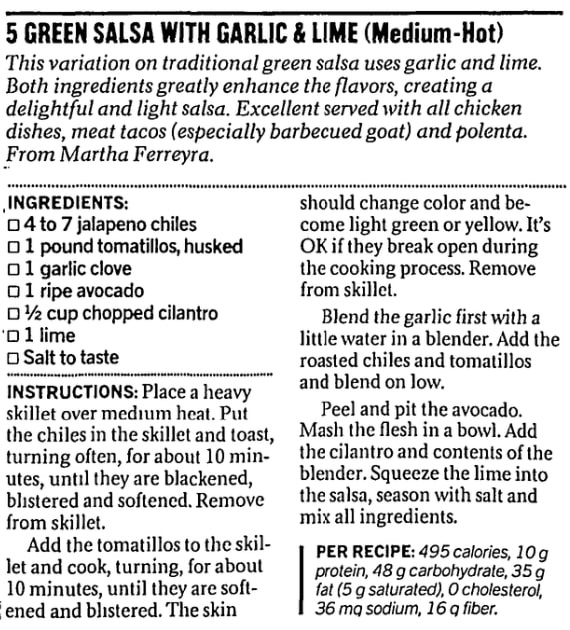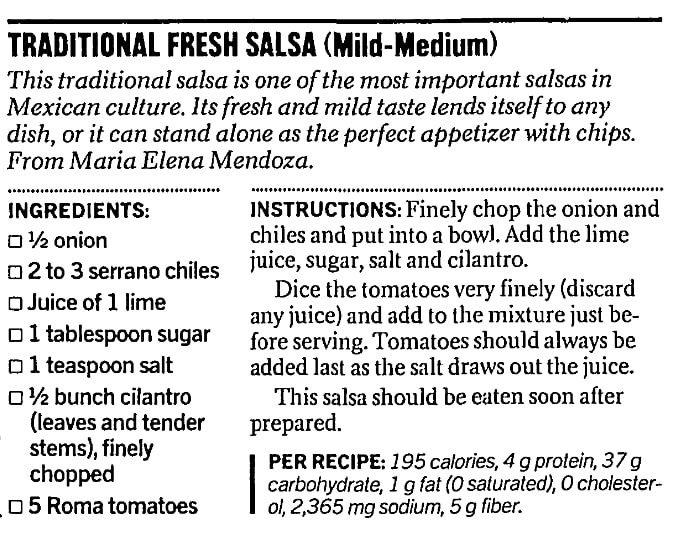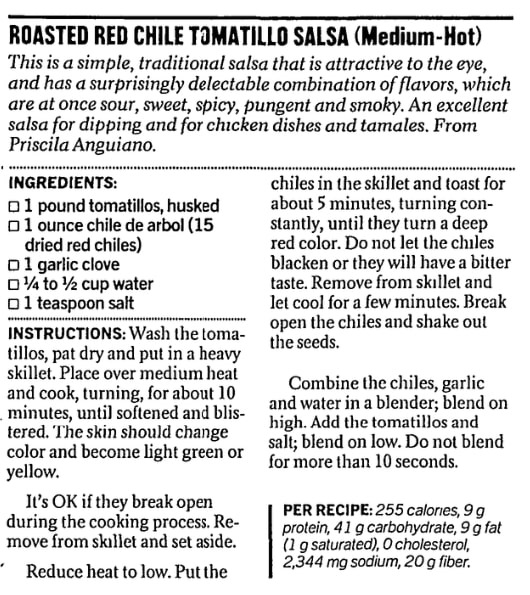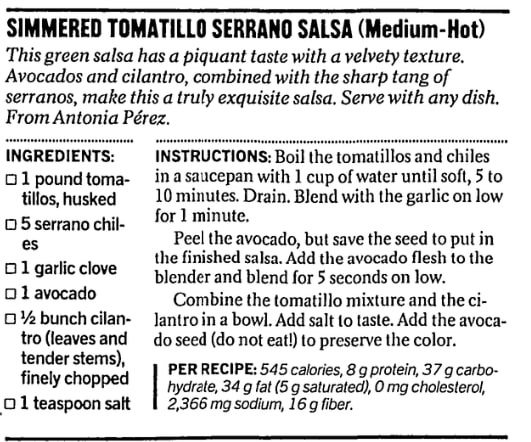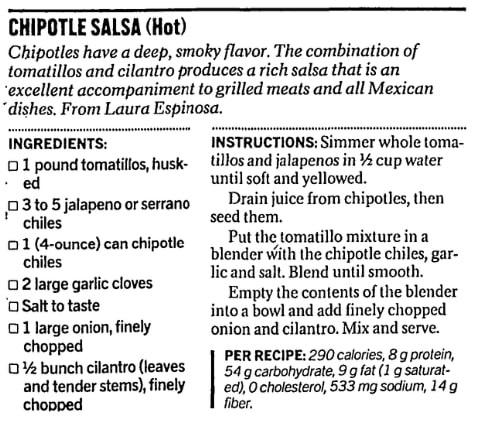 Remember: if you decide to try one of the hotter recipes, wear gloves when handling the chiles and their seeds. I can speak from experience that after chopping chiles, no matter how much you know it's not a good idea, your instant reaction seems to be to rub your eyes!
There's no doubt that chips and salsa are great, but you may want to make it special by including some guacamole. In this article by cookbook author James Beard, he provides a recipe for guacamole and suggests adding a chile or two if you prefer yours on the spicy side. In my opinion, that's a must – but it's not for everyone. Guacamole is simple to make, but it can be customized with extras like tomatoes, onions, and chiles.

Entrée
One of the easiest entrees you could set up for your dinner is a taco bar. This allows each person to customize their tacos according to their taste, and to sample a variety of tacos. And preparation is easy.
A taco bar could include:
Meats (ground beef, grilled chicken, carne asada, carnitas)
Seafood (fish, shrimp, lobster)
Vegetables (lettuce, shredded cabbage, tomatoes, radishes, onions, chiles, avocado)
Cheese/Dairy (sour cream, shredded cheddar, colby, Mexican cheeses)
Tortillas (crisp/hard shelled, street taco tortillas, soft corn tortillas)
Sauce (hot sauce, salsa, pico de gallo)
A taco bar can also include vegetarian options such as cooked potatoes, beans, rice, and sauteed squash. Potato tacos are one of my favorites.
The nice thing about having a taco bar is that if there are any leftovers, you can use them the next day for nachos.
Dessert
I'm usually too full to even contemplate dessert – but if you've saved some room, there are several options. You could make churros, which are fried donuts rolled in cinnamon sugar. Some people like to dip their churros in hot, melted chocolate. (Obviously, everything is better with chocolate).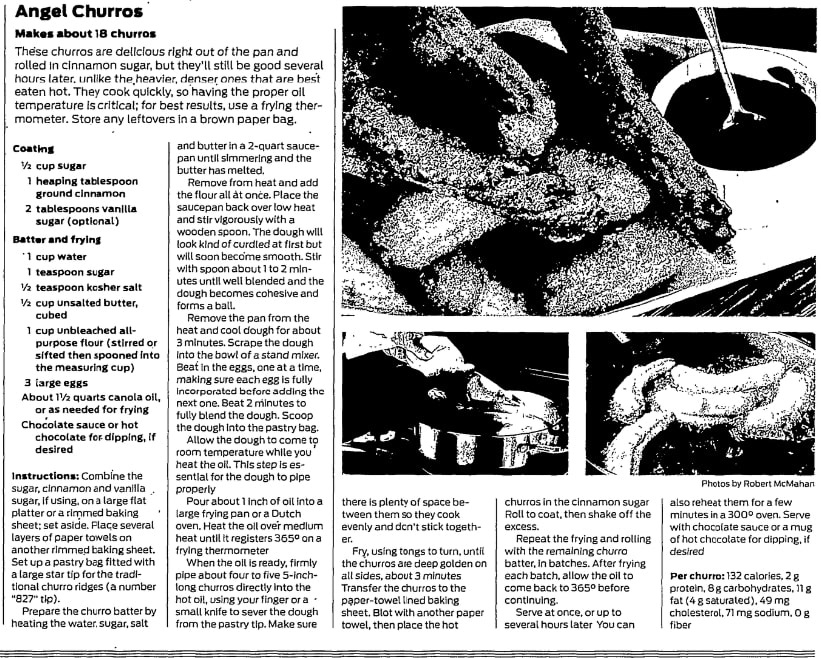 Many people associate Spanish or Mexican food with flan, a custard-like dessert. This newspaper article takes flan to a new level by creating flans with pineapple, orange, or cocoa.

Happy Cinco de Mayo!
Cinco de Mayo is a great excuse to have Mexican food for dinner. Try a few new recipes and make this year's May 5th the one day you know the answer to the endless question "What's for dinner?"