I have been verifying the family history entries in the Amos and Olive (Petingel) Clark family Bible.
Recently, I worked on one of the entries from their Bible for their daughter Ellen Amanda (Clark) Johnson (1842-1884).
I easily found her and her family in the 1880 Census, living in Newburyport, Massachusetts. She was married to William Johnson, and they had a daughter, Elizabeth.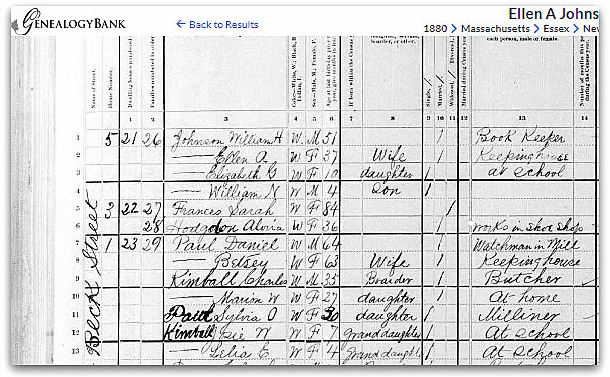 Looking closely at the first two columns, I found that they were then living at 5 Beck Street in Newburyport. She died in Newburyport just four years later.
Using Google Streetview, I found that their home is still standing. Having this modern photograph of their home gives me a sense of their life and surroundings.
With their family Bible in hand, I am able to use GenealogyBank's Historical Newspaper Archives, Google Streetview, and other sources to gather the details of their lives.