It was 8:30 on a Thursday night, 8 September 1966, when NBC-TV premiered a television series that became a cult phenomenon and a permanent part of popular culture: Star Trek. Creator Gene Roddenberry had pitched his idea to studio executives as a "wagon train to the stars."
They bought the concept, but surely they had no idea of the show's lasting impact. Although the original Star Trek series was cancelled after only three seasons, the science fiction franchise it created has thrived ever since.
The show was daring and innovative for its time. Roddenberry had an optimistic view of humankind and the future, believing that races could live together in harmony, reason could prevail over violence, and science could make a better world. The scripts featured superb science fiction writing, from Roddenberry himself and many others.
Star Trek was the first show to feature a multi-cultural, multi-racial cast. It was also capable of causing controversy and shaking up society – as in the famous "Plato's Stepchildren" episode, when white Captain Kirk kissed black Lieutenant Uhura, the first interracial kiss in American television history.
Right from the outset, Star Trek earned a loyal, almost fanatical fan base, one that through subsequent decades has shown its zeal by dressing in costumes and attending elaborate conventions. When NBC considered cancelling Star Trek in its second season due to low Nielsen ratings, its fans made history with a fervent letter-writing campaign that saved the show. Another letter-writing effort protested NBC's decision to cancel the show after its third season, but this time the network held firm. The last episode of the original series aired on 3 June 1969.
However, the end was really just the beginning. The show went into reruns the fall of 1969, and its popularity soared. Since then, more Star Trek television series and even feature films have been created. In addition, there have been hundreds of novels, comic books, games, action figures, etc. The always-faithful Star Trek fans fired up another letter-writing campaign in the mid-1970s, and persuaded NASA in 1976 to name the first space shuttle Enterprise after the show's beloved space ship.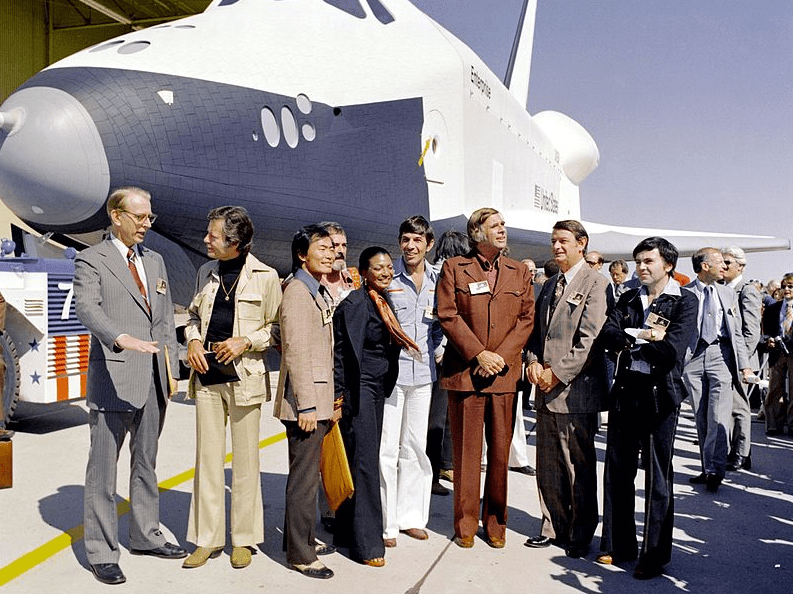 The following television reviews reveal some of the reaction to Star Trek's debut after that historic 8 September 1966 broadcast, 50 years ago today.
Here is a transcription of this article:
NBC 'Sneaks' Three New Series
By Harry Bowman
Thursday night the NBC television network jumped on the premiere bandwagon, which was started rolling last Tuesday by ABC, with what it designated as "sneak previews" and introduced three of its big new entries in the 1966-67 series swim.
This network's new season doesn't begin in earnest until Monday of next week but the early bird sometimes gets the ratings.
…"Star Trek," a one-hour science fiction adventure, is more adult and is definitely a superior effort. It is a highly imaginative project and was engrossing and intriguing. It details the adventures of the U.S.S. Enterprise, a spaceship which is on a five-year mission searching for new worlds and civilizations in the outermost regions of space. The stars are William Shatner as the ship's commander and Leonard Nimoy as Dr. Spock, the chief science officer. The Spock character is half earthman, half Vulcanian with pointed ears and upward growing eyebrows.
There were times when this one showed signs of becoming a little too gimmicky for its own good but it was nevertheless a high quality production with top notch acting and was a fascinating hour.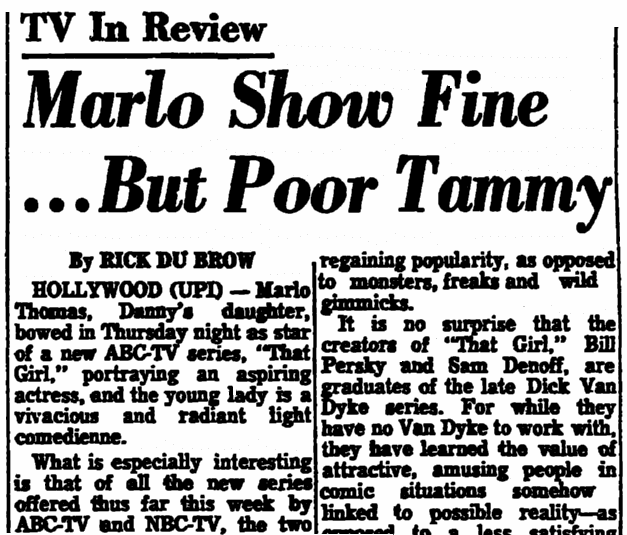 Here is a transcription of this article:
TV in Review
Marlo Show Fine…but Poor Tammy
By Rick du Brow
HOLLYWOOD (UPI) – Marlo Thomas, Danny's daughter, bowed in Thursday night as star of a new ABC-TV series, "That Girl," portraying an aspiring actress, and the young lady is a vivacious and radiant light comedienne.
…Another hour-long NBC-TV series, "Star Trek," a science fiction opus centering around a mammoth space ship, is so absurd that it is almost entertaining, what with a playboy bunny-type waitress.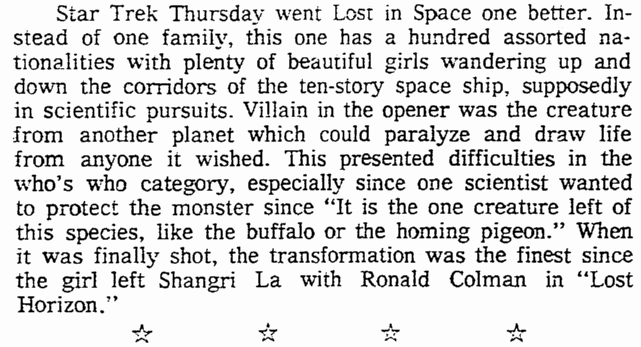 Here is a transcription of this article:
…"Star Trek" Thursday went Lost in Space one better. Instead of one family, this one has a hundred assorted nationalities with plenty of beautiful girls wandering up and down the corridors of the ten-story space ship, supposedly in scientific pursuits. Villain in the opener was the creature from another planet which could paralyze and draw life from anyone it wished. This presented difficulties in the who's who category, especially since one scientist wanted to protect the monster since "It is the one creature left of this species, like the buffalo or the homing pigeon." When it was finally shot, the transformation was the finest since the girl left Shangri La with Ronald Colman in "Lost Horizon."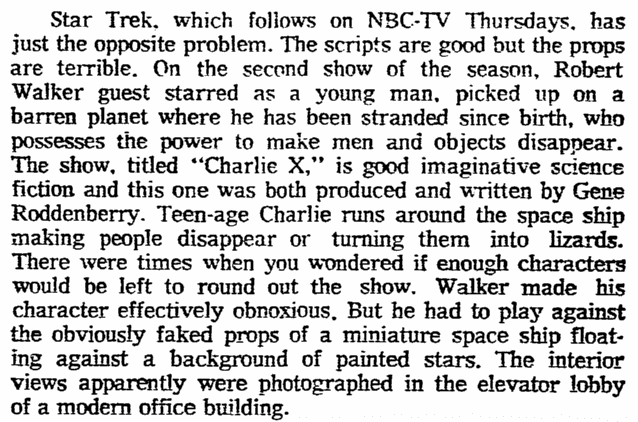 Here is a transcription of this article:
…"Star Trek," which follows on NBC-TV Thursdays, has just the opposite problem. The scripts are good but the props are terrible. On the second show of the season, Robert Walker guest starred as a young man, picked up on a barren planet where he has been stranded since birth, who possesses the power to make men and objects disappear. The show, titled "Charlie X," is good imaginative science fiction and this one was both produced and written by Gene Roddenberry. Teenage Charlie runs around the space ship making people disappear or turning them into lizards. There were times when you wondered if enough characters would be left to round out the show. Walker made his character effectively obnoxious. But he had to play against the obviously faked props of a miniature space ship floating against a background of painted stars. The interior views apparently were photographed in the elevator lobby of a modern office building.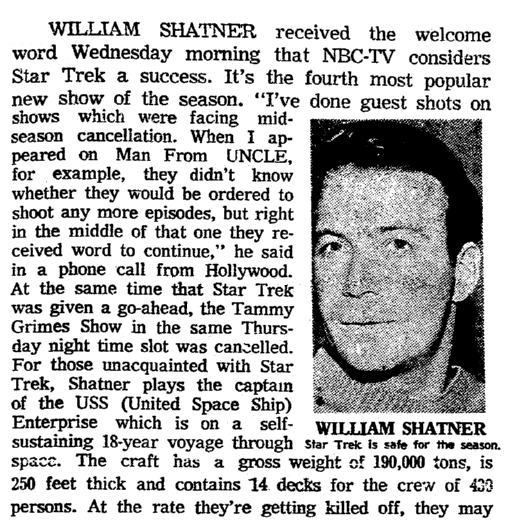 Here is a transcription of this article:
William Shatner received the welcome word Wednesday morning that NBC-TV considers Star Trek a success. It's the fourth most popular new show of the season. "I've done guest shots on shows which were facing mid-season cancellation. When I appeared on Man from UNCLE, for example, they didn't know whether they would be ordered to shoot any more episodes, but right in the middle of that one they received word to continue," he said in a phone call from Hollywood. At the same time that Star Trek was given a go-ahead, the Tammy Grimes show in the same Thursday night time slot was cancelled. For those unacquainted with Star Trek, Shatner plays the captain of the USS (United Space Ship) Enterprise which is on a self-sustaining 18-year [correction: 5-year, ed.] voyage through space. The craft has a gross weight of 190,000 tons, is 250 feet thick and contains 14 decks for the crew of 439 persons. At the rate they're getting killed off, they may have trouble operating the ship before the end of the season.
Scripts for Star Trek (KGW-TV, 8:30 p.m. Thursdays) have been exceptionally good science fiction. Shatner is especially enthusiastic about the stories for this week and next. "We're having a good run on quality," he said. "I've been a science fiction buff myself for the past 7 or 8 years. I admire that type of writing with its freshness of ideas. All the writers I liked best are now doing scripts for Star Trek, including Ray Bradbury."
Some of the show's greatest creativity comes in the makeup department. "Makeup man Fred Phillips no sooner finishes with one monster than he has to start on the next. He has to do one every five days and there are no leftover costumes he can rent."
One summer when Shatner was 19 years old and a student at McGill University, he hitchhiked through Portland. He and a friend went clear around the United States and ended up going from San Diego to Vancouver, B.C. He recalls Oregon as being a "spectacular area," and heading north on the freeway to Seattle.
This Thursday's show will concern the USS Enterprise's effort to pick up a scientific earth team who have been investigating a dying planet. They find the scientific team dead, but the space ship is being pulled closer and closer to the planet which will explode at any minute.
Note: An online collection of newspapers, such as GenealogyBank's Historical Newspaper Archives, is not only a great way to learn about the lives of your ancestors, the old newspaper articles also help you understand American history and the times your ancestors lived in, and the news they talked about and read in their local papers – as well as newsworthy events from our own times. Do you have any memories of the debut of Star Trek? Please share your stories with us in the comments section.