One of my family traditions tells us that George Washington made his headquarters, from 4 July to 19 August 1781, at the home of my 5th Great-Grandfather, Joseph Appleby (1732-1792) in Greenburgh, New York, in the Dobbs Ferry section of town, during the American Revolutionary War.
Joseph Appleby served as a 2nd lieutenant in the First Regiment of Westchester County, New York Militia.
I found this interesting 1935 newspaper article reporting that in 1935 Messmore Kendall (1872-1959) was living in a house in Dobbs Ferry—and erroneously stated that was the house that George Washington used as his headquarters in 1781, not the home of my ancestor Joseph Appleby.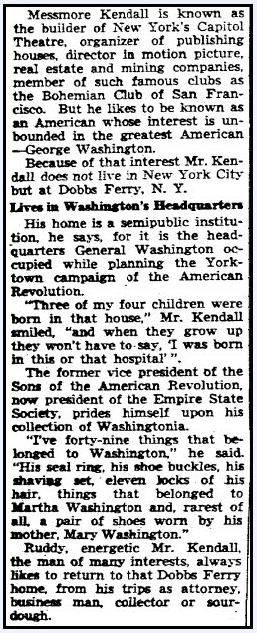 Kendall took great pride in his home's supposed connection to George Washington and its key role in the American Revolution.
It was an impressive home.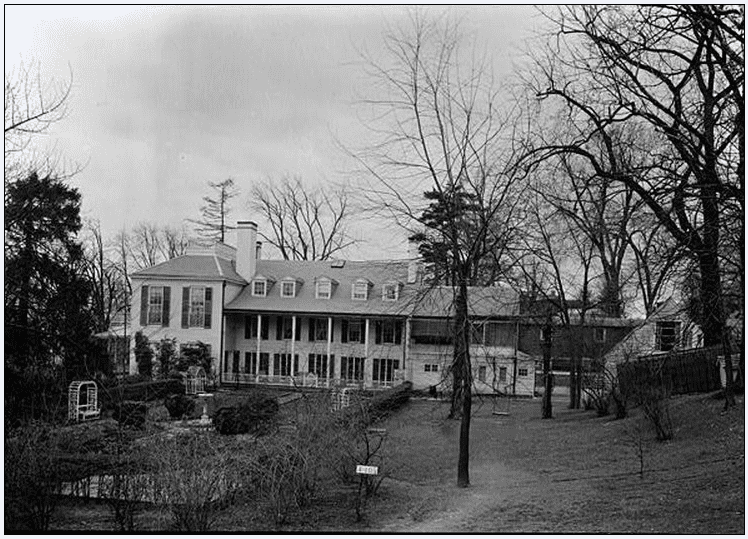 Kendall served as the national vice-president of the Sons of the American Revolution and as the president of the Empire State Chapter of the NSSAR. In 1894 he had a monument erected in front of his house commemorating its place in history.
Kendall collected dozens of historic heirlooms previously owned by George Washington and had them on display at his home.
It was a nice story—but it was not true.
A Historic American Building Survey Report issued 29 March 1934, written by Thomas Hotchkiss (Re: Messmore Kendall Residence), stated that:
The 1894 monument…incorrectly alleges that Washington and Rochambeau met at this house [Philipse Manor] to plan the Yorktown Campaign in 1781. As explained authoritatively…these commanders of the allied armies occupied the Appleby and Odell houses respectively on country roads back in the hills, and conveniently held their conference there surrounded by their troops.
It turns out that Kendall lived at the Philipse Manor built by Frederick Philipse. His great-grandson, Frederick Philipse, was a Tory and "his lands and houses" were seized and sold. The manor house was purchased by Philip Livingston.
See: Historic American Building Survey, Report HABS No. 4-105
http://www.historicmapworks.com/Buildings/index.php?state=NY&city=Dobbs%20Ferry&id=25738
Genealogy Tip: Historical claims can be wrong—even when they make it into print in a newspaper, such as Kendall's claim about his home being a former headquarters of George Washington.
The Appleby home which George Washington did use as his headquarters stood on what is now Secor Road in Dobbs Ferry, New York.

There is a video interview with Mary Sudman Donovan, Ph.D., Village Historian of Dobbs Ferry, New York. See the interview on YouTube here:
Donovan is the author of the book George Washington at "Headquarters, Dobbs Ferry" July 4 to August 19, 1781. Bloomington, IN: iUniverse, 2009.
Find and document your family's stories in GenealogyBank's Historical Newspaper Archives.
Carefully review the facts you are gathering. Evaluate them and seek out corroborating sources.
Make sure that the stories about your ancestors are accurate, preserved and passed down in the family.
Related Articles:
[bottom_post_ad]