No, I don't mean Robin Hood's love interest from the 16th century.
I'm referring to my cousin Marion Morgan Kemp (1862-1963) who owned villas in France, New York and Rome.
Years ago I contacted the authorities in Osmoy, France, where she died and received a copy of her death certificate.
Since Marion lived most of her life overseas, I wondered if I could find more details of her life in GenealogyBank's Historical Newspaper Archives.
I quickly found many old newspaper articles about her that gave me a better sense of Marion's social and civic activities. She not only hosted many events, but also during World War II—after the Allies retook Rome in June of 1944—she lent her personal villa for the use of President Roosevelt's representative in Rome.
If you read the news article about the villa takeover carefully, you'll see that her 60-room villa was highly sought after, causing "a scramble among high Allied officers who wanted it." President Roosevelt's personal representative, Myron Taylor, won the right to occupy her prized villa when he showed up with a personal letter from Marion—turns out they had known each other for many years.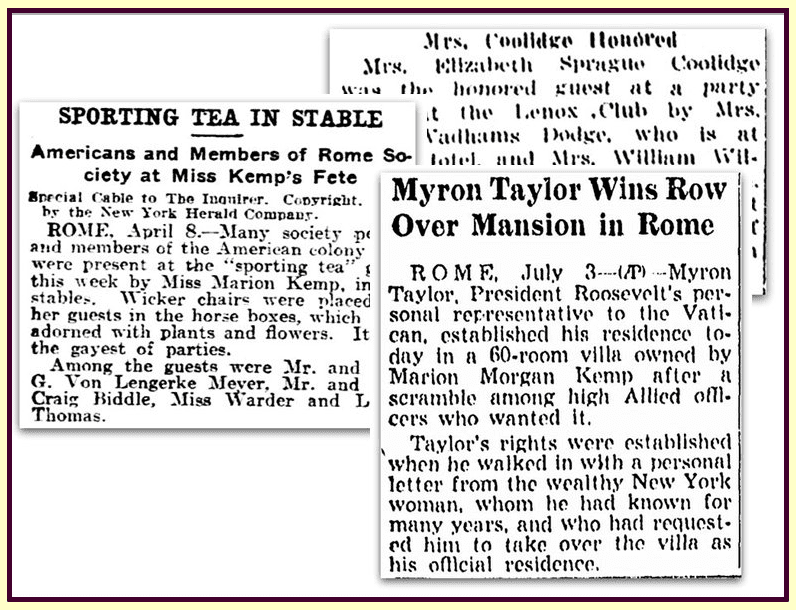 Notice where the above three articles about Marion appeared:
"Mrs. Coolidge Honored," Springfield Union (Springfield, Massachusetts), 14 August 1949, page 16.
"Sporting Tea in Stable," Philadelphia Inquirer (Philadelphia, Pennsylvania), 9 April 1905, page 8.
"Myron Taylor Wins Row over Mansion in Rome," Richmond Times Dispatch (Richmond, Virginia), 4 July 1944, page 3.
These are terrific articles, published in newspapers from Massachusetts, Pennsylvania and Virginia. Not locations where I had expected to find more information about my ancestor, but pleasant surprises nonetheless.
I had almost limited my record search to only New York newspapers, since that is one of the cities where she owned a home—but I went with a full search of GenealogyBank. It's a good thing I did— I otherwise wouldn't have discovered the interesting news articles I found that gave me a glimpse into her life.
Genealogy Search Tip: Cast a wide net when searching newspapers and gather in all of the articles about your family. You never know what you might find out about your ancestors.
(Visited 49 times, 1 visits today)