Introduction: Mary Harrell-Sesniak is a genealogist, author and editor with a strong technology background. In this guest blog post, Mary discusses online resources you can use to explore the history of your pioneer ancestors—and the trails they used to migrate west.
Many of us have pioneer ancestors in our family tree who participated in the westward expansion of the United States. Exploring the trails they crossed and reading their stories in old newspapers is not only a great way to learn more family history—it's an interesting way to learn about an important period in our nation's history.
Oregon Trail
While raising our family, we often discussed the Oregon Trail.
Some of our knowledge of the Oregon Trail came from history books—but to be honest, more lore was derived from playing the famous "The Oregon Trail" video game distributed by Minnesota Educational Computing Consortium (MECC). We used this game to supplement computer skills for youth who attended our training center's summer computer camps.
Even the youngest ones joined in the fusion of history and computer skills. They'd start by outfitting wagons in Independence, Missouri, to make the trek of 2,200 treacherous miles to the Oregon Territory. You never knew which group would make it, or what pitfalls would beset them. Sometimes there were skirmishes with Native Americans; other times, the wagon broke down or they ran out of food and starved. All in all, it was a great method to make early American history come alive!
Pioneer Trail Stories Found in Old Newspapers
Much like curling up with a good juicy novel, you can make your family history come alive by playing your own "trail" game with historical newspapers.
Amazing stories of pioneer families traveling on various trails during the westward expansion, along with diaries, maps, advertisements and journals, can be researched to document what was happening when.
As noted in this 1846 newspaper article regarding prairie caravans, many pioneers followed one of four great trails that radiated west:
Missouri River Trail
Oregon Trail
Mexican Trail
Texas Trail
Being able to make a living was essential to our ancestors' survival, so note that commerce centered around the trading of buffalo robes, pelts, horses, mules, buckskins, moccasins, curiosities and trinkets with American Indians. If traveling to Oregon, one would pick a certain season to travel—if going to Texas, one would pick a different season to begin the journey west.
So how many of us really know what it was like to travel on a wagon train? How large were they? What was the experience really like? Historical newspapers hold many answers to these and other questions about our pioneer ancestors and their experiences pioneering the rugged frontier in America.

This 1848 newspaper article describes a California-bound encampment consisting of 100 wagons, with an average of five persons per wagon. The next paragraph notes that a great number of Mormons were crossing the Missouri River at St. Joseph.
These details from newspaper articles put "meat on the bones" of an ancestral story—you just have to find the articles that tell the stories. Don't forget to put a face to the occurrences. Even if you don't have a photo of a direct forebear, you can get a fairly good idea of what people at that time looked like or how they dressed from newspaper articles about other pioneers.
For example, here's a picture of Ezra Meeker (born c. 1830) from a 1922 newspaper article that reported he went to Oregon around 1850—not via a wagon train, but in an ox-cart.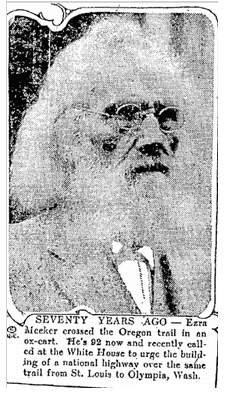 These old newspaper articles about America's pioneer days report various aspects of U.S. history. For example, this Apache scout—because of his knowledge of Native American trails—was recruited in the hunt for Pancho Villa after he raided New Mexico in 1916.

Pioneer Stories in the U.S. Congressional Serial Set
Don't forget that one of GenealogyBank's more compelling resources, the U.S. Congressional Serial Set, is full of firsthand accounts of activities related to American development. This excerpt from 1900 describes, in minute details, several explorations into Alaska via foot and river trails. It's an amazing account that I hope you'll take time to explore.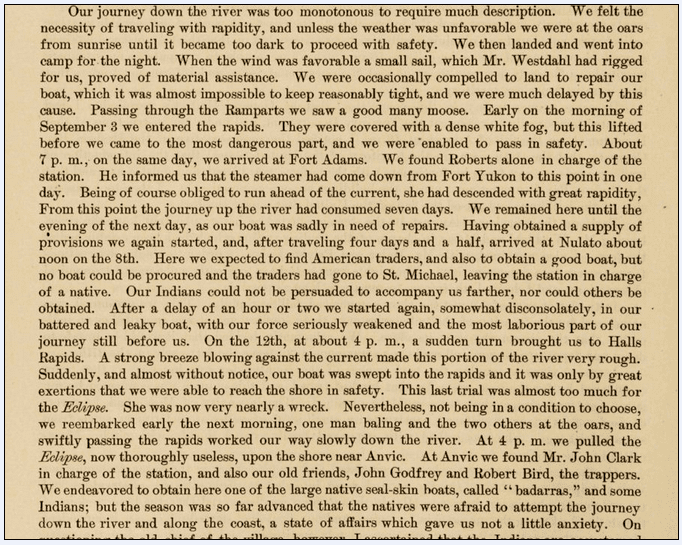 Source: Serial Set Vol. No.3896; Report: S.Rpt. 1023; Compilation of narratives of explorations in Alaska. April 18, 1900. Reported from the Committee on Military Affairs by Mr. Carter and ordered to be printed.
Origins of "Oregon"
You'll find lots of stories about your pioneer ancestors in GenealogyBank—as well as interesting tidbits about American history. For example: do you know how Oregon got its name?
This 1826 newspaper article reports that "Oregon" was a Native American word meaning "River that flows to the west."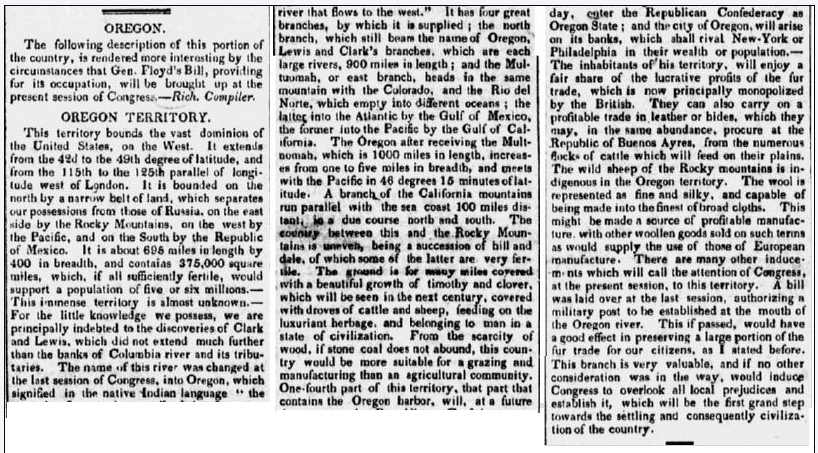 More Resources for Trail Genealogy Research
The following is a small sampling of resources to research the thousands of American trails that your pioneer ancestors may have traveled during the westward expansion.
American Trails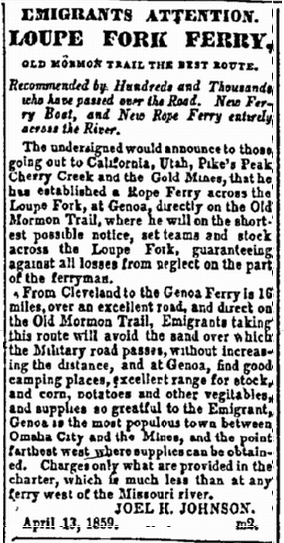 National Road Heritage Trail of Indiana (150-miles): www.indianatrails.org/NRHT/
National Scenic and Historic Trails (Bureau of Land Management)
Santa Fe National Historic Trail (Spanish route dating to the end of the 18th century connecting St. Louis, Missouri with Santa Fe, New Mexico)
Wikipedia article: http://en.wikipedia.org/wiki/Santa_Fe_Trail
Mormon Pioneer Trails
Trail of Tears (Removal of Native Americans from their eastern homelands 1838-1839)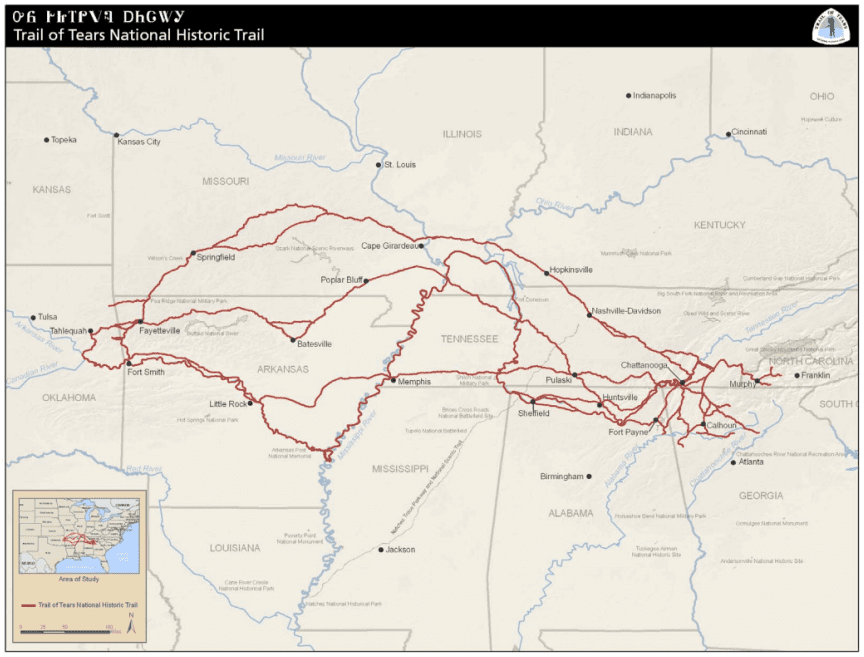 With these resources, as well as the material contained in GenealogyBank, you should be able to make many interesting family history discoveries about your pioneer ancestors, weaving together the stories of their westward travels. Good luck with your genealogy research and let us know what you discover about your American ancestry!
Related Pioneer Ancestry Articles:
[bottom_post_ad]
(Visited 763 times, 1 visits today)