Introduction: Duncan Kuehn is a professional genealogist with over nine years of client experience. She has worked on several well-known projects, such as "Who Do You Think You Are?" In this blog post, Duncan searches GenealogyBank's recent obituaries collection and uncovers three heartwarming stories of couples who were married a very long time together – and died within hours of one another.
Being married for decades is a marvelously romantic experience. Few things are as adorable as seeing an elderly couple shuffling hand-in-hand down the sidewalk. Many elderly couples have been together longer than they were single. They form an inseparable bond and friends can't think of one without the other. The death of one of them is devastating to the other.
For an astonishing percentage of long-married couples, the loss of one spouse means the other is soon to follow. Sometimes this even occurs when the second is unaware of the passing of the first. Here are three of these beautiful love stories that I found while looking through GenealogyBank's online collection of Recent Newspaper Obituaries.
John and Marilyn Jenkins
John Jenkins served in the Navy during World War II. After returning home at the age of 19, he asked his mother to give legal permission for him to marry his high school sweetheart, Marilyn. The young couple worked at her parents' grocery store for a time. John then got a job working at the post office. The work did not suit him and he quit without informing his wife. As many spouses can understand, this did not go over well with Marilyn when she later found out, and the couple argued. But eventually they worked things out and John found work in the insurance industry, while Marilyn worked as an elementary school teacher. John returned to the Navy for the Korean War.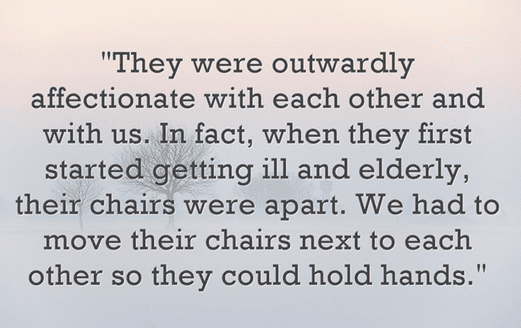 The couple was quite social and loved to play games, square dance, and go camping. Even into their 70s, they were pulling a camper to Clearwater, Florida, to enjoy the outdoors. They also attended the Centenary Methodist Church and it played a big role in their lives. They had three children together.
However, their health eventually declined and they needed 24-hour care. John remained upbeat and optimistic, but Marilyn was in terrible pain.
According to their joint obituary:
Despite poor health and advancing years, [daughter Sue] Thomure believed her parents' relationship remained an "epic" love story. "They were both very affectionate people," she said. "They always loved hugs and kisses. They were outwardly affectionate with each other and with us. In fact, when they first started getting ill and elderly, their chairs were apart. We had to move their chairs next to each other so they could hold hands."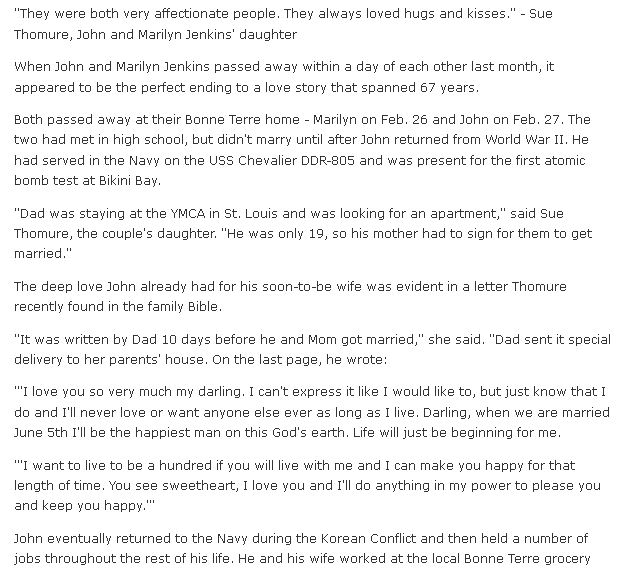 After 67 years together, Marilyn died on 26 February 2015. Upon hearing the news, John replied: "Well, we done good and I'll be along shortly." By the next morning, he had indeed joined her in death.
Enrique and Emma Flores
Enrique and Emma dated for six years and were engaged for six years before finally marrying in 1953. Before marrying, they were able to save up for and completely furnish a home. Enrique served in the Army during the Korean War and made a career in the military, retiring in 1983. Emma spent most of her time raising their three children, but was also a substitute teacher. Although neither attended college, they valued education. Enrique even served as PTA president for their children's school.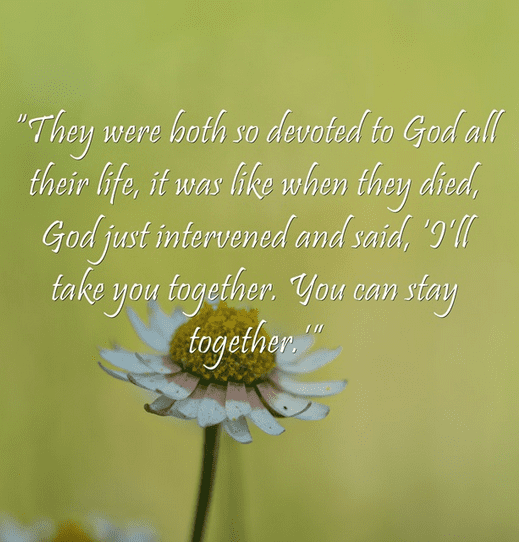 Religion played a major role in their lives. They said the rosary daily and it was one of the few things that Enrique could recall after dementia set it. Emma tried to care for Enrique but she struggled to care for his needs while battling through a second round of cancer, and he had to go into a nursing home. Her daughter took Emma to visit Enrique as often as she could.
According to their joint obituary, Enrique loved Emma's visits:
[Enrique] would get so excited to see her and would always clap his hands. And he would repeatedly tell her, "I love you, I love you, I love you, I love you."
These two long-time lovers were married for 69 years.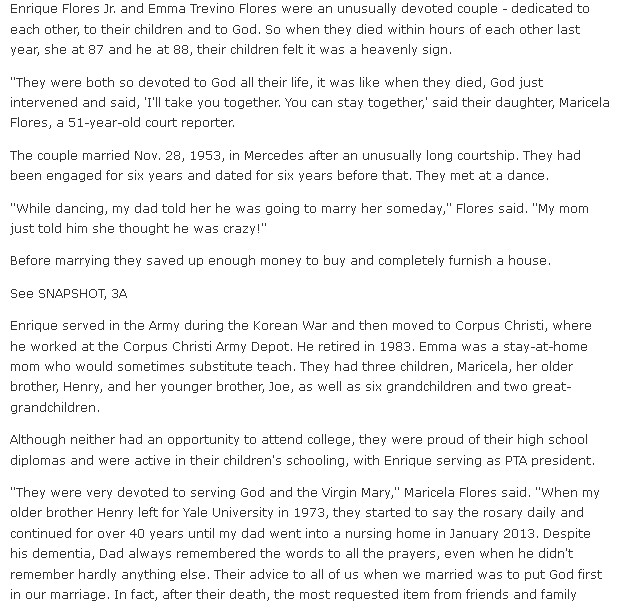 Sadly, it was Emma who died first on 1 March 2015. But within an hour of her death, the family was informed that Enrique had died at the nursing home without having received the news of his wife's passing.
[search_box]
Marcus and Madelyn Yensen
I found a similarly touching love story in yet another joint obituary, this one for Marcus and Madelyn Yensen, a Salt Lake City couple that had been married for more than 74 years:
The pair met each other in 1940 at a dance studio when Marcus took a dance lesson from Madelyn. Just one month later, after a "whirlwind of romance' – which included a date that ran past curfew and infuriated Madelyn's mother – they were married, said their youngest son, Byron Yensen. "They were always together, and they were always very happy with each other," [their daughter Carol] Bradford said.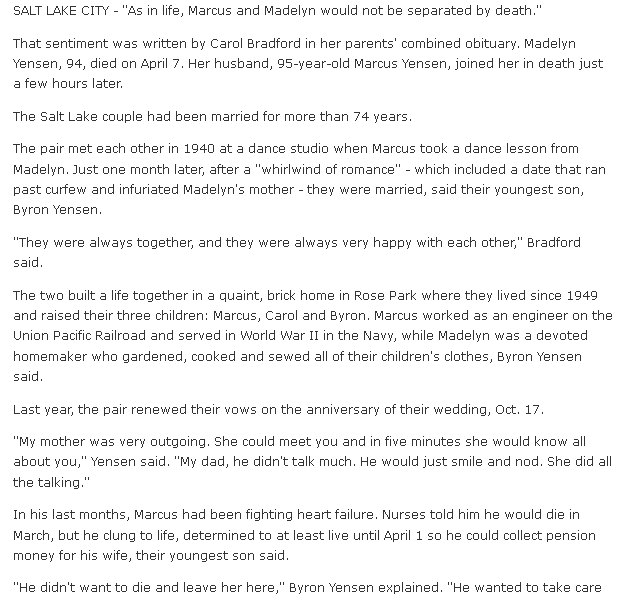 Marcus served in the Navy during WWII and then built a career as an engineer on the railroad. They had three children together. Madelyn was the social one while the more-quiet Marcus usually kept his thoughts to himself.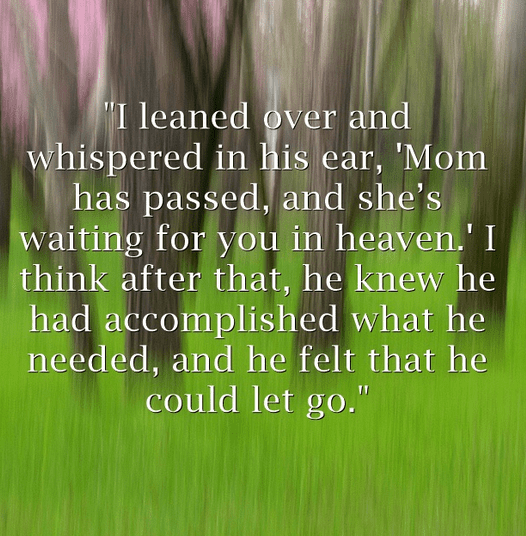 According to their obituary:
In his last months, Marcus had been fighting heart failure. Nurses told him he would die in March, but he clung to life, determined to at least live until April 1 so he could collect pension money for his wife, their youngest son said.

Marcus made it to April, clinging to life in a nursing home, but Madelyn died at home on April 7. Bradford went to the nursing home to tell her dad the sad news:

"I leaned over and whispered in his ear, 'Mom has passed, and she's waiting for you in heaven.' I think after that, he knew he had accomplished what he needed, and he felt that he could let go."

Marcus Yensen died at 9:30 that night.

"Being the gentlemen he always was, and showing the eternal love they had together, Marcus held the gates of heaven open so Madelyn could walk in first, then followed her."
What is the longest marriage in your family tree? Do you have any heartwarming romantic stories to share? Tell us in the comments.
Note: FamilySearch International (FamilySearch.org) and GenealogyBank are partnering to make over a billion records from recent and historical obituaries searchable online. The tremendous undertaking will make a billion records from over 100 million U.S. newspaper obituaries readily searchable online. The newspapers are from all 50 states and cover the period 1730 to the present.  Find out more at: https://www.genealogybank.com/family-search/
Related Articles:
[bottom_post_ad]