Every day we get interesting genealogy questions from our members via our Ask the Genealogist service. The following is a good example: a member asked for help finding information about a great-grandfather.
Question:
I am looking for more information on my great-grandfather, Edgar Rhue Harner. He was born in Berks Co., PA, in 1860. He married Naomi Sines and they lived in Delaware Co., PA. No one in the family knows what happened to Edgar. I tracked census info and the last one he appears in with his family is the 1910 census, enumerated in Delaware Co, PA. After much research, I found him in the 1920 census in Norristown, PA, as a patient in the "State Hospital for the Insane." That hospital, Norristown State Hospital, is still in existence, but I haven't been able to get any info from them. Everything dead-ends at the 1920 census. I can find NO obituary or death record or any other info at all.
Any suggestions?
Answer from our genealogist:
Since there was no obituary published for him, you want to look for his death certificate. The state of Pennsylvania makes that easy to do. They have put up online indexes for all death certificates from 1906 to 1961 here: http://www.portal.state.pa.us/portal/server.pt?open=514&objID=1085804&mode=2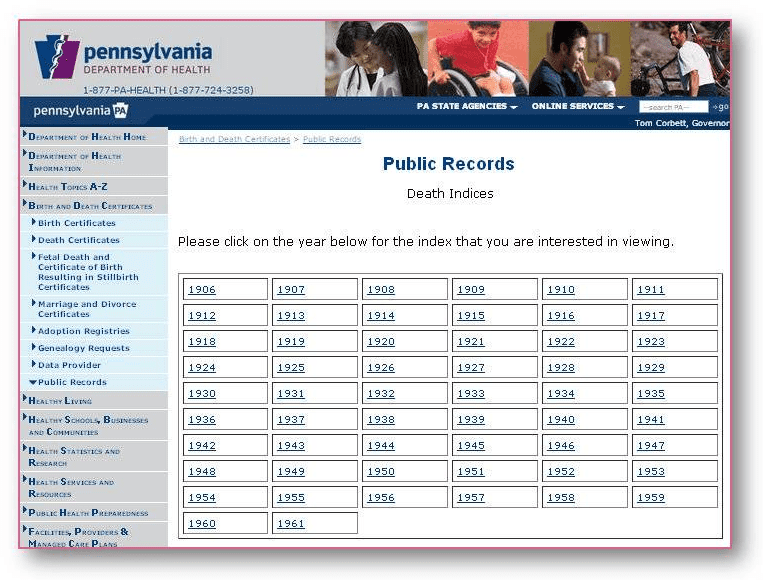 You need to click on each year and then search the index. This indexing system uses the Soundex system familiar to many genealogists; it assigns codes to sounds to track down surnames and their variants. Harner would code out to H-656.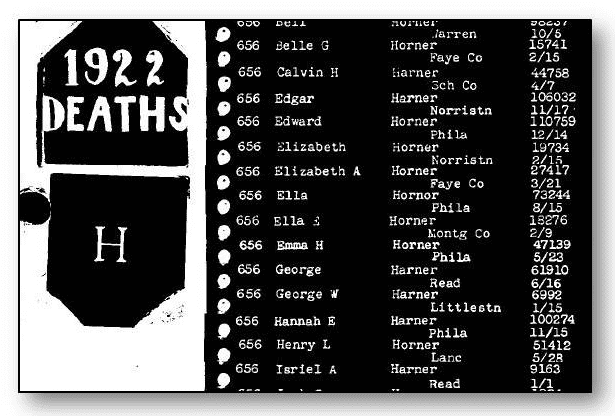 And there he is listed in the deaths for 1922.
Here is your great-grandfather's entry:
H-656:   Edgar Harner, Certificate Number 106302, Norristn (abbreviation for Norristown), died 11/17 (17 November 1922).
Pennsylvania considers death certificates that are over 50 years old public records. So, your next step is to order a copy of his death certificate.
To apply for a non-certified copy of a death certificate from 1906 through 1961: download the death application form here: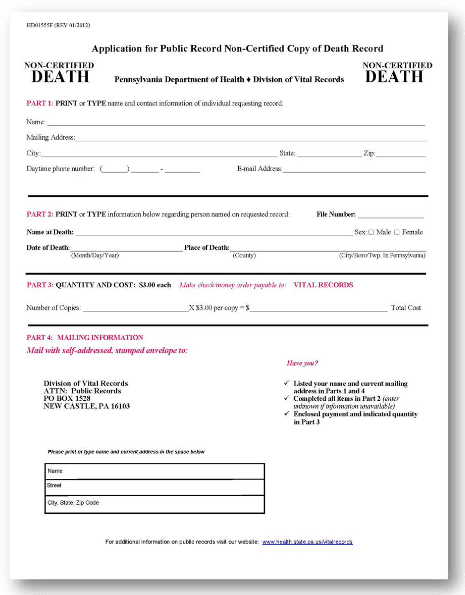 Mail the completed application to:
Division of Vital Records
ATTN:  Public Records
P.O. Box 1528
New Castle, PA  16103
There is a $3 fee for each non-certified copy ordered. Check or money order should be made payable to Vital Records. Mail requests are processed in approximately 4 months.