Introduction: In this article, Gena Philibert-Ortega gives tips for Native American family history research, and provides links to many helpful sites. Gena is a genealogist and author of the book "From the Family Kitchen."
Have you heard rumors that one of your ancestors was part Native American? Maybe you know for certain that a great-great-grandparent was Native American, but you're not sure where to start searching for records. The following three steps will help you as you begin your Native American genealogy research.
1) Start with What You Know
This suggestion is the basis for all good family history research. You should always start with what you know. Take some time to write down the reasons you think you are descended from a Native American ancestor.
Because a relationship to a Native American is one of the stories many families pass down, it's important that you research the story like any other family story. Consider who the source of the information is and how they knew the information, what is the probability that your family is Native American (proximity to a tribe, for example), and what extant records exist to help you fill in the blanks.*
Now consider home sources you might have that would help with your search. Do you or another family member have documents or photos that might help with your research?
Along with starting with what you know, don't forget that you should also begin your research with yourself. It can be tempting to skip generations in an attempt to trace yourself back to a 19th century (or earlier) ancestor, but resist that temptation. Start with the present and research backward in time – and don't skip generations.
2) What Records Exist?
Once you have an idea of the time period and place where your possible Native American relation lived, seek out what records might be helpful in your search. It's important to include in your family history research plan what tribes existed in that place and time period. Records can differ depending on the time and place.
Remember that documents might include Bureau of Indian Affairs records (federal records) or even local government records. Records can vary according to the place, and may include censuses or membership rolls as well as records created for a school or a church.
Native Americans can be found in some of the genealogical records you are familiar with – but it's important to know there are restrictions. For example, Native Americans were not counted in the Federal Census until 1860, and even then there were still limitations.
According to a history from the National Archives: "Indians not taxed are not to be enumerated. The families of Indians who have renounced tribal rule, and who under state or territory laws exercise the rights of citizens, are to be enumerated."
The 1870 census is the first to give the choice of "Indian" for a person's "color."**
The Indian Census Rolls (1885-1940) should also be explored, for they provide "English and/or Indian name of the person, roll number, age or date of birth, sex, and relationship to head of family." But it's important to remember that they do not include every Native American: "Only persons who maintained a formal affiliation with a tribe under federal supervision are listed on these census rolls."***
To learn more about federal Native American records, see the National Archives web page American Indian Records in the National Archives.
To find records on the FamilySearch Catalog, search by Place or Keyword (keywords might include "Native American," "Indian," or the name of the tribe). The FamilySearch Research Wiki page American Indian Online Genealogy Records may also be of help.
And of course, as the three newspaper clippings in this article have shown, you can find information relevant to your Native American family research in the pages of old newspapers, such as GenealogyBank's online Historical Newspaper Archives.
3) Know Your History
This is advice I give for all family history research, but it's especially important when researching Native American ancestry. I've heard people proclaim Cherokee (or another well-known tribe) membership – but when pressed on where their family was from, it ends up being nowhere near where the Cherokee lived at any time.
The FamilySearch Family History Research Wiki states:
"If the name of the tribe with which the ancestor was associated is known, a researcher should study the history and culture of that tribe and locate the records created by various records jurisdictions for that tribe."****
By knowing the history, you can stop yourself from making a lot of mistakes. One place to learn more about the history of a place is to browse the historical newspapers in that area.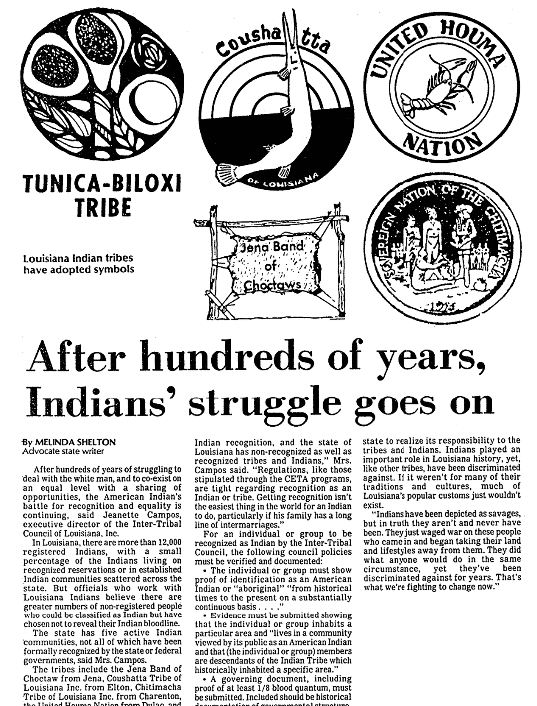 Start Your Research Now
Native American research takes a combination of research, history, and persistence. It's important to learn more as you tackle your possible Native American connections. The FamilySearch Family History Research Wiki has an article on American Indian Genealogy that can be helpful with advice and available record types. The National Archives holds the records of the Bureau of Indian Affairs; see the website American Indians in Census Records.
Note: November is Native American Heritage Month. An online collection of newspapers, such as GenealogyBank's Historical Newspaper Archives, is a great way to learn about Native American history in general, or explore your Native American ancestry by researching individuals from your family tree.
—————————
* "Heritage Books and Family Lore: A Jackson Test in Missouri and Idaho," Connie Lenzen, Certified Genealogist (http://www.lenzenresearch.com/georgejackson.html: accessed 26 November 2017).
** "Native Americans in the Census, 1860-1890," Prologue (https://www.archives.gov/publications/prologue/2006/summer/indian-census.html: accessed 26 November 2017).
*** "Indian Census Rolls, 1885-1940," National Archives (https://www.archives.gov/research/census/native-americans/1885-1940.html: accessed 26 November 2017).
**** "American Indiana Genealogy," FamilySearch Family History Research Wiki (https://www.familysearch.org/wiki/en/American_Indian_Genealogy: accessed 26 November 2017).