Introduction: In this article – to help celebrate Halloween this Sunday – Gena Philibert-Ortega writes about some of the sounds that accompany this holiday. Gena is a genealogist and author of the book "From the Family Kitchen."
"You are a bold and courageous person. Afraid of nothing. High on a hilltop near your home there stands a dilapidated old mansion. Some say the place is haunted but you don't believe in such myths. One dark and stormy night a light appears in the top-most window in the tower of the old house. You decide to investigate and you never return."

–Laura Olsher narration, "Chilling, Thrilling Sounds of the Haunted House" (1964)
What sounds do you associate with Halloween? Maybe you think of the music that accompanies a horror film, or Vincent Price's monologue on Michael Jackson's hit song "Thriller." For me, there is one record album that I associate with Halloween: "Chilling, Thrilling Sounds of the Haunted House" (Disneyland Records).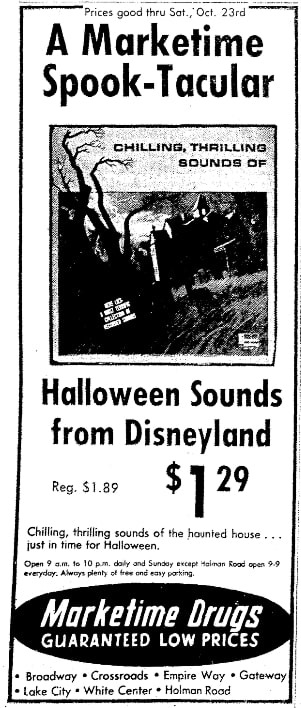 Disneyland Records
Today there are most likely hundreds of Disney-influenced musical acts, soundtracks, or albums. The history of Disney Music Group's Walt Disney Records can be traced to Disneyland Records in 1956. However, 1956 doesn't mark the first Disney-inspired audio recording, Disney released previous albums through record companies like RCA and Capitol.
In 1954 Roy Disney suggested the company publish their own audio recordings under the Disneyland Records label. (1) Disneyland Records released musical recordings from Disney movies that featured some of the most popular musicians of the time.
One album that stands out from the traditional Disney music recordings is the "Chilling, Thrilling Sounds of the Haunted House." Decades before record warning and ratings, this 1964 album warned that it "is not intended for young, impressionable children from three to eight. It is intended for older children, teenagers, and adults." While I can understand it being not suitable for small children, I'm sure the warning also was a marketing tactic to emphasize the idea of the terrifying sounds the listener would hear.
This album is filled with sound effects that have nothing to do with the Disneyland attraction "The Haunted Mansion," whose exteriors were completed in 1963 but did not actually open to the public until 1969. (2) (However, some of the screams on the album do remind me of the Disneyland ride.)
Explaining this album, the liner notes say:
"The Sound Effects Department of the Walt Disney Studio has been collecting all kinds of noises since 1927. The first sound film which Walt Disney made and the first sound cartoon made by anyone was Steamboat Willy starring a little mouse named Mickey. This picture, like every other one Walt Disney has made, whether short subject or feature, animated cartoon or live action, contained many sound effects.

"Drawing upon this enormous library of sound, Disneyland records has produced this LP." (3)
The album starts with a narration involving a haunted house and your investigation into a light that appears in the window. Sounds of a rain storm, people screaming, and "ghosts" (woooo), can be heard. The album's first side includes vignettes narrated by voice actress Laura Olsher with accompanying animal noises, screams, and explosive sound effects.
"Side 1 contains ten stories in sound in which the narrator sets up the situation and the sound effects take over and tell the story.

"Side 2 is a collection of sound effects grouped by category. These may be used to create your own stories in sound."
This 1964 album was followed up with an updated album in 1979 titled "New Chilling, Thrilling Sounds of the Haunted House" that included 33 tracks of various animal sounds, creatures, and storms. (4) Various tracks from the album have been resampled by rock and rap groups. American rock band Phish played a musical interpretation of Side 1 for a Las Vegas show in 2014.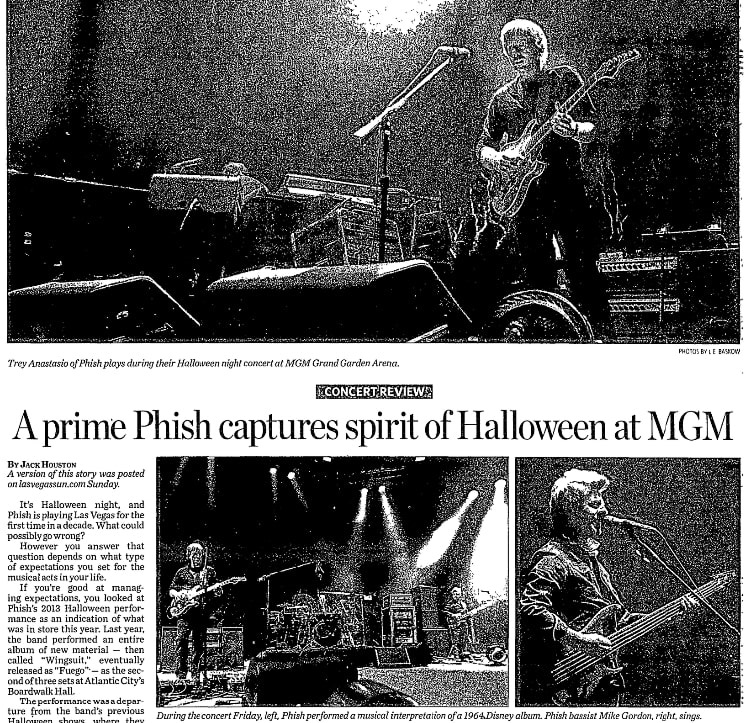 If you have access to the album, you could use it, along with other Halloween-appropriate sounds and songs, for your Halloween party – or even to play as you pass out candy!
Happy Halloween!
Halloween is a multi-sensory holiday that includes food, costumes, decorating, and music. What are the sounds you associate with Halloween? Are you playing any sound effects this year?
_______________
(1) "Walt Disney Records," Wikipedia (https://en.wikipedia.org/wiki/Walt_Disney_Records: accessed 9 October 2021).
(2) "The Haunted Mansion," Wikipedia (https://en.wikipedia.org/wiki/The_Haunted_Mansion: accessed 9 October 2021). Please note that Disneyland did produce a story album called "The Haunted Mansion" which includes some of the sounds and images from the Disneyland attraction. You can find this recording on YouTube.
(3) Record Album, "Chilling, Thrilling Sounds of the Haunted House." In possession of the author.
(4) "Chilling, Thrilling Sounds of the Haunted House," Wikipedia (https://en.wikipedia.org/wiki/Chilling,_Thrilling_Sounds_of_the_Haunted_House: accessed 10 October 2021).
Related Articles: