Introduction: In this article, Gena Philibert-Ortega uses old newspapers to show what Queen Elizabeth II's coronation was like in 1953, to better understand her son's coronation as King Charles III. Gena is a genealogist and author of the book "From the Family Kitchen."
Queen Elizabeth died at the age of 96 on Thursday, 8 September 2022, after nearly 71 years on the throne. She ascended the throne after the death of her father, King George VI, and now her son, Prince Charles, has ascended upon her death and will be known as King Charles III.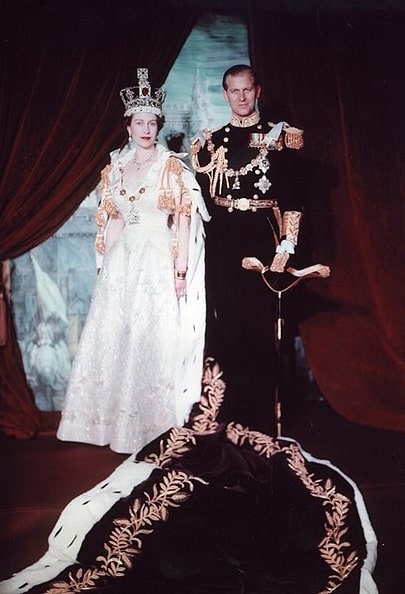 During her long reign, Queen Elizabeth had her fill of joy and tragedy. No doubt she had more than one "annus horribilis" that included family stresses and death, most recently the death of her husband Prince Phillip last year. When she initially took the throne, she dedicated herself to a lifetime of public service, which she renewed earlier this year as she celebrated her Platinum Jubilee.
As the world prepares for a royal funeral and a coronation, what did these same set of events look like more than 70 years ago? Historical newspapers provide the answers.
King's Death and Queen's Ascension
Before becoming Queen, Elizabeth served her country in a variety of ways. In the World War II years, she did everything from calming the nation via the radio to serving in the Women's Army.
By 1951, Princess Elizabeth was a married woman and a young mother. Her father, King George VI, was ill and the Princess and her husband, Prince Phillip, were conducting some of the duties for the King, including royal visits. Despite his frailty, in January 1952 the King decided to see the Princess and Prince off at the airport for a planned five-month tour. He would be dead less than a week later.
Princess Elizabeth was in Africa when she heard the news of her father's death. She immediately returned to England to be Queen. Her three-year-old son Charles assumed the position of next-in-line to the throne, a position he held until her recent death.
On 15 February 1952, after lying in state, King George VI's funeral drew large crowds – from the general public to royalty – including kings from the countries of Denmark, Greece, Iraq, and Sweden. In attendance was his brother, Edward, who had abdicated the throne so that he could marry his love, the American Wallis Simpson.
Aside from newspaper articles available in GenealogyBank's Historical Newspaper Archives (conduct an advanced search for "King George" in the first name box and "Funeral" in the Keyword box plus the year range 1952), you can watch part of King George's funeral on YouTube – such as this news reel for the funeral possession.
Queen Elizabeth's Coronation
The coronation of Queen Elizabeth occurred over a year after the King's death, in June 1953. Elizabeth had already been declared queen on her father's death, and after an appropriate time of mourning and preparation (such as the beading and needlework for her coronation robe) the celebratory festivities occurred. A historic event, the newspapers covered every moment of her coronation.
This South Dakota newspaper told the story of the coronation with pictures of each key moment. These types of newspaper features helped Americans understand the event's traditions.
Aside from newspaper articles, Americans could follow along with the coronation by watching it on television or listening to the radio. This Georgia newspaper's front page provided the channels and times that the coronation could be viewed locally.
Genealogy Tip: It's possible your family was interested in the coronation. However, they may not have watched it on TV. In my mother's family, they didn't have a TV until 1963 so they would have either read about the coronation, listened to it on the radio, or watched a film reel at the local movie theatre.
A Historical Moment
As the United Kingdom prepares to say goodbye to a queen and a new ruler begins his time on the throne, historical newspapers provide us a peek into what to expect and a look at the last time the U.K. prepared for a new monarch.
Note on the header image: a photo of Queen Elizabeth II opening the Borders Railway on the day she became the longest-reigning British monarch, 2015. In her speech, she said she had never aspired to achieve that milestone. Credit: the Scottish Government; Wikimedia Commons.